Two Purdue Veterinary Medicine Programs Receive INSIGHT Into Diversity Magazine's 2021 Inspiring Programs in STEM Award
Tuesday, August 17, 2021
National Recognition of Programs That Are Making a Difference for All Underrepresented Groups in the Fields of Science, Technology, Engineering, and Mathematics (STEM)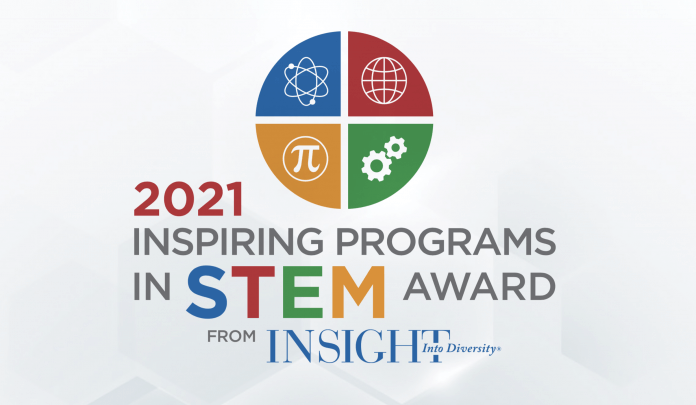 The Purdue University College of Veterinary Medicine (PVM) today received the 2021 Inspiring Programs in STEM Award from INSIGHT Into Diversity magazine, the largest and oldest diversity and inclusion publication in higher education, for two programs, "The League of VetaHumanz" and "Vet Up! National HCOP Academy for Veterinary Medicine." The Inspiring Programs in STEM Award honors colleges and universities that encourage and assist students from underrepresented groups to enter the fields of science, technology, engineering, and mathematics (STEM). The Purdue University College of Veterinary Medicine will be featured, along with 78 other recipients, in the September 2021 issue of INSIGHT Into Diversity magazine.
Inspiring Programs in STEM Award winners were selected by INSIGHT Into Diversity based on efforts to inspire and encourage a new generation of young people to consider careers in STEM through mentoring, teaching, research, and successful programs and initiatives.
Purdue Veterinary Medicine Dean Willie Reed said the award reflects the college's commitment to finding innovative ways to increase diversity in the veterinary medical profession, which is a vital STEM discipline. "One of our college's priorities is to inspire young people from diverse backgrounds to pursue rewarding careers in veterinary medicine," Dean Reed said. "Supported by a talented team of collaborators, both 'The League of VetaHumanz' and 'Vet Up! National HCOP Academy for Veterinary Medicine' have great potential to bring greater diversity to the veterinary medical profession, and in doing so, to enhance the profession's success in meeting the needs of both animals and people."
The League of VetaHumanz is a global, inclusive veterinary superhero league where veterinarians in academia, practice, research, government, and industry provide access and support for underserved youth, with the aim of diversifying the veterinary workforce. VetaHumanz are human beings with "superpowers" who protect animal and public health, otherwise known as veterinarians. Committed to excellence through diversity, equity, and inclusion, VetaHumanz wield their superpowers to prevent threats to animal and public health across the globe. The League of VetaHumanz was founded on January 1, 2020 as a result of many years of support from the Science Education Partnership Award (SEPA) program of the National Institute of General Medical Sciences (NIGMS), a part of the National Institutes of Health (NIH), including a new five-year grant, "See Us, Be Us."
Teams of diverse veterinary role models increase interest and preparation for careers in veterinary medicine by providing K-12 students in-person and remote role models who communicate the impact of veterinary medical research on public health and animal health challenges, while facilitating career exploration and experiential learning. The Teams of VetaHumanz, VetaHumanz in Training (veterinary medical students), and Allied Superheroes in 22 states provide in-person role modeling and delivery of STEM programming to underserved elementary school students through partnerships with schools and community centers. Already, nearly 400 role models are certified to present the curriculum in an age-appropriate and culturally-responsive manner.
Additionally, SuperPower Packs, which are self-guided, STEM educational experiences that can be used independently by children lacking access to veterinary role models, are being produced and distributed at no cost to underserved children. Children are invited to transform into a veterinary superhero who is an expert on the veterinary topic highlighted in each SuperPower Pack, and then perform the STEM activity as if they are the veterinary superhero expert. Each SuperPower Pack contains an educational game, a VetaHuman collectible card, a note from the featured VetaHuman, an official League of VetaHumanz cape, a sticker, and a brief postage-paid evaluation survey for the child to complete and return.
The program also engages with youth through the League of VetaHumanz Website (www.VetaHumanz.org), where VetaHumanz share the stories of their journeys to careers in veterinary medicine, and veterinary medical students share their career aspirations.
Initially, NIH NIGMS SEPA funding is used to engage children in veterinary careers, and then leveraged to secure other independent and federally supported programs, such as Vet Up!, to sustain interest in and prepare students for careers in the veterinary profession.
Vet Up! is designed to expand access to the veterinary profession for talented individuals from disadvantaged backgrounds and address the need for more veterinarians serving rural areas and protecting food safety. The program is funded by a $3.18 million federal grant from the Health Resources and Services Administration, an agency of the U.S. Department of Health and Human Services, with the goal of filling veterinary shortage areas with equity-minded individuals from underrepresented populations and rural areas.
"Vet Up! leverages PVM's proven history of effective diversity programming and partnerships with high schools, historically black colleges and universities (HBCU), and state entities to design and deliver curricula that provide otherwise-inaccessible opportunities to students," said Dean Reed.
The Vet Up! National Academy consists of three programs with a competitive selection process for admissions:
Vet Up! Champions is a yearlong program to prepare high school students, working adults, and undergraduate students to attain their next level of education on the path toward a veterinary medical degree.
Vet Up! College is a summer immersion program to prepare undergraduate students to competitively apply to a veterinary medical degree (DVM) program.
Vet Up! DVM Scholars supports Purdue veterinary medical students throughout their professional degree program and prepares them for careers in veterinary shortage areas.
In conjunction with its inaugural year, Vet Up! also received the 2019 Inspiring Programs in STEM Award.
A longstanding partnership between the college and Purdue University's Evaluation and Learning Research Center (ELRC) provides for evaluation of both the League of VetaHumanz and Vet Up!  The ELRC evaluates how the League impacts both the role models and participating children. In the case of Vet Up! the ELRC evaluates the impact of the programming on participants and the veterinary medical profession.
"We know that many STEM programs are not always recognized for their success, dedication, and mentorship for underrepresented students," says Lenore Pearlstein, owner and publisher of INSIGHT Into Diversity magazine. "We want to honor the schools and organizations that have created programs that inspire and encourage young people who may currently be in or are interested in a future career in STEM. We are proud to honor these programs as role models to other institutions of higher education and beyond."
A call for nominations for this award was announced in April 2021.
For more information about the 2021 Inspiring Programs in STEM Award and INSIGHT Into Diversity magazine, visit insightintodiversity.com.
Contact:
Kevin Doerr
Director, Public Affairs & Communications
Purdue University College of Veterinary Medicine
email: doerrkr@purdue.edu

Sources:
Dr. Sandra San Miguel
Program Founder and Associate Dean for Engagement
Purdue University College of Veterinary Medicine
Email: amasss@purdue.edu
Vet Up! National HCOP Academy for Veterinary Medicine
Dr. Latonia Craig
Assistant Dean for Inclusive Excellence
Purdue University College of Veterinary Medicine
Email: craig84@purdue.edu
Writer(s): Kevin Doerr | pvmnews@purdue.edu