In Memory – PVM Professor Emeritus Robert Claflin
Friday, May 18, 2018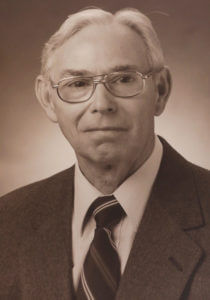 The Purdue University College of Veterinary Medicine recently lost one of its founding faculty members with the passing of Professor and Associate Dean Emeritus Robert M. (Bob) Claflin, who died April 27 in Indianapolis.  He was 96.
Dr. Claflin's interest in veterinary medicine stemmed from his work on his family's farm in Montrose, Michigan, which he helped run after his father's sudden passing while he was in his teens. He left to serve in the Navy in World War II and afterward enrolled at Michigan State University, where he earned his DVM degree in 1952.  He then came to Purdue University, where he completed his graduate studies, earning his master's in 1956 and his PhD in 1958.  That same year, he joined the Purdue faculty, and shortly after was named head of what was then called the Department of Veterinary Microbiology, Pathology and Public Health.  As part of a small group of academic leaders tasked with getting a veterinary school up and running at Purdue, Dr. Claflin helped select the first class, which enrolled in 1959 in what was called initially the School of Veterinary Science and Medicine.
Dr. Claflin remained on the faculty as professor of veterinary pathology until his retirement in 1988.  During the last two years of his tenure, he served as the College's associate dean for academic affairs.  "After retiring, Dr. Claflin continued to be a loyal supporter and dear friend of the College," said Purdue Veterinary Medicine Dean Willie Reed.  "I remember Dr. Claflin from when I was a graduate student at the College, beginning in the late 1970s.  He was a true gentleman and scholar.  He embodied the values of excellence, integrity and caring that are fundamental hallmarks of Purdue Veterinary Medicine.  He was gifted in his field of expertise and served with utmost competence as a professor and administrator.  Stern when he needed to be, Dr. Claflin also had a wonderful, gentle smile that assured students and colleagues alike that he always wanted what was best for them and the College.  He will be greatly missed."
As residents of West Lafayette, Dr. Claflin and his wife Barbara were active in the annual Feast of the Hunter's Moon re-enactment at Fort Ouiatenon.  After retirement, they moved to Ludington in western Michigan where they restored one of the oldest homes in the city. Dr. Claflin ultimately moved to Indianapolis after suffering health challenges in 2013.
A memorial service is scheduled in Ludington at 11:00 a.m., May 26, at Community Church, 109 N. Harrison. Beacon Cremation and Funeral Service is in charge of arrangements. In lieu of flowers, the family suggests donations to the Ludington Rotary Club's STRIVE mentoring and scholarship program, P.O. Box 149, Ludington, Michigan 49431.  Click here to view a complete obituary.
Writer(s): Kevin Doerr | pvmnews@purdue.edu