Human-Animal Bond Expert Shares How Service Dogs Do the World a Great Service
Friday, October 2, 2020
The kick-off event for the 2020 virtual Purdue Veterinary Conference featured an intriguing look at the life of service dogs. Held Tuesday, September 22, the Elanco Human-Animal Bond Lecture featured a Zoom presentation by Dr. Zenithson Ng, clinical associate professor of canine and feline primary care at the University of Tennessee College of Veterinary Medicine. The talk, which was open to the public, provided a unique glimpse into the life of a service dog and revealed ways people can help ensure the welfare of these animals.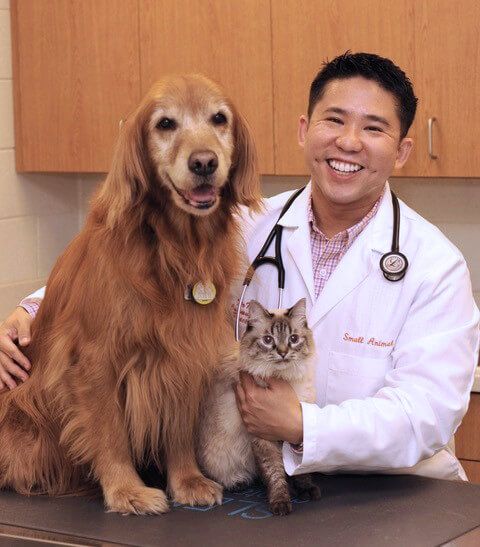 A veterinarian who completed a combined American Board of Veterinary Practitioners residency and master's degree program in human-animal bond studies at Virginia Tech, Dr. Ng entitled his presentation, "A Day in the Life of a Service Dog: A Welfare Perspective." He began by sharing a documentary clip comprised of interviews with several service dog owners. One person in the video described a time when he wanted to cross a street and urged his dog, Bryson, to move forward. Bryson, however, could sense there was an out of control car headed their way and stayed put to keep his owner out of the road. According to the owner, "Bryson disobeyed me to protect me!" The full documentary, titled "Pick of the Litter," is available to stream on Netflix.
Dr. Ng went on to explain how dogs are chosen for this kind of life of service as soon as they are born. Since service dogs basically work 24 hours per day, seven days per week, careful time and consideration is given to making sure the dogs are up to the duties required in this role.
One particular group of people that can really benefit from service dogs is children with special needs. Dr. Ng gave a hypothetical example of a dog named Grace working as a service dog for a young boy named Mikey who is on the autism spectrum. Mikey has some atypical social tendencies and trouble self-regulating. Grace can be there for him to provide comfort and so he would always have someone trustworthy by his side. This scenario illustrates a fantastic situation in which both Mike and Grace get a beloved friend that loves them unconditionally.
Toward the end of the presentation, Dr. Ng gave another speculative example of a typical day for a service dog attached to a child with autism. There are a number of risks these dogs are subject to, such as obesity, as sometimes the children tend to overfeed them. Also, most often in the school setting, the dogs can experience sensory overload due to being surrounded by many children who want to pet them. Dr. Ng explained that in such situations, what helps most often is communication between the parents and teachers regarding the service dog, to ensure that the dog at school is taken care of like any other pet. Additionally, it is beneficial for teachers to treat the dog as if it were a fellow employee, because the dog is there to support the advancement of the child's education.
Along with dogs, there are many other animals that have been shown to form strong bonds with children who have special needs. A study published in 2013 by the National Center for Biotechnology Information shows children with autism who bonded with guinea pigs experienced a much larger increase in social behaviors compared to children who were given typical toys instead. Additionally, therapeutic horseback riding has been shown to help children cope with stress and relax.
Purdue Veterinary Medicine researchers in the OHAIRE lab, led by Dr. Maggie O'Haire, as part of the Purdue University Center for the Human-Animal Bond, also continue to conduct collaborative studies aimed at understanding the effects of animal-assisted intervention for autism.
The Elanco Human-Animal Bond Lecture serves as one of the keynote lectures of the annual Purdue Veterinary Conference. Sponsored by an endowment from Elanco Animal Health, the lecture highlights the special bond between humans and animals.
Writer(s): Jonathan Martz, PVM Communications Intern | pvmnews@purdue.edu