Gratitude Abounds During Veterinary Nursing Appreciation Week
Friday, October 18, 2019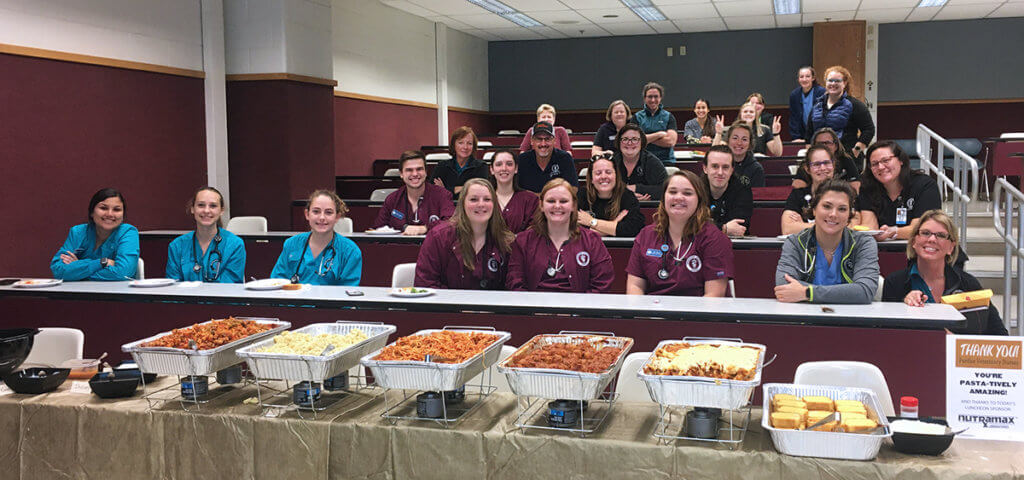 Purdue Veterinary Medicine takes great pride in educating the entire veterinary team, and veterinary nurses are a big part of that team! To show its support and gratitude, the College held a week-long celebration of Veterinary Nursing Appreciation Week with a different menu each day.
"PVM faculty, staff, and students are appreciative of one another every day, but this week provided a special opportunity for everyone to reflect on all the things that veterinary nurses do for our college and hospital, and to say thank you," said Dean Willie Reed. Some creative energy went into the process of coining unique names for each of the special events this week. Veterinary nurses enjoyed mingling with colleagues and getting some well-deserved treats at:
The Pasta-tively Amazing Veterinary Nurses Lunch on Monday, October 14, sponsored by Nutramax Laboratories
You Make Us Butter Breakfast for Veterinary Nurses on Tuesday, October 15
Thank You Dairy Much Afternoon Break and Snacks for Veterinary Nurses on Wednesday, October 16
Taco 'Bout Awesome Veterinary Nurses Lunch on Thursday, October 17
A Dozen Thanks Continental Breakfast for Veterinary Nurses this morning, Friday, October 18
Additionally, all of the veterinary nurses were entered into a daily prize drawing for gift cards and gift baskets, and individuals were recognized by their colleagues on PVM social media throughout the week.  Special thanks to the planning committee members who organized the week's activities:  Megan Brashear, CVT, VTS (ECC); Lauren Bruce; Tami Lind, RVT, VTS (ECC); Brandi Maxie, RVT; Pam Phegley, RVT; Jennifer Smith, RVT, RLAT; Donna Tudor, RT; and Eric Zamora-Moran, MBA, RVT, VTS (Anesthesia and Analgesia).
Purdue Veterinary Nursing educators (left-right) Jennifer Smith, RVT, RLAT; Pam Phegley, RVT; and Paige Allen, MS, RVT were among those who enjoyed the pasta lunch.

The Thank You Dairy Much snack event was a hit with veterinary nurses who enjoyed the afternoon ice cream break Wednesday, October 16.
Writer(s): Maya Sanaba, PVM Communications Intern | pvmnews@purdue.edu