Foundations Unite to Support PVM Comparative Oncology Research
Friday, July 10, 2020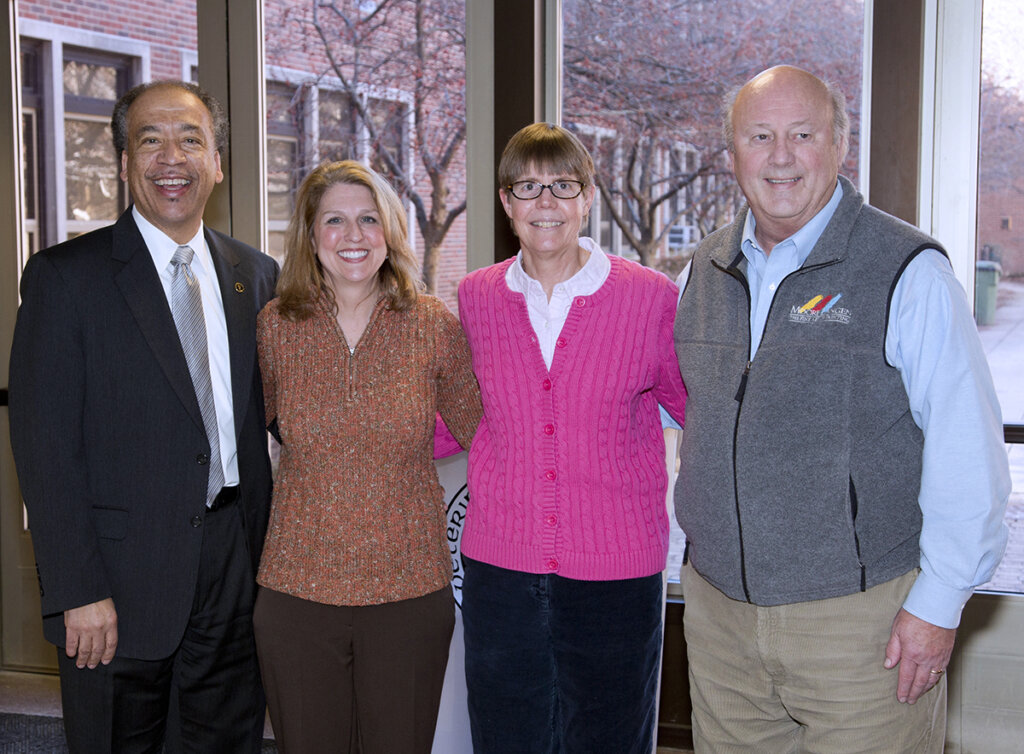 You can't put a price on unconditional love and affection from a pet. But an avid animal-loving Indiana couple's gratitude for the opportunity to spend more time with their beloved, cancer-stricken canine companion inspired a $1 million gift to support the Purdue Comparative Oncology Program (PCOP) that is part of the Purdue University College of Veterinary Medicine and an integral component of the Purdue University Center for Cancer Research (PCCR).
In January 2020, before the COVID-19 global pandemic began wreaking its havoc, the Indiana-based Werling Charitable Foundation made a $1 million gift to the PCCR, to be combined with another $1 million made available through the PCCR's Walther Cancer Foundation's matching-fund program, to support canine oncology research in the College of Veterinary Medicine. Together, these funds will create a $2 million endowment to be used exclusively for groundbreaking bladder cancer studies in dogs led by Dr. Deborah Knapp, the Dolores L. McCall Distinguished Professor of Comparative Oncology in the Department of Veterinary Clinical Sciences and director of the PCOP.
"This is an incredibly generous gift, and one that will certainly have high impact for many years to come," says Dr. Knapp. "It is especially an honor to receive this gift from a family with whom we have formed a close relationship over many years and multiple pets. This gift also provides further inspiration to our comparative oncology research team because it sends a clear message that people truly value our work and understand that it is transforming the outlook for pet animals and humans facing cancer."
For the Werling Charitable Foundation co-chairs, the close relationship with Dr. Knapp and her research team began when their first rescue animal, Brandi, an Australian shepherd, was granted a new lease on life after being diagnosed with bladder cancer and given three months to live. Following a recommendation from their veterinarian, a Purdue alumnus, they contacted the College's Veterinary Hospital. 
"Thanks to Dr. Knapp and her team, Brandi lived another year and eight months," Sue Ann Werling said. "We cherished that special time to have Brandi longer." 
The Werlings praised Dr. Knapp's passion and expertise in providing a humane quality of treatment for Brandi. "The care Brandi received for bladder cancer was phenomenal, and allowed her to live a happy and wonderful life." Thus began the Werling Charitable Foundation's long-term commitment of annual giving to Purdue and Dr. Knapp's work to help cure bladder cancer both in dogs and, ultimately, in humans. An initial matching gift program, in Brandi's name, generated $500,000 in support from others and raised $1 million in 2015. 
To date, Dr. Knapp's PCOP canine bladder cancer studies have taken a disease with an average survival of just a few days to one with an average survival of 450 days.
The Werlings' experiences of working with Purdue leaders were deciding factors in the charitable foundation's support for the university and the College of Veterinary Medicine.
The 2020 Werling Charitable Foundation gift was also made as a tribute to honor the dynamic leadership at Purdue University and the College of Veterinary Medicine — notably President Mitch Daniels, Dean Willie Reed, and, of course, Dr. Knapp. "The Werlings have a profound admiration of President Daniels' leadership, his integrity, honesty, and work ethic. He truly has the students' best interests at heart."
Making a Difference for Animals and People
The Werlings share small-town values along with a passion for improving the lives of animals and people. Evan grew up as a small-town, Indiana farm boy, who then worked his way through college. He is the author of the 2019 book — The American Dream Is Real, a guide for "entrepreneurs, teachers, parents, and today's youth." It chronicles his rise from humble roots to his success as a CPA, and as a domestic and international entrepreneur — and now as a career mentor.
President Daniels wrote a book endorsement that praised the author as "a wonderful example" of what it means to achieve the American Dream. "Our students at Purdue have benefited greatly from his presentations on campus and from his wisdom and wealth of experience." And he added, "Evan Werling is proof that the American Dream is real, but, as stated in this book, it is not free. It must be earned."
In turn, Werling extols Purdue's entrepreneurial education and the experience it provides. "Purdue has absolutely one of the best entrepreneurial programs opportunities in the nation, because its students have exposure to science, technology, and to research and development — all of which are very important components, when developing a top-notch entrepreneurial company. From experience, I know that entrepreneurism is not just a business program. It is through science and technology that entrepreneurs make the improvements and contributions that are needed for today's society. This is what distinguished each of my companies from the competition."
He is currently in discussions with Dr. Nathalie Duval-Couëtil, director of the Certificate in Entrepreneurship and Innovation Program, to share his professional expertise and insight with the program's students.
Sue Ann also grew up in a small Indiana town. She worked her way through college as a waitress. During her career, she and her husband rebuilt a failing and insolvent company into the largest privately-owned high-tech print communications company in the United States. When doing so, she was named one of the Top Ten Women Business Entrepreneurs in America. Today, as co-chairman of the Werling Charitable Foundation, she champions saving rescue animals and ensuring that they are placed into loving homes after receiving the medical care and healing they need. It is a passion that fills the couple's home life, as foster parents for homeless pets.
"Animals have been very important in our lives," Sue Ann said. "Every day that we wake up, we devote our lives to animals."
Despite the deeply personal reasons and the relationships that have inspired their giving, the Werlings prefer that any publicity focus on Purdue University, its leadership and the wonderful benefits Purdue graduates bring to our economy and to our society.
"It's not about us," they say in unison. It is about supporting great causes — such as Purdue's dedication to excellence in higher education and Dr. Knapp's leadership in research to develop cures for cancer and other serious medical problems that afflict both pet animals and humans.
"We know how we felt when we lost Brandi, and we don't want others to have to go through such an ordeal if we can help support a cure or treat a condition," the Werlings say.
Dr. Knapp says the timely Werling Foundation-Walther Cancer Foundation matching-gift endowment will benefit the program's research teams for decades to come.
"This gift is tremendously important," Dr. Knapp says. "Some of our greatest discoveries in fighting cancer are made through philanthropic support."
At a time when grant budgets are being cut and research costs are increasing — and as research dollars are needed in so many diverse areas — Dr. Knapp says important studies are being accomplished by combining research grants and private gift support.
"This allows us to continue to offer clinical trials for pet animals facing cancer — trials that offer hope for a better outcome and trials that typically offer more affordable therapies than the current standard of care," she says.
The new endowment will be administered by the PCCR under the direction of Dr. Timothy Ratliff, Distinguished Professor in the college's Department of Comparative Pathobiology and the Robert Wallace Miller Director of the National Cancer Institute designated PCCR, and its more than 100 faculty scientists from a range of academic disciplines who are working on new and better cancer treatments.
Dr. Ratliff says the center jointly manages the endowment with the College of Veterinary Medicine leadership on how to spend the dedicated funds to empower work led by Dr. Knapp to improve the outlook for animals and humans with cancer.
"We are grateful to the donors for this matching gift program to support our research into spontaneous, naturally occurring canine cancers that not only enable us to better treat canine cancers, but also to better understand and treat human cancers," Dr. Ratliff says.
More than that, the gift inspired by love will help others love their pets just a little longer.
About the Walther Cancer Foundation
The Indianapolis-based Walther Cancer Foundation is an independent, private grantmaking foundation committed to eliminating cancer as a cause of suffering and death through supporting and promoting interdisciplinary and inter-institutional basic laboratory, clinical, and behavioral cancer research. The foundation is particularly interested in supporting efforts to strengthen cancer research institutions in Indiana.
About the Purdue Cancer Center
Since 1978, the Purdue University Center for Cancer Research has been a National Cancer Institute-designated basic-research cancer center. Only seven institutions in the United States have earned this title. Being a basic-research center means it does not treat cancer patients directly. Its work focuses on investigating cancers where they begin — at the cellular level — to investigate the cause of, and cure for, one of the most devastating killers of our time. Doctors and scientists throughout the world use the center's discoveries to develop methods, medicines, and medical devices to save and enhance patient lives.
Writer(s): Grant A. Flora, Purdue Research Foundation | pvmnews@purdue.edu