College of Veterinary Medicine Showcased as Part of Ag Alumni Fish Fry
Friday, May 13, 2022
The longtime association between the Purdue University College of Veterinary Medicine and College of Agriculture was on display during the annual Purdue Ag Alumni Fish Fry, which is considered the unofficial homecoming of Indiana Agriculture. Returning as an in-person function for 2022, the event was held at the Blue Ribbon Pavilion at the Indiana State Fairgrounds Saturday, April 30.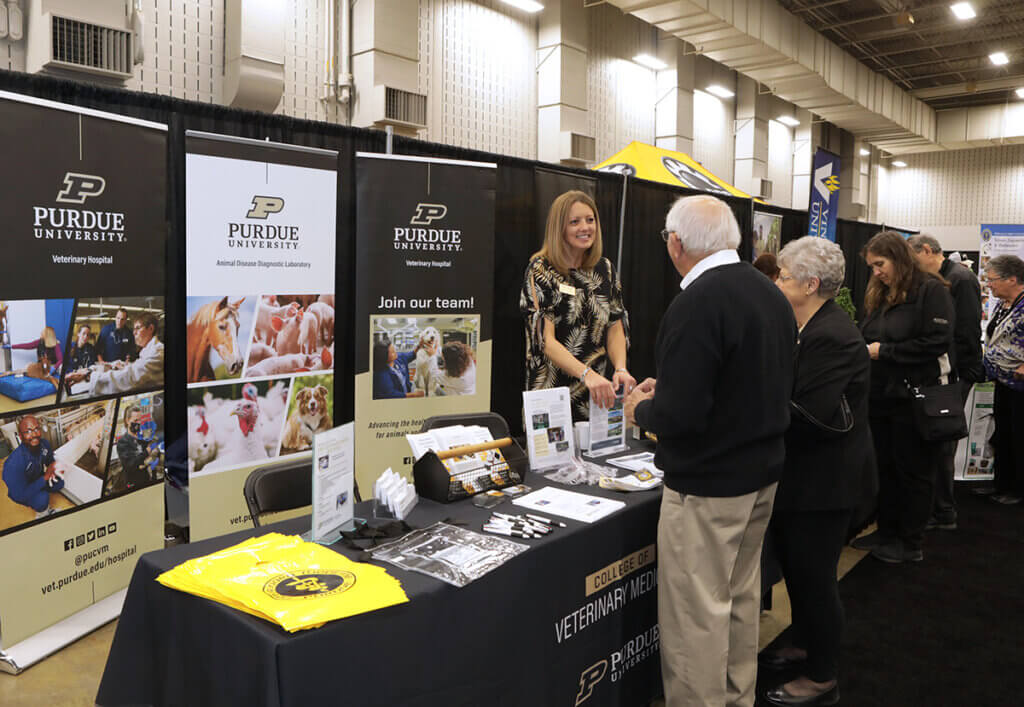 As guests arrived Saturday morning for the luncheon, they had the opportunity to visit a number of displays set-up inside the pavilion, including the Purdue Veterinary Medicine booth, which featured information about the new David and Bonnie Brunner Purdue Veterinary Medical Hospital Complex and the Animal Disease Diagnostic Laboratory. Chief Development Officer Tanya Finkbiner and Assistant Director of Development Julie Bogan greeted visitors along with Dean Willie Reed. Dean Reed also was honored at the event for his role as a member of the Ag Alumni Board of Directors.
After the opportunity to visit the informational booths, guests were invited to take their seats for the meal and program. Among the speakers was Purdue Provost and Executive Vice President for Academic Affairs and Diversity Jay Akridge, who gave a shout out to the College of Veterinary Medicine for the recent dedication ceremony celebrating completion of the veterinary hospital complex. 
The program also featured recognition of the Ag Alumni Association's Certificate of Distinction winners, and remarks by the keynote speaker, Dr. Jerome Adams, Presidential Fellow at Purdue University and the 20th U.S. Surgeon General. He made his remarks during a question-and-answer session led on stage by College of Agriculture Dean Karen Plaut. Dr. Adams spoke about health equity, and why it is important to everyone. Dr. Adams is also no stranger to agriculture, having grown-up on a farm in rural Maryland. Talking about why he valued the opportunity to speak at the event, Dr. Adams said, "I want people to understand that even though I am a doctor and former surgeon general, our missions are very closely aligned. What I bring to the table are all lessons learned on our family farm back in the day, all of which helped me get to where I am today."
Writer(s): Kevin Doerr | pvmnews@purdue.edu