Bee Sure Not to Miss the Beekeeping for Veterinarians Workshop!
Friday, July 20, 2018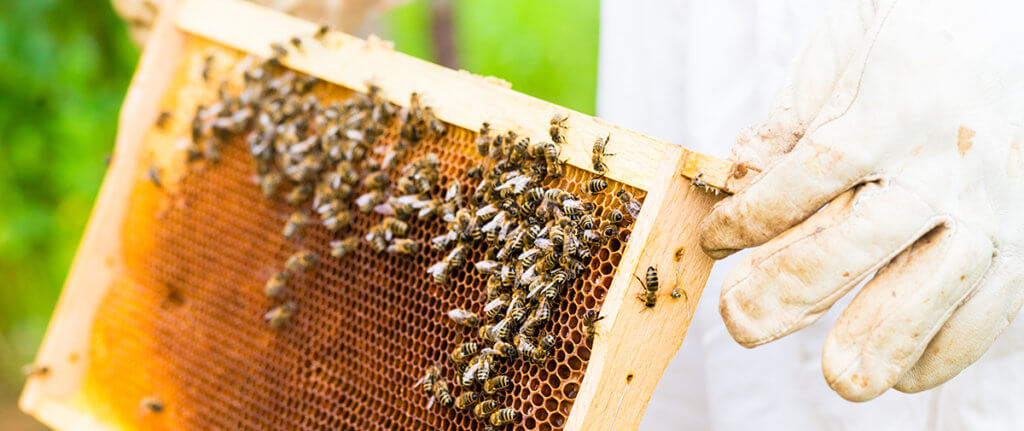 Purdue Veterinary Medicine is joining forces with the Department of Entomology in the Purdue University College of Agriculture to host the Beekeeping for Veterinarians Workshop next Friday, July 27.  This unBEElievable program will enlighten attendees about the veterinarian's role in beekeeping and will provide veterinarians with the skills needed to work with beekeeping clients. The program is scheduled from 9:00 a.m. to 4:00 p.m., and will begin in Lynn Hall and then continue at the Purdue Apiary.  The course is open to veterinarians, veterinary students, and veterinary technicians, but is limited to 40 participants.  Registration is required.
Participants will learn about a variety of topics including honeybee biology, honeybee diseases, disease prevention/treatment, and basic beekeeping skills. The workshop also includes hands-on training on beehive management.  Protective gear will be provided, but participants should wear pants, long sleeves, and closed-toe shoes.
During the program, attendees will hear from Krispn Given, an apiculture specialist at Purdue University's Department of Entomology.  Krispn, who has 25 years of experience in breeding bees, will be discussing "Honeybee Biology and Basic Beekeeping." He maintains Purdue's 120 research colonies, runs the Purdue honey bee breeding program, and manages the honey bee laboratory and extension activities.
In addition, Dr. Terry Ryan Kane will talk about the "Veterinarian's Role in Beekeeping." Dr. Kane earned her DVM degree at the University of Illinois College of Veterinary Medicine after receiving her master's degree in ecology from the University of Illinois-Chicago. Dr. Kane started A2 Bee Vet, a veterinary practice serving pollinator stewards.  She is knowledgeable about how pollinators are critical to food security and what new FDA guidelines mean to beekeepers.
The third speaker, Kathleen Prough, the Indiana Department of Natural Resources (IDNR) chief apiary inspector, then will give a presentation on "Indiana Apiary Laws and Inspection Protocol." The workshop will conclude with hands-on training on beehive management where participants will spend time in the hives at the Purdue Apiary.
Don't miss out on the buzz about this workshop.  Register today! Click here to register online.
Writer(s): Rachel Nellett, PVM Communications Intern | pvmnews@purdue.edu