Alumni and Friends Celebration Honors Reunion Classes and Alumni and Teaching Award Winners
Friday, September 30, 2022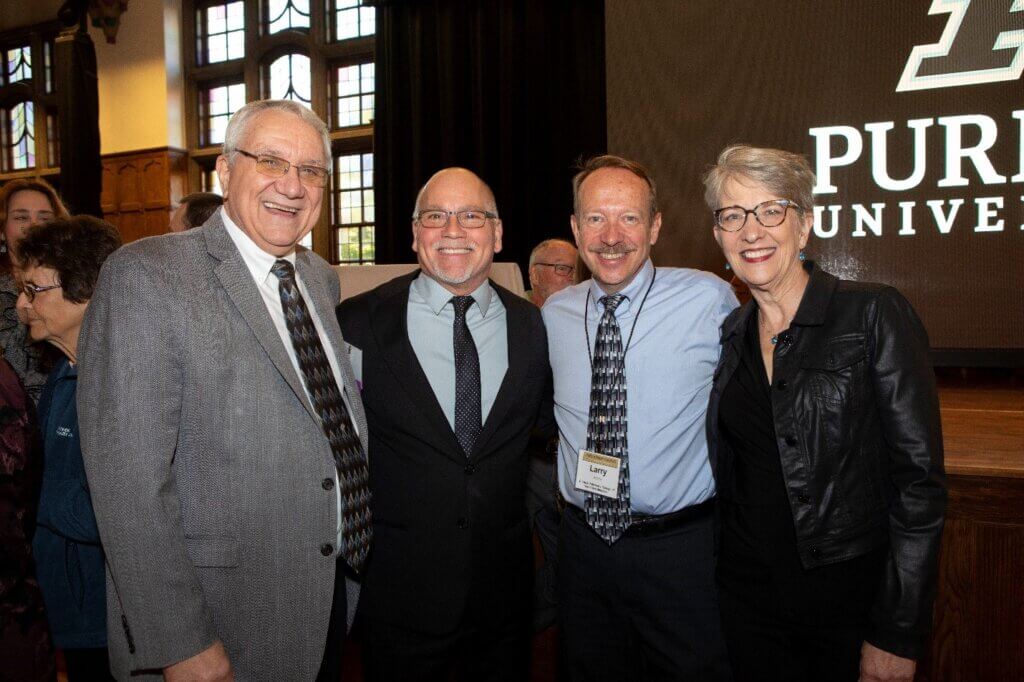 Purdue University College of Veterinary Medicine faculty, staff, alumni, and friends recognized recipients of top alumni and teaching awards, and honored alumni classes celebrating class anniversaries at the Alumni and Friends Celebration during the 2022 Purdue Veterinary Conference. The event was held Thursday evening, September 22, in the Purdue Memorial Union North Ballroom.
The festive setting enabled alumni and conference attendees to catch up with classmates and colleagues while sampling hors d'oeuvres. Then Dean Willie Reed began the evening's program by introducing the reunion classes and paying special tribute to the 25th and 50th reunion classes. Members from the Silver Anniversary class, the DVM class of 1997, were called to the stage to be recognized and receive a commemorative gift. Then, alumni in the 50th Anniversary Class, the Class of 1972, were each introduced individually by Director of Alumni Relations Susan Xioufaridou, as they stepped up to the stage and received a special 50th Anniversary Class medallion from the Purdue Veterinary Alumni Association, which was presented by Dean Reed.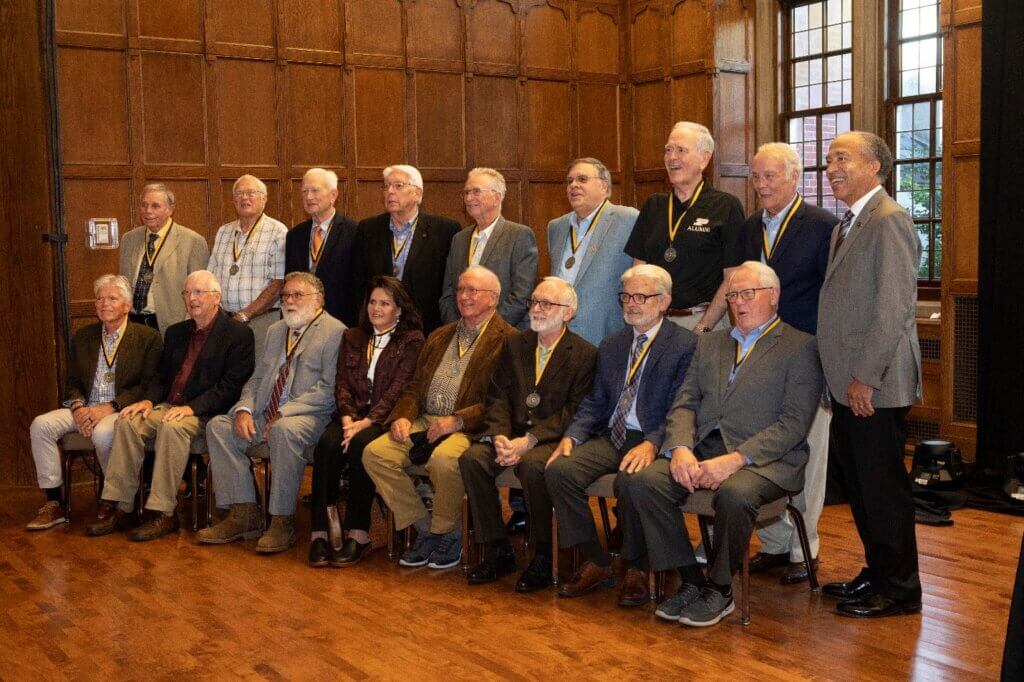 Another special component of the Alumni and Friends Celebration involved the presentation of two prestigious awards. Dr. Fred Metzger, of the DVM Class of 1986, received the Distinguished Alumnus Award. Dr. Larry Adams, professor of small animal internal medicine and Small Animal Internal Medicine section head for the Purdue University Veterinary Hospital, was honored with the Raymond E. Plue Outstanding Teacher Award.
The Distinguished Alumnus Award was established in 1978 by members of the DVM Class of 1967, as a memorial tribute to their classmate, Dr. David Mullis, who was honored posthumously as the first award recipient. Out of our College's more than 3,500 Doctor of Veterinary Medicine graduates, and more than 1,200 veterinary nursing degree recipients, a total of 68 have been honored as Distinguished Alumni.
Dr. Metzger earned his Purdue DVM degree in 1986 and returned to his hometown of State College, Pennsylvania, where he established a veterinary practice in 1992. The practice has grown to more than 90 team members including 13 doctors and 17 certified veterinary technicians who see more than 30,000 patients annually. An adjunct professor at Penn State and consultant for IDEXX Laboratories and Antech Diagnostics, Dr. Metzger is a popular presenter at many conferences both nationally and internationally, frequently lecturing alongside his friend and mentor, Dr. Dennis DeNicola (PU DVM '78, PhD '81). He also is known for works he co-authored with one of his mentors, former Purdue Veterinary Medicine Dean Alan Rebar (PU DVM '73, PhD '75), entitled, Clinical Pathology Interpretation in Geriatric Veterinary Patients and A Guide to Hematology in Dogs and Cats.
Next, Dean Reed presented the college's most prestigious teaching honor, the Raymond E. Plue Outstanding Teacher Award, to Dr. Larry Adams. Established by Dr. Plue, a member of the Class of 1968, through a generous endowment, the award recognizes outstanding teachers who make an extra effort to influence and inspire students, in the same way that the late Dr. Billy Hooper inspired Dr. Plue when he was a student and Dr. Hooper was on the faculty. Nominations may only be made by alumni in the five most recently graduated classes and must be submitted to the College's Alumni Liaison Committee, which recommends a recipient to the dean.
Congratulations to both Dr. Metzger and Dr. Adams, as well as all of the class members celebrating special class anniversaries!
Writer(s): Kevin Doerr | pvmnews@purdue.edu