Wasson Veterinary Pharmacy Residency
Wasson Veterinary Pharmacy Residency
The Purdue University Wasson Veterinary Pharmacy Residency is a unique opportunity for pharmacists to gain experience working with both veterinarians and pharmacists to build a knowledge base in veterinary pharmacy that opens up exciting new career opportunities. The Wasson Veterinary Pharmacy Residency is the first program in the country that houses both colleges of veterinary medicine and pharmacy on the same campus, allowing participants to draw experiences and learning from both to advance veterinary pharmacy.
Learn more about the Wasson Veterinary Pharmacy Residency program
**Applications are being accepted for the June 2023 to June 2024 residency program. Deadline for applications is 12/31/2022.**
Objectives
To provide a non-degree postdoctoral education in veterinary clinical pharmacy and therapeutics.
To prepare the resident for eligibility and certification by the Society of Veterinary Hospital Pharmacists (SVHP) as a Diplomate of the International College of Veterinary Pharmacy.
To build a working knowledge and skill set in preparing high quality, safe, effective, and legally acceptable compounded preparations for animal patients.
To provide experience in designing and assisting in the conductance of a clinical pharmacology research project; performing research, data evaluation, and publication of seminal findings.
To build a working knowledge of the regulatory aspects of drug use in animals and instill a strong sense of ethical responsibility in decision making regarding veterinary drug use.
General Scope and Nature of Training
An independent study consisting of a 4-module veterinary pharmacotherapy course covering drug information resources, anatomy and physiology, regulatory issues, and food animal therapy will be completed by the resident during the first block (each block being 3 weeks long) of the residency.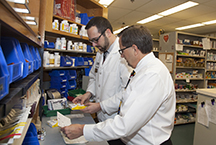 Wil Gwin (right), pharmacy director at the Purdue University Veterinary Hospital, guides Purdue pharmacy student Jonathan Sarky as he fills a prescription during a clinical rotation in the hospital's pharmacy. Purdue will become the nation's third university offering a residency program in veterinary clinical pharmacy practice to provide pharmacists special training in animal health. (Purdue University photo/Kevin Doerr)
Starting in the second block a research topic will be selected and the subsequent blocks will be tailored to develop skills around that area. The research topic will be submitted to faculty mentors for approval by the end of the second block. The project proposal must be robust and of sufficient quality for acceptance by editorial boards of all major peer-reviewed medical or veterinary journals. The resident must be the first author on the final manuscript. Project results will also be presented at a weekly veterinary seminar at the Purdue University Veterinary Hospital and the annual meeting of the Society of Veterinary Hospital Pharmacists.
In the remaining blocks, residents will spend most of their time in the hospital under the direct supervision of the three veterinary clinical pharmacists with incidental mentoring by faculty service clinicians, all of whom are veterinary specialists.
Residents will spend approximately 50% of their clinical time in clinical practice activities, rotating on each of the clinical specialty services, participating and leading clinical rounds in small, equine and farm animal hospitals, and performing drug utilization review on hospitalized patients. The remaining 50% time commitment will be in the clinical pharmacy providing drug information; preparing sterile and non-sterile compounds and chemotherapeutic agents; designing, implementing and monitoring clinical drug studies; and participating in clinical pharmacy activities. The resident may also spend time in the pharmacology laboratory at the College of Pharmacy learning basic analytical techniques (HPLC) or in vitro assays to assess drug potency and stability. In addition, the resident will work to increase collaboration between the  College of Pharmacy and the  Purdue University Veterinary Hospital through veterinary pharmacy teaching opportunities and other interactions with pharmacy students. This residency offers the opportunity to obtain a teaching certificate through the Indiana Pharmacy Resident Teaching Certificate Program (IPTeP).
Throughout the residency, the candidate will accumulate a working knowledge of veterinary pharmacy legal and regulatory processes. While the majority of this learning will occur during daily dispensing activities, supplemental learning may be accomplished at any approved external sites such as veterinary pharmaceutical companies, local specialty compounding pharmacies, the United States Pharmacopeia, and the Food and Drug Administration Center for Veterinary Medicine (CVM). The resident will also be involved in mentoring rotating pharmacy students, veterinary nursing students, and veterinary medicine (DVM) students as well as participating in medical rounds and journal clubs.
Residents will be asked to work a minimum of 40 hours per week. Time off for sick leave and vacation will be 22 working days/year total and any unused vacation will be paid out at the end of the residency. Hours may be extended as required for travel to externship sites or rotations in the field. Salary for this residency is consistent with pharmacy residency stipends.
The Hospital Experience
The Purdue University Veterinary Hospital provides an experiential environment that encompasses a vast array of veterinary healthcare. Over 17,000 cases are presented to the hospital annually. Outpatient cases average 80 daily, inpatient cases average 11 daily, surgeries performed average 11 daily and an average of 9 emergency cases are treated daily. Board certified faculty practice and teach in the following specialties:
Ophthalmology
Cardiology
Small, Equine, and Farm Animal Surgery (orthopedic and soft tissue)
Small, Equine, and Farm Animal Internal Medicine
Oncology
Radiation Oncology
Emergency and Critical Care
Anesthesiology
Neurology
Behavior
Radiology
Clinical Pathology
Theriogenology
Clinical faculty, residents, DVM interns, and veterinary technologists work together to teach DVM and vet tech students, provide world class care to animal patients and conduct research that is leading the veterinary world.
Standard Application Packet
Cover Letter
Personal Statement of Intent
Curriculum Vitae
3-4 Standardized Letters of Reference
Email applications to Wil Gwin.  Applications are due: December 31, 2022.
Contact Person
Wilson Gwin, BSPh, R.Ph. DICVP, FSVHP
Purdue University Veterinary Hospital - Director of Pharmacy
Purdue University College of Veterinary Medicine
625 Harrison Street, Room G361
West Lafayette, IN 47907-2026
wegwin@purdue.edu
765-494-7622
FAX: 765-496-2569