PVM Provides Training on Opioid-reversal Drug Narcan to Protect Police Dogs from Opioid Overdoses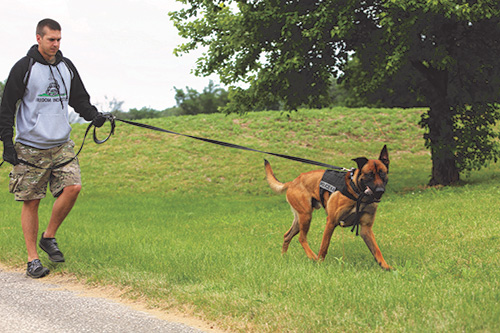 Lafayette Police Department K9 Rocky with his partner, Officer Austin Schutter, after a Tippecanoe County Metro K9 Unit training session in which he practiced finding illegal drugs in an open area.
By Lauren Bruce
At the Lafayette Police Department training compound, K9 Vasco sniffed around the room, nose to the ground, and indicated that he found something good. Just like your dog at home, police dogs are hardwired to smell everything, but K9 officers like Vasco are trained specifically to smell illegal drugs. Vasco, a six-year-old Belgian Malinois and four-year veteran of Tippecanoe County Community Corrections, had just located a hidden bag of heroin.
Like so many police dogs, Vasco's contributions to police work in Tippecanoe County are remarkable. But because of his high-risk job going into the homes of suspected drug offenders, he is at considerable risk for drug exposure. With the help of training provided by veterinarians at the Purdue University Veterinary Teaching Hospital (VTH), on-duty K9 police officers in Greater Lafayette now are carrying naloxone, commonly known by the name Narcan, to keep police dogs like Vasco safe when they are sent into houses and cars to find narcotics.
The trend toward recreational use of fentanyl and carfentanil is dangerous for people and dogs alike because it takes so little of the drug to cause overdose symptoms. Fentanyl is 100 times more potent than morphine, and carfentanil is about 10,000 times more potent than morphine. A lethal dose of fentanyl looks like a few granules of salt, and is so lightweight and powdery it can float in the air. It takes even less Carfentanil to induce an overdose.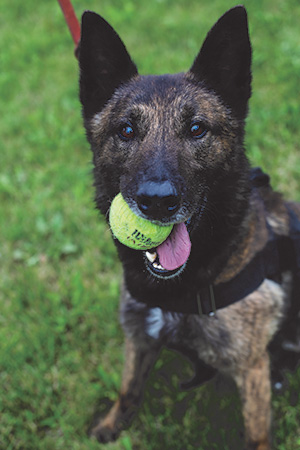 Remco serves on the West Lafayette Police Department as a dual-purpose K9, meaning he is trained both for drug detection and security. All of the dogs in the Tippecanoe Metro K9 Unit are trained for dual-purpose.
Since 2015, several emergency responders in Greater Lafayette have been carrying Narcan with them to use in cases of human narcotic overdoses. The drug has been credited with a steep drop in heroin deaths in Tippecanoe County over the last year.
But with the frequent use of K9 officers in houses and cars where drugs might be present, area police saw the need for readiness and training.  Sergeant B.T. Brown, a Lafayette Police Department supervisor who oversees the Tippecanoe County Metro K9 Unit, heard reports from around the country where police dogs, exposed to fentanyl during a routine drug search, had to be rushed to the hospital for emergency treatment for opioid overdose.
"We haven't had an exposure problem in Greater Lafayette with the dogs yet, but we need to be prepared in case we do," Sgt. Brown said. "Part of my concern was seeing the need for training and readiness because of the heroin and opioid influx here.  It's without question that opiate-based drugs have had a huge influence on the Lafayette area. We see it literally every day."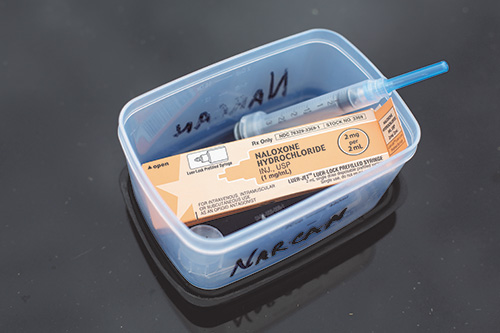 The Metro K9 Unit now carries naloxone, commonly known as Narcan, to keep K9s safe when they are sent into houses and cars to find narcotics. Narcan is an opiate antidote which can reverse symptoms of an overdose, giving emergency responders more time for life-saving treatment for people – and dogs – who are exposed to fatal levels of opioids.
The K9 officers began carrying Narcan for canine use after receiving training from Drs. Paula Johnson and Elizabeth Thomovsky, and their Emergency and Critical Care team at the Veterinary Teaching Hospital. "After a lecture, we gave the officers hands-on training on how to give intramuscular injections and intranasal administration," said Dr. Johnson, PVM clinical assistant professor of emergency and critical care. "Opioid drugs have been on the rise in Greater Lafayette for several years, and K9s are at considerable risk due to their work around drug-related crimes."
Naloxone is an opiate antidote which can reverse symptoms of an overdose, giving emergency responders more time for life-saving treatment for people who overdose. Municipal Narcan programs for humans are commonly carried out under training provided by medical doctors, and K9 programs for dogs that might be exposed in the line of duty are carried out under training provided by veterinarians.
"The risk for a dog is not just oral ingestion [of opioids]," Dr. Johnson explained. "The drug can be airborne, or there could be dermal exposure if some lands on the dog's coat. Any of the powder that they're exposed to can be ingested later while the dog is grooming or just walking around. It can even be absorbed through their paws."
A dog exposed to opioids will display a wide range of symptoms, from stumbling and sedation, to excitability and nervousness, which can change the preferred Narcan administration method in the moment. Narcan can be administered to canines as a nasal spray or by intramuscular injection.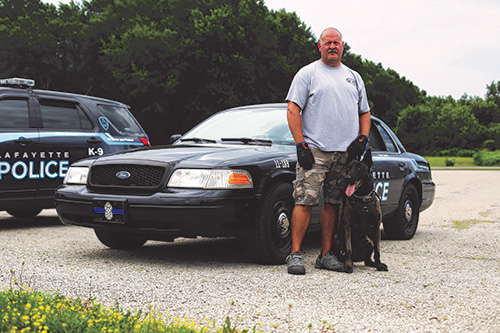 Officer Ryan French poses with Roy, a five-year-old veteran of the unit, which includes the Lafayette, West Lafayette and Purdue Police Departments, and the Tippecanoe County Sheriff's Department. This group trains and works together, deploying resources throughout the metro area.
"It's likely that if a police dog is experiencing symptoms, his handler will as well," Sgt. Brown said.
Officers in Greater Lafayette police departments say it's a particular honor to be a K9 handler. Experienced police officers undergo a long application process to become a handler, and must be willing to commit years of their lives to living and working with a K9 partner every day. The dogs undergo years of expensive, focused training, learning specialized search and tracking methods, and once they are deployed, they live with their handler and work as that officer's primary police partner until the dog's retirement. After retirement, the dogs usually live out the remainder of their lives with that officer.
"This training is important to me so we protect not only our canine friends as assets, but as assets of the [police department] and their handlers," Sgt. Brown said. "This is a lifetime commitment. They're not only working dogs, but our friends."
The Purdue University Veterinary Teaching Hospital offers discounts for the medical treatment of certified service dogs and police K9s. For more information, inquire at 765-494-1107.
---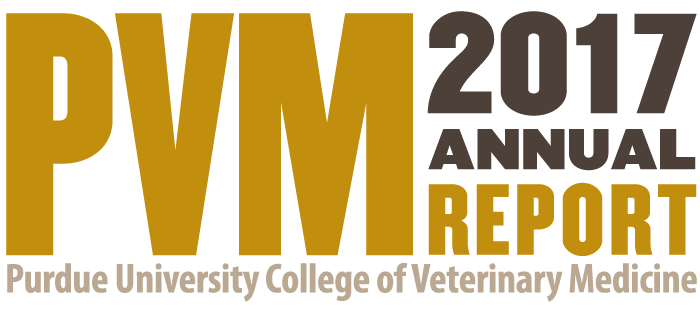 This story is part of the 2017 Annual PVM Report.