Multiple Police Agencies Escort Injured K-9 to Purdue VTH for Treatment
January 20, 2017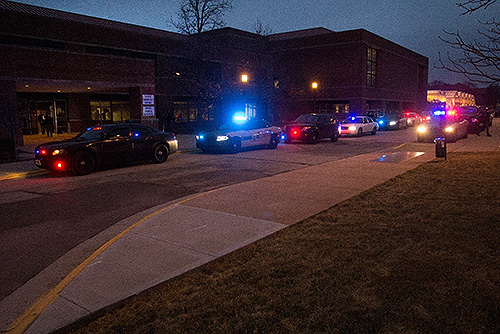 Police from multiple departments escort a Lake County Sheriff's Department squad car as it arrives at Lynn Hall Wednesday evening, January 18, with Blade, a police K-9 that was injured in a shooting in Gary, Ind.
After a shooting in Gary, Ind., injured the K-9 partner of a Lake County Sheriff's Department officer Wednesday afternoon, January 18, multiple police agencies formed an impressive escort as the police dog was rushed to Purdue Veterinary Medicine's Animal Emergency Service in the Veterinary Teaching Hospital. According to a news release from the Indiana State Police, which is investigating the case, the K-9 was shot after the officer made a traffic stop around 3:00 p.m., and a passenger fled from the vehicle. The officer and his K-9 partner, Blade, were pursuing the passenger when a shot fired at the officer hit the dog. The officer returned fire, striking the fleeing passenger once. The passenger was hospitalized with life-threatening injuries.
Blade was initially treated at a local animal hospital before being transferred to the VTH. When the Lake County Sheriff's Department unit carrying Blade reached Lynn Hall, the escort had grown to nearly 20 squad cars from various departments including the Indiana State Police, Crown Point Police Department, West Lafayette Police and the Purdue Police Department. Blade is in stable condition. All further information about the case and the K-9 is being released through the Lake County Sherriff's Department. A follow-up story about the VTH's role as an advanced medical facility treating trauma cases from near and far aired last night (Thursday, January 19), on WLFI TV. Click here to view the report.
Writer: Kevin Doerr, pvmnews@purdue.edu