Weeklong Celebration Focuses on Thanking Purdue Veterinary Nurses
Friday, October 15, 2021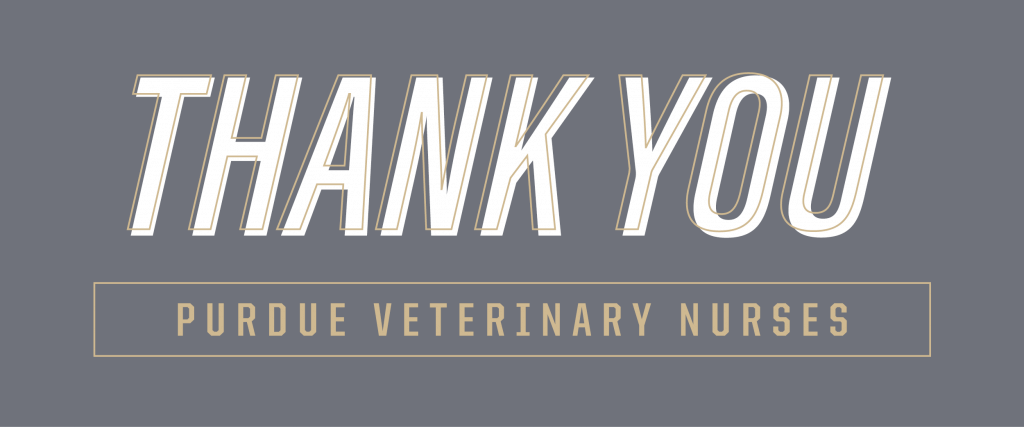 Throughout next week, October 17-23, the Purdue University College of Veterinary Medicine will recognize the important role that veterinary nurses play in veterinary medicine by celebrating Veterinary Nursing Appreciation Week. Although our veterinary nurses and the work they do are appreciated every day, next week the Purdue Veterinary Medicine family is encouraged to reflect on their significant skills and tireless efforts that are so vital in providing compassionate care for animal patients and contributing to the advancement of both animal and human health and well-being.
To help show appreciation, the college will host a variety of special themed meals for PVM's veterinary nurses. As an added safety precaution during the ongoing COVID-19 pandemic, all items will be served in individually packaged grab-and-go containers. This format enables the college to continue annual Veterinary Nursing Appreciation Week traditions, while still respecting social distancing guidelines, as we all show our veterinary nurses how thankful we are for them.
"At Purdue Veterinary Medicine, we take enormous pride in the fact that we educate the entire veterinary team," said Dr. Chad Brown, director of the Veterinary Nursing Program. "I encourage everyone to take the time to say thank you to the college's veterinary nurses, whether in clinics, labs, or the classroom." The special treats planned for PVM's veterinary nurses next week include:
YOU ARE "EGG-CELLENT" BREAKFAST SANDWICHES
TUESDAY, OCTOBER 19

7:30 – 8:30 a.m. | Lynn, East Foyer (under the stairs)
YOU ARE OUR HEROES! SUBWAY BOXED LUNCHES
THURSDAY, OCTOBER 21

11:30 a.m. – 1:30 p.m. | Lynn, East Foyer (under the stairs)
Dietary considerations will be accommodated as much as possible for all events.
Additionally, gifts from the college will be distributed by veterinary nursing supervisors and others beginning on Wednesday, October 20.
Also, during the week follow along on the College of Veterinary Medicine's social media accounts for special features as we spotlight the important role of veterinary nurses! #vetlife #NVTW2021 #VetTechWeek
A special thank you to this year's Veterinary Nursing Appreciation Week event organizers: Megan Brashear, CVT, VTS (ECC), Purdue University Small Animal Hospital veterinary nursing manager; Brandi Maxie, RVT, Large Animal Hospital veterinary nursing supervisor; Ashli Selke, RVT, clinical laboratory coordinator and distance learning instructional technologist in the Veterinary Nursing Program; Donna Tudor, RT, diagnostic imaging technologist supervisor; Jolene Knuth, RVT, anesthesiology veterinary nursing supervisor; Tami Lind, RVT, VTS (ECC), emergency and critical care veterinary technician supervisor; as well as Susan Xioufaridou, director of alumni relations and special events.
Writer(s): Susan Xioufaridou and Kevin Doerr | pvmnews@purdue.edu