Week-long Celebration Highlights Veterinary Nurses
Friday, October 9, 2020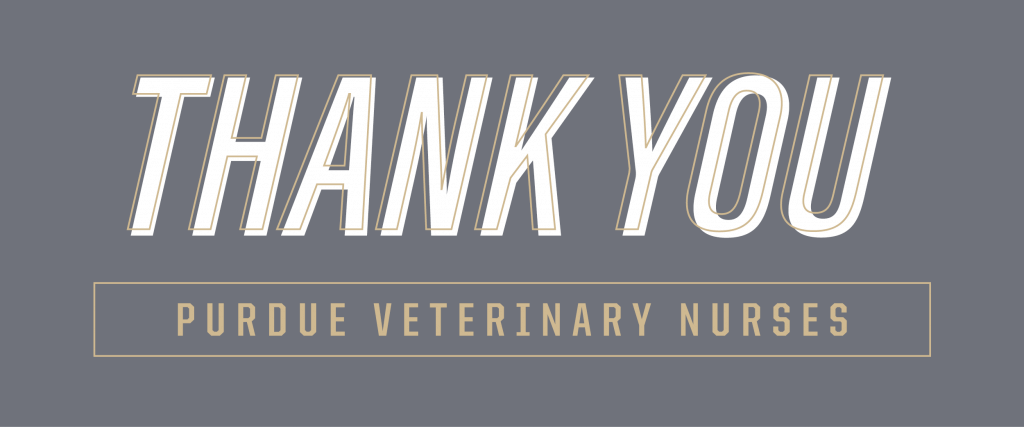 Throughout the week of October 11-17, Purdue Veterinary Medicine recognizes the important role that veterinary nurses play in veterinary medicine as we celebrate Veterinary Nursing Appreciation Week. Although we appreciate our veterinary nurses every day, this week we take time to reflect on their significant skills and tireless efforts that are so important in providing compassionate care for animals. To help in showing our appreciation, the college will host a variety of special themed meals and treats for PVM's veterinary nurses. For added safety, all items will be served in individually packaged grab-and-go containers as a precaution in light of the COVID-19 pandemic. This format allows us to continue annual traditions, while still respecting social distancing guidelines, as we show our veterinary nurses how thankful we are for their tireless efforts.
Special thanks to this year's organizers: Megan Brashear, CVT, VTS (ECC), Small Animal Hospital veterinary nursing manager; Brandi Maxie, RVT, Large Animal Hospital veterinary nursing supervisor; Pam Phegley, RVT, clinical rotation/mentorship coordinator in the Veterinary Nursing Program; Donna Tudor, RT, diagnostic imaging technologist supervisor; Jolene Knuth, RVT, VTS (Anesthesia and Analgesia), anesthesiology technologist; as well as Susan Xioufaridou, director of alumni relations and special events.
Next week's special events for the college's veterinary nurses include:
You Make Us "Butter" Pancake Breakfast
Tuesday, October 13 | 7:30 – 9:00 a.m. | Lynn G155/G119
You Are Our Heroes! Subway Boxed Lunches
Wednesday, October 14 | 11:30 a.m. – 1:30 p.m. | Lynn – East Foyer (under stairs)
A Dozen Thanks Baked Treats
Thursday, October 15 | 2:00 – 3:00 p.m.| Lynn – East Foyer (under stairs)
You Are "Egg-Cellent" Breakfast Sandwiches
Friday, October 18 | 7:30 – 9:00 a.m. | Outside Veterinary Nursing Supervisor Office

(Sandwiches that are egg- and dairy-free also will be available.)
Follow along on the College of Veterinary Medicine's social media accounts for special features as we spotlight the important roles of veterinary nurses!
Writer(s): Jonathan Martz, PVM Communications Intern | pvmnews@purdue.edu