Virtual Equine Wellness Forum a Galloping Success
Friday, February 18, 2022
The popularity of Purdue Veterinary Medicine's annual Equine Wellness Forum persists, even with presentations given virtually.  Historically conducted as an in-person event, the 2022 program, held last Saturday, February 12, featured presentations given over the Zoom platform covering topics ranging from basic preventative healthcare to the latest medical advancements.
The forum began with a welcome by Dr. Ellen Lowery, director of the Purdue University Veterinary Hospital, who led a virtual walkthrough of the new Veterinary Hospital facilities that are nearing completion. Following her introductory remarks, the program continued with talks by six special speakers.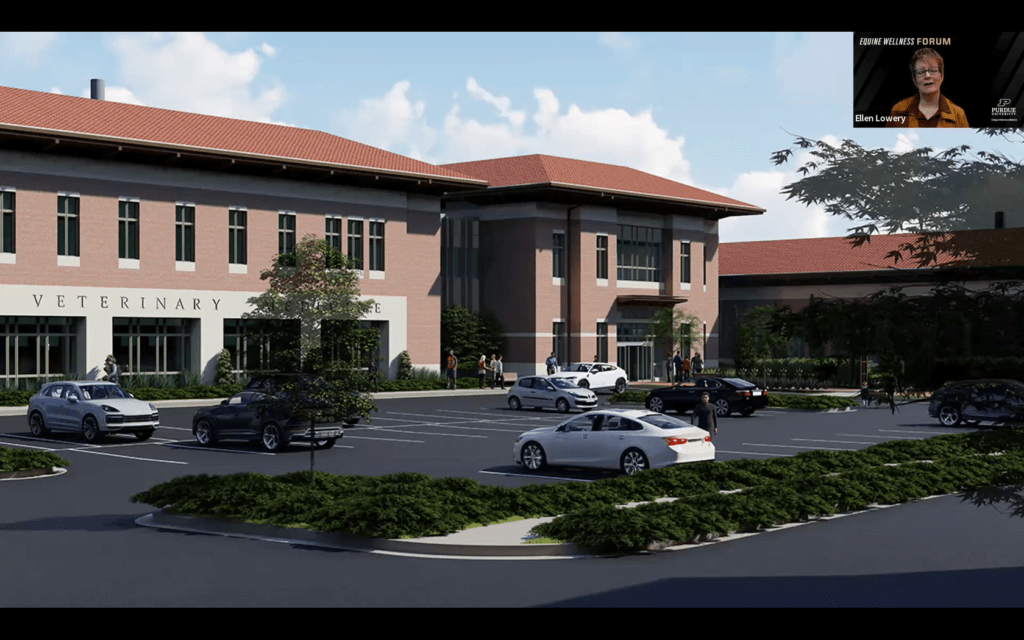 The educational sessions were kicked-off by Dr. Stephanie Thomovsky, clinical associate professor of veterinary neurology, who gave a presentation entitled, "The Use of Pulsed Electromagnetic Field Therapy In Veterinary Species." Another lecture featured Dr. Erin Wilson of Nutrena, who addressed the topic, "Nutritional Management of Equine Chronic Myopathies." A Purdue Veterinary Medicine alumna, Dr. Wilson included in her presentation a discussion of healthy types of grains and grass to feed horses, and the proper mixture for each.
Forum attendees also were treated to presentations by three veterinarians who are new clinicians in the Large Animal Hospital. Dr. Sarah Gray, large animal internal medicine clinician, gave a talk on "Choke and its Complications." Dr. Michelle Tucker, assistant professor of large animal surgery, spoke on the topic of "Head Tilt and Bell's Palsy." And Dr. Sarah Gray, large animal surgery clinician, provided an "Update on Navicular Syndrome." The day also included an overview of Purdue Veterinary Medicine equine health research by Dr. Sandy Taylor, associate professor of large animal internal medicine.
The forum was open to veterinary medical professionals, who were able to earn continuing education credits for participating, but most of the attendees were horse owners looking to expand their knowledge. More than 80 people registered to participate in the virtual Equine Wellness Forum in its live online format. All of the lectures given that day were recorded and can be accessed by attendees for a limited time. "Given that it was not possible to safely hold the event in person this year, we were excited to have the opportunity to still provide this valuable information and education for the equine industry virtually," said PVM Director of Alumni Relations and Special Events Susan Xioufaridou. "The presenters did a fantastic job and the sessions went off without a hitch.  We are thankful for everyone who registered to participate, thereby making this virtual Equine Wellness Forum a success."
Writer(s): Susan Xioufaridou | pvmnews@purdue.edu