Virtual Alumni Panel Discussion Keeps Veterinary Professionals Together Even While Apart
Friday, May 8, 2020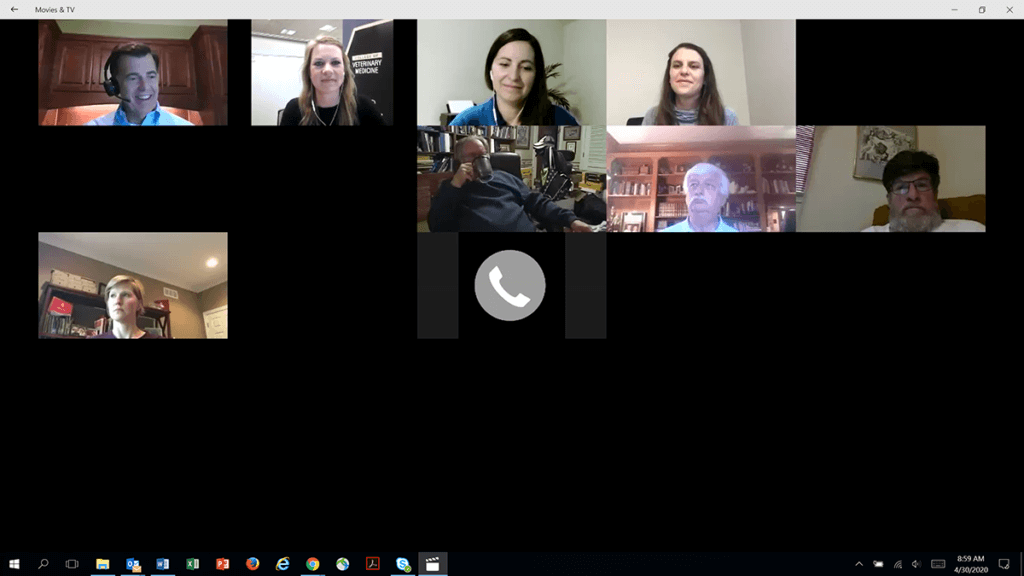 The topic of how veterinarians are adapting their practices in response to the COVID-19 pandemic spawned healthy discussion as Purdue Veterinary Medicine hosted a virtual panel discussion Wednesday, April 29. The panel featured three PVM alumni who candidly shared their unique experiences navigating these uncharted waters during this unprecedented time.
The panelists were: Dr. Rita Johnson (PU DVM 2009), owner of the St. Joe Veterinary Hospital in Evansville, Ind.; Dr. Kim Mordasky (PU DVM 2011), who owns the Hebron Veterinary Hospital in Hebron, Conn.; and Dr. Jerry Rusch (PU DVM '91), owner of Spring Mill Veterinary Service in Mitchell, Ind. A fellow alumnus, Dr. Tony Rumschlag (PU DVM '85), senior director of consulting veterinarians at Elanco Animal Health, Inc., expertly moderated the panel.
The panelists discussed how the pandemic has impacted their policies for patient intake and scheduling, as well as how they've incorporated telemedicine techniques into their practice. They also noted the importance of having all staff members focused on improving client communication, and shared examples of how technical explanations can get lost in translation when there is less face to face interaction with clients. In addition, the panelists expressed how important social media has been in sharing information about their practice's policies as they have had to adapt during the pandemic.
One of the biggest challenges the panelists said they have been facing in the midst of the current circumstances relates to managing employees. From trying to keep up morale, to dealing with laying off staff, all while keeping their businesses afloat, the challenges stemming from the pandemic make these times incredibly difficult for practice owners. Their tips included keeping communication lines open through regular staff meetings and individual dialogue with employees; regularly buying snacks or meals for employees to show appreciation; and taking advantage of government programs currently being offered to assist businesses financially.
The importance of mental health and self-care was also discussed.  The panelists advised that, whether it's talking with close friends or colleagues regularly, finding ways to have fun at or outside of work, or creating healthy habits like exercising or using relaxation techniques, find what works for you and your team members.  They encouraged veterinary professionals to be diligent about making time for themselves during these stressful days so they can better care for their employees and businesses.    
At the conclusion of the discussion, the panelists were asked to share their thoughts on how the COVID-19 health crisis will permanently change their businesses moving forward. They all agreed that it would increase social media and email use by their practices, as well as the use of telemedicine. Dr. Mordasky said, "It is a really good reminder of how sometimes we need to take a step back and find our empathy for each other, not just within the staff, but with our clients as well. I don't think we will ever go back to 'normal' but instead a new normal." The alumni panel discussion provided a sense of community, support, and useful information for veterinary professionals during the pandemic. In addition, participants received 1.0 continuing education (CE) credits for their attendance. The event was hosted as a collaboration between PVM's Office of Lifelong Learning, Office of Development, and Alumni Relations and Special Events.
Writer(s): Andrea Brown and Kevin Doerr | pvmnews@purdue.edu