Veterinary Student Receives AKC Scholarship
Friday, August 14, 2020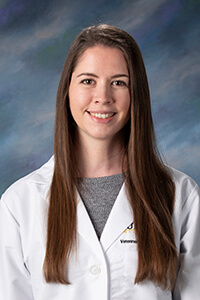 Congratulations to Purdue veterinary student Julia O'Rourke, a member of the DVM Class of 2021, who has been awarded a 2020 AKC Veterinary Outreach Scholarship.  In announcing the scholarship recipients August 5, the American Kennel Club (AKC®) stated that the scholarship program continues its commitment to students pursuing their education in veterinary studies.
The scholarship is designed to support individuals with a background of participation in AKC events and programs, who seek to promote animal health and medicine. "I've been involved in AKC junior showmanship and conformation events since I was eleven years old, mainly exhibiting Labrador retrievers and beagles," Julia said. "My involvement in AKC events and my experiences raising and showing dogs is what initially sparked my interest in veterinary medicine."
Julia is one of 15 students across the country who were awarded a total of $35,000 through the AKC scholarship program. "These students have demonstrated their dedication to the world of purebred dogs and the health and well-being of animals," said Mari-Beth O'Neill, the AKC's vice president of sport services. "They have worked hard to balance their demanding school schedules with participation in AKC events. We would like to congratulate them and we look forward to seeing their impact on the future of veterinary medicine." The AKC bills itself as the world's largest purebred dog registry and advocate for all dogs. This is the second time Julia has won the AKC Veterinary Outreach Scholarship. She also received it in 2018. Congratulations again to Julia for benefitting from this opportunity to enhance her education while pursuing her interests at the same time.
Writer(s): Jonathan Martz, PVM Communications Intern | pvmnews@purdue.edu