Veterinary Practice Management Program Webinar Offered June 26
Friday, June 22, 2018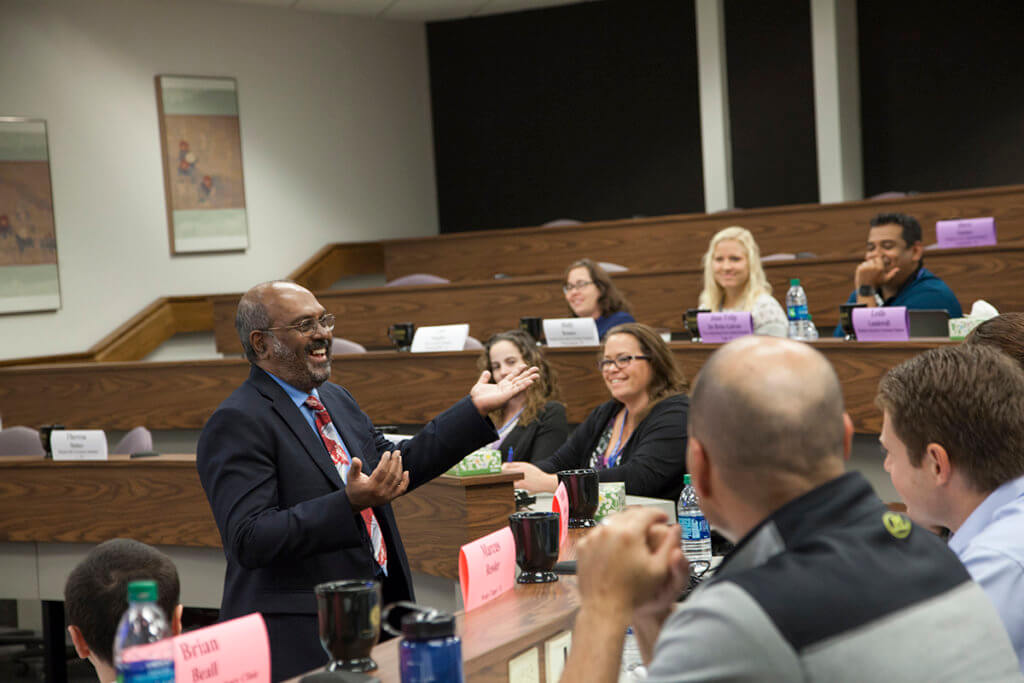 Are you interested in veterinary practice management training offered through a certificate program involving a collaboration between Purdue Veterinary Medicine and the Krannert School of Management?  Get your questions answered and meet the Veterinary Practice Management Program (VPMP) team during a live webinar Tuesday, June 26, 2018.  Learn more about this special Purdue University professional development program, designed specifically for people involved in veterinary medicine, and why you should consider joining the next cohort starting in September.  To join the webinar at 12:30 p.m., on Tuesday, June 26, just follow this link – https://purdue.webex.com/purdue/onstage/g.php?MTID=e8d3cf425b680516834aeddc32b060012.
The webinar hosts are VPMP Program Manager Cara Cray; VPMP Strategy Instructor Logan Jordan, Krannert associate dean for administration; and recent VPMP alumnus Jayme Richardson, a project manager at what he proudly calls "the best veterinary emergency and specialty animal hospital in the state of Illinois."  They have so much to tell you!
VPMP uniquely knows the needs of people who work in the veterinary medical profession.  During the history of the program, the faculty have interacted with more than 1,000 veterinary practice managers, veterinarians, and veterinary technicians and technologists, providing valuable insights that increase the profitability and longevity of veterinary practices.
Also find out more about the reasons why VPMP is not an online program.  Online programs don't put participants in a classroom, face-to-face, with fellow professionals from across the country who have wisdom to impart. Online programs don't offer up a panel of pet owners who share heartfelt stories, complaints, and compliments about their veterinary experiences (as VPMP does in the strategy module).
VPMP also provides a flexible timetable for the four weekend on-campus modules.  VPMP can be completed in 8 or 18 months – whatever works best for each participant. There also are numerous ways to save on the program fee, including paying for all four modules upfront or enrolling multiple people from the same practice.
Click here from 12:30-1:30 p.m. EDT, on Tuesday, June 26, to join the free, live webinar so Cara, Logan, and Jayme can share even more with time available for questions.
For additional information reach out to Cara today at 765-496-6166 or vpmp@purdue.edu, or visit VPMP online or VPMP on Facebook.
Writer(s): Kevin Doerr | pvmnews@purdue.edu