Veterinary Nursing Student Michaela Powell Combines Learning and Advocacy
Friday, February 4, 2022
Michaela Powell, of the Class of 2023, is an inspiring veterinary nursing student who is taking small steps not only to obtain her degree, but to advocate for self-confidence and mental health for herself and peers. Michaela grew up in Goshen, Indiana, where she was involved in choir and inducted into the National Honor Society in high school. She was involved in 4-H for 10 years, a youth development and mentoring organization that provides kids with community, mentors, and learning opportunities, during which she participated in numerous creative projects such as scrapbooking, photography, sewing, and arts and crafts. Michaela has dreamed of pursuing a career in veterinary medicine since she was young, but didn't determine exactly what she wanted to do until she reached high school.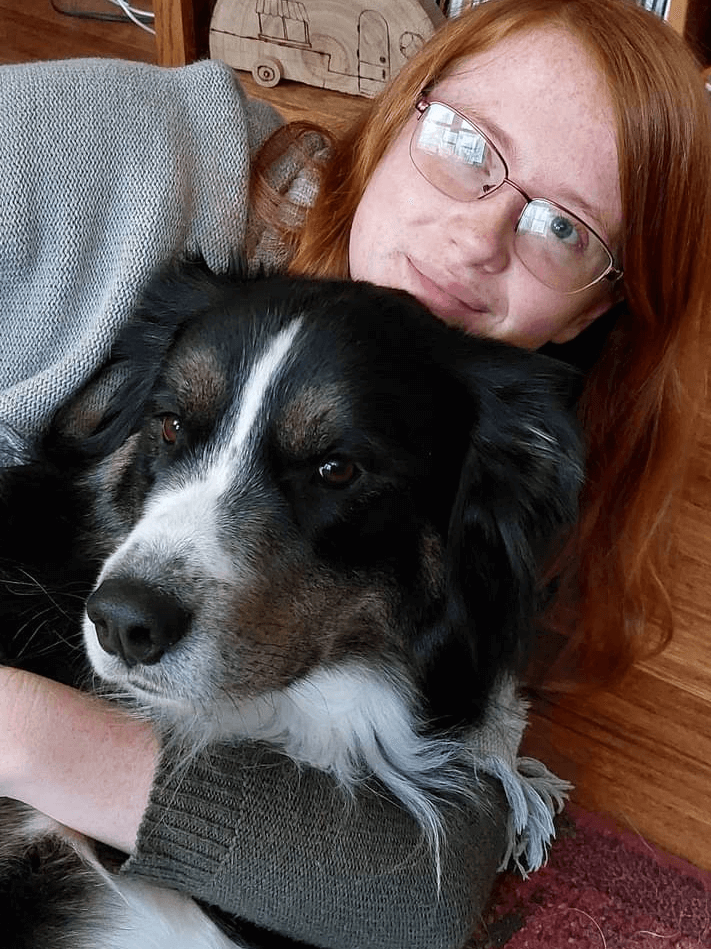 Michaela's 4-H club attended many summer events held on Purdue's campus that introduced her to veterinary nursing. "I've always been fascinated by the medical field, but realized there was no way I wanted to be a human nurse," Michaela said. "My passion towards helping animals is what led me to determine that veterinary nursing was the right fit for me." When it came time to decide where she would go to college, Michaela's decision to attend Purdue was a no-brainer. Purdue had been her dream school for years, and it was the only school in Indiana that offered a Bachelor of Science degree in veterinary nursing. Additionally, she was consistently pleased with the people she met during her campus visits and impressed by the variety of majors that Purdue offers.
During her time as a Boilermaker, Michaela has blossomed through a strong connection with her advisor, Paige Allen, MS, RVT, assistant director of academic advising and recruitment for the Veterinary Nursing Program. The two have worked together closely and can now appreciate how Michaela has grown over the past few years. "I struggle daily with my mental health and Paige is someone I can trust when things get really tough," said Michaela. "She's seen me grow a lot and has pushed me to want to try my best when classes or life get hard. With Paige, I feel I can be open and honest about things without any judgement." Perhaps the most impactful step Michaela has taken is discovering a newfound confidence and willingness to express her opinions to others, even if those opinions are not in line with a majority view.
Standing up for important values and beliefs, especially in front of others, has always been difficult for Michaela, and has been the subject of many meetings with her advisor. Now, Michaela has shaped her strong beliefs into the opportunity to lead others in a positive light. "Her ability to observe, be thoughtful, and come to her own conclusions sets Michaela apart," Paige said. "She is not simply swayed by opinions, but takes the time to really think about situations and respond in a way that is positive and supportive."
Paige and Michaela have also worked closely with one another to overcome Michaela's struggles with mental health. Reflecting on the start of their journey together, Paige said she is proud of Michaela for recognizing when she needed help, asking for assistance, and taking the time to follow through and take good care of herself. "I found what helps me most is remembering the support I have from those around me," Michaela said. "In the midst of this growth, I found my spiritual faith, and that has also greatly helped me." After graduation, Michaela plans to work in a general practice outside of Indiana with a specialization in dentistry. Paige strongly believes Michaela will be an amazing veterinary nurse, role model, and advocate for her patients and the mental health of her veterinary colleagues. Michaela is taking small steps each day to not only reach the career of her dreams, but encourage those around her to stand up for what they believe in.
This is the second in a series of three features on students in the Veterinary Nursing on-campus program. Look for the concluding article in next week's Vet Gazette (Friday, February 11).
Writer(s): Madeline Brod, PVM Communications Intern | pvmnews@purdue.edu