Veterinary Nursing Stethoscope Celebration Persistently Protects Important College Tradition
Friday, September 4, 2020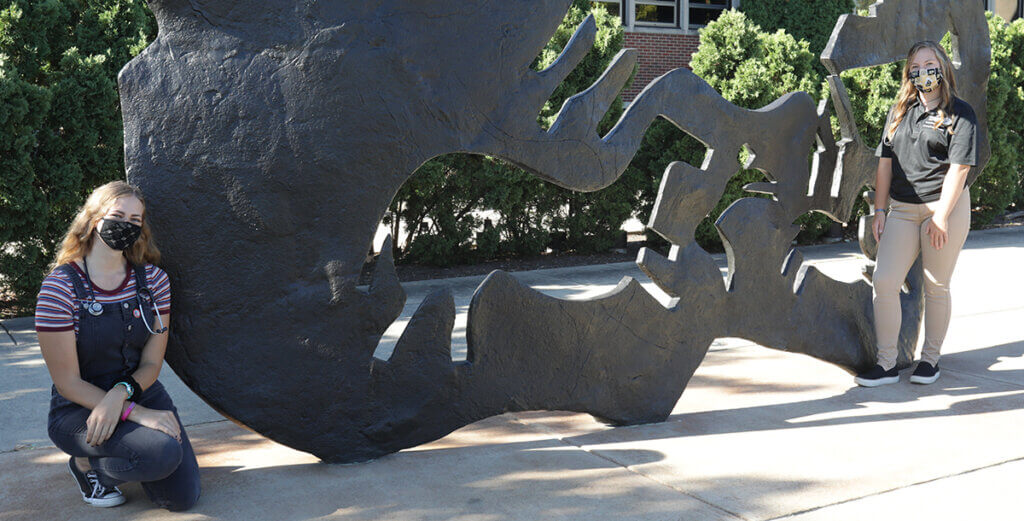 Students in the Purdue Veterinary Nursing Program's Class of 2023 stepped into the spotlight during the 9th annual Veterinary Nursing Stethoscope Celebration during the first week of the fall semester. Organizers of the event took extraordinary steps to safely continue this beloved college tradition for the students in a way that is in line with the Protect Purdue campaign, by utilizing social distancing and hybrid event technologies. Co-sponsored by Royal Canin and Patterson Veterinary, the hybrid virtual and in-person event on August 26 gave the second-year veterinary nursing students a chance to meet key administrators in the Purdue Veterinary Medicine family and receive complimentary stethoscopes as they start the clinical phase of their veterinary nursing education.
Dr. Chad Brown, director of the Veterinary Nursing Program, started the celebration by making opening remarks before introducing other college administrators who attended remotely. Dean Willie Reed then welcomed the veterinary nursing students to their first year of hands-on clinical learning in the college. He pointed out the comprehensive training they will receive at Purdue, which is one of only four veterinary colleges that educates the entire veterinary team, including doctors of veterinary medicine, veterinary nurses, and specialists in a variety of fields.
Courtney Waxman, CVT, RVT, VTS (ECC), instructional technologist in the Veterinary Nursing Program and president of the IVTA, also spoke to the class, offering words of advice and encouragement. Additionally, Pam Phegley, RVT, Veterinary Nursing Program clinical rotation/mentorship coordinator, read the preamble to the Veterinary Technician Code of Ethics, which gives veterinary nurses guidance for carrying out their professional duties.
The students also heard from Aimee Graves, of Royal Canin; Rob Fulkerson, of Patterson Veterinary; and Leslie Ferguson, of the Purdue Veterinary Alumni Association, who wished the students well on their journey to becoming veterinary nurses. After they received their stethoscopes, the students signed the Veterinary Technician Code of Ethics. The signed board will hang in the Purdue University Veterinary Hospital as a reminder of their commitment to the standards, values, and teamwork that supports animal and human health.
Writer(s): Susan Xiofaridou and Kevin Doerr | pvmnews@purdue.edu