VAD Welcomes Jennifer Ashley as Veterinary Skills and Competencies Manager
Friday, August 24, 2018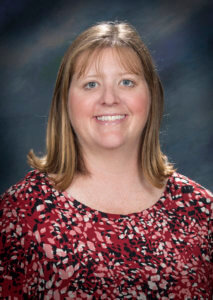 Jennifer Ashley, RVT (PU BS-VT 2003), joined the Department of Veterinary Administration on August 6 as the Veterinary Skills and Competencies Manager.  She has been a Purdue Veterinary Medicine staff member since 2006, most recently serving as a veterinary technologist senior instructor.
Jennifer received her associate's degree in veterinary technology in 2002 and her bachelor's degree in 2003, both from Purdue University, and her master's degree in accounting from Indiana Wesleyan University in 2017.  Jennifer has been married to Jim for 15 years and they have two children, Brayden, who is 13, and Evan, who is 6.  Jennifer also has three four-legged children: Sydney, Wesley, and Minnie Meowser.
Jennifer will be working with the instructors-of-record to coordinate the new first-year Veterinary Skills and Competency courses as well as the second-year Professional Skills courses and the third-year Clinical Skills courses.  She will continue to be involved with the Pet Professor Program as well.
Jennifer looks forward to this new chapter in her career and growing with the new curriculum.  She has a passion for working with students, solving problems, and managing courses. Please join VAD in welcoming Jennifer to her new position!
Writer(s): Carlene Linn | pvmnews@purdue.edu