Tuskegee University Presidential Delegation Visits Purdue to View New Veterinary Hospital Complex
Friday, November 11, 2022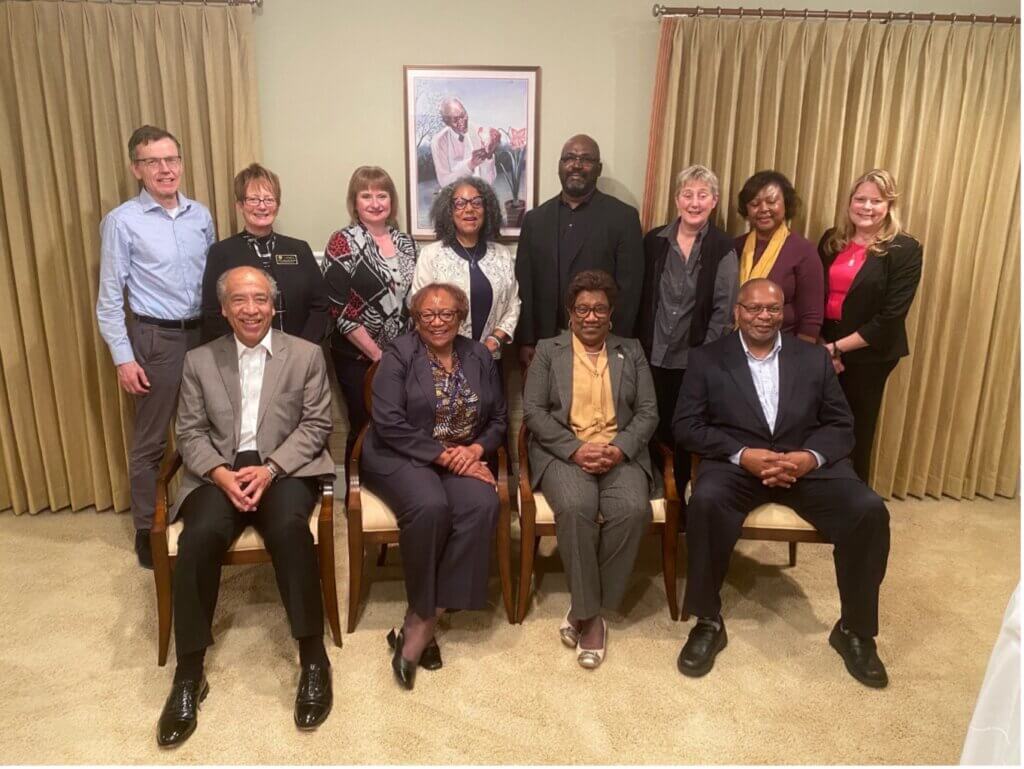 The Purdue University College of Veterinary Medicine hosted a visit this week by a high-level delegation from Tuskegee University that included the president, Dr. Charlotte Morris, and the dean of the College of Veterinary Medicine, Dr. Ruby Perry.  "Tuskegee's veterinary college is in the same position that we were in a few years ago," said Dean Willie Reed, in describing the reason for the visit.  "They now face the same need we had, to replace an aged veterinary hospital, and so the delegation wanted to get a first-hand look at our new facilities and learn how we worked with the Purdue administration to foster a good understanding of the unique needs and costs associated with veterinary medical education."
For Dean Reed, who earned his DVM degree at Tuskegee, the visit on Monday, November 7, was extra special since it involved hosting a high-level delegation from his alma mater.  "As an alumnus, I was very proud to be able to host them and to help them in any way I can in achieving their goal of acquiring a new hospital."  The day began with presentations.  Dean Reed gave an overview of the college, and then the delegation heard presentations by Dr. Kathy Salisbury, associate dean for academic affairs; Dr. Ellen Lowery, Veterinary Hospital director; and Dr. Kenitra Hendrix, director of the Animal Disease Diagnostic Laboratory.  Tours of the new David and Bonnie Bruner Purdue Veterinary Medical Hospital Complex and the Animal Disease Diagnostic Laboratory followed.
The schedule also included a lunchtime meeting with a team of Purdue University administrators from across campus, including Provost Jay Akridge; Purdue Polytechnic Institute Dean Daniel Castro-Lacouture; College of Engineering Interim Dean Mark Lundstrom; Graduate School Dean Linda Mason; and Vice Provost for Diversity and Inclusion John Gates. Dean Reed said that discussion focused on the possibility of establishing an agreement with Tuskegee along the lines of a new agreement just announced between Purdue University and Morgan State University in Baltimore, Maryland. There already are some interactions between Purdue and Tuskegee involving the Colleges of Veterinary Medicine, Engineering and Agriculture, but Dean Reed said another area for potential collaboration could involve aviation and Purdue Polytechnic.
But Dean Reed said the main focus of the Tuskegee's delegation visit to Purdue was the new Veterinary Hospital facilities and the ADDL.  "They wanted to get an idea of the size, the complexity, and the components of the new hospital complex and the resources that are needed to operate a modern hospital," Dean Reed said.  He also noted that Tuskegee needs a new diagnostic lab, which is why the ADDL also figured prominently in their itinerary for Monday's visit.  The delegation also had the opportunity to meet with Purdue's president-elect, Dr. Mung Chiang.
Dean Reed noted that Tuskegee is different from Purdue because it is a private school, so, whereas Purdue was able to seek state support for the new hospital facilities, Tuskegee will have to figure out another way to fund their project. Nevertheless, Dean Reed said they felt good about their visit to Purdue. "They were very impressed and very thankful that we invited them and hosted them."
Writer(s): Kevin Doerr | pvmnews@purdue.edu