Third MOAAR Symposium Draws Record Crowd
Friday, December 3, 2021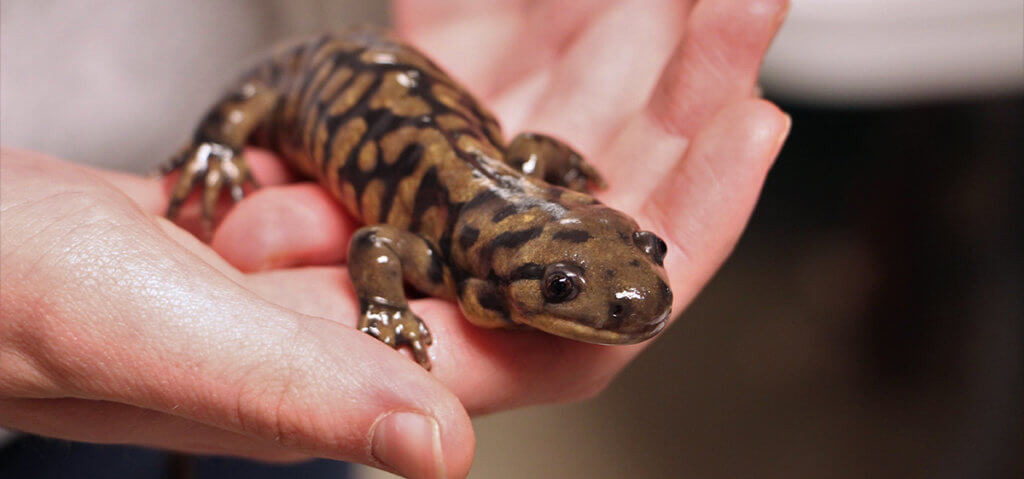 With a focus on the skillsets needed to treat aquatic, amphibian, and reptilian patients, the 3rd biennial Medicine of Aquatics, Amphibians, and Reptiles (MOAAR) Symposium this fall was a stunning success, attracting an audience of over 230. The Purdue Veterinary Medicine Exotic Animal Medicine Club hosted the event virtually Saturday and Sunday, November 20 and 21, through the Whova platform that inspired networking among attendees. Because it was virtual, this year's attendance spanned 37 states and Puerto Rico, and 15 countries. Joining those participants were many Purdue veterinary students who took advantage of the opportunity to learn more about exotic animal medicine.
The keynote speaker, Dr. Chelsea Anderson, associate veterinarian at the Georgia Aquarium, opened the symposium Saturday morning with an engaging lecture about her experience with beluga whale reproduction. Additional speakers included:
Dr. Michael Adkesson, vice president of clinical medicine for the Chicago Zoological Society
Dr. Christa Barrett, clinical instructor for Marine Animal Clinical Services at Mississippi State University's College of Veterinary Medicine
Dr. Michelle Bowman (PU DVM '97), associate veterinarian at the Indianapolis Zoo
Nick Burgmeier, research biologist and extension wildlife specialist in the Purdue University Department of Forestry and Natural Resources
Dr. Lorraine Corriveau (PU DVM '99), primary care clinician in the Purdue University Veterinary Hospital Small Animal Primary Care Service
Dr. Kathryn Gamble, director of veterinary services at the Lincoln Park Zoo
Dr. Barolomeo Gorgolione, assistant professor in the Department of Fisheries and Wildlife at Michigan State University
Dr. Nicholas Jew, avian and exotics veterinarian
Dr. Angela Lennox (PU DVM '89), exotic animal medicine veterinarian and owner of the Avian and Exotic Animal Clinic in Indianapolis
Dr. Robert Ossiboff, clinical assistant professor in the Department of Comparative, Diagnostic, and Population Medicine at the University of Florida College of Veterinary Medicine
Dr. Frank Paladino, Jack W. Schrey Distinguished Professor of Biology at Purdue University Fort Wayne
Edi Sonntag, adjunct faculty / lecturer in biology at the University of Michigan-Dearborn
Dr. Andy Stamper (PU DVM '93), conservation science manager for Disney Conservation
Dr. Jennifer Strasser, aquaculture specialist with the Indiana Board of Animal Health
Dr. Steve Thompson, clinical associate professor of small animal primary care in the PVM Department of Veterinary Clinical Sciences and clinician in the Veterinary Hospital's Small Animal Primary Care Service
Dr. Kelsey Trumpp (PU DVM 2019), who completed a zoological medicine internship at the University of Illinois Veterinary Teaching Hospital and is currently completing a four-year residency program in zoological medicine at the University of Georgia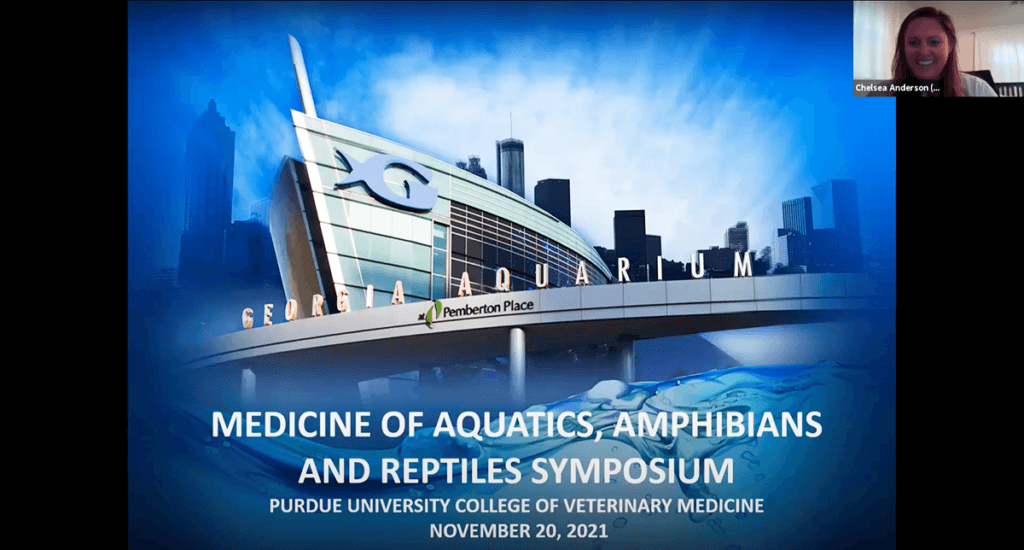 Symposium attendees had the ability to select from a wide-variety of lecture topics in two concurrent tracks: one on amphibians/reptiles and the other on aquatic animals. Lecture topics included celomic surgical considerations, elasmobranch medicine, snakes, fish heterogenous infections, hellbender recovery, amphibian disease, herps, walruses, and ectothermic pharming.
For participants who were not able to attend in real-time or who are interested in reviewing sessions, recordings of the sessions are available online. Additionally, registration is still open to those who had not signed-up for the symposium, but would like access to the recorded sessions. Click here to register and gain access to the recordings.
Writer(s): Susan Xioufaridou and Madeline Brod, PVM Communications Intern | pvmnews@purdue.edu