The Human-Animal Bond and Mental Health of Veterinarians is Topic of PVM Sponsored Lecture at VMX
Friday, January 24, 2020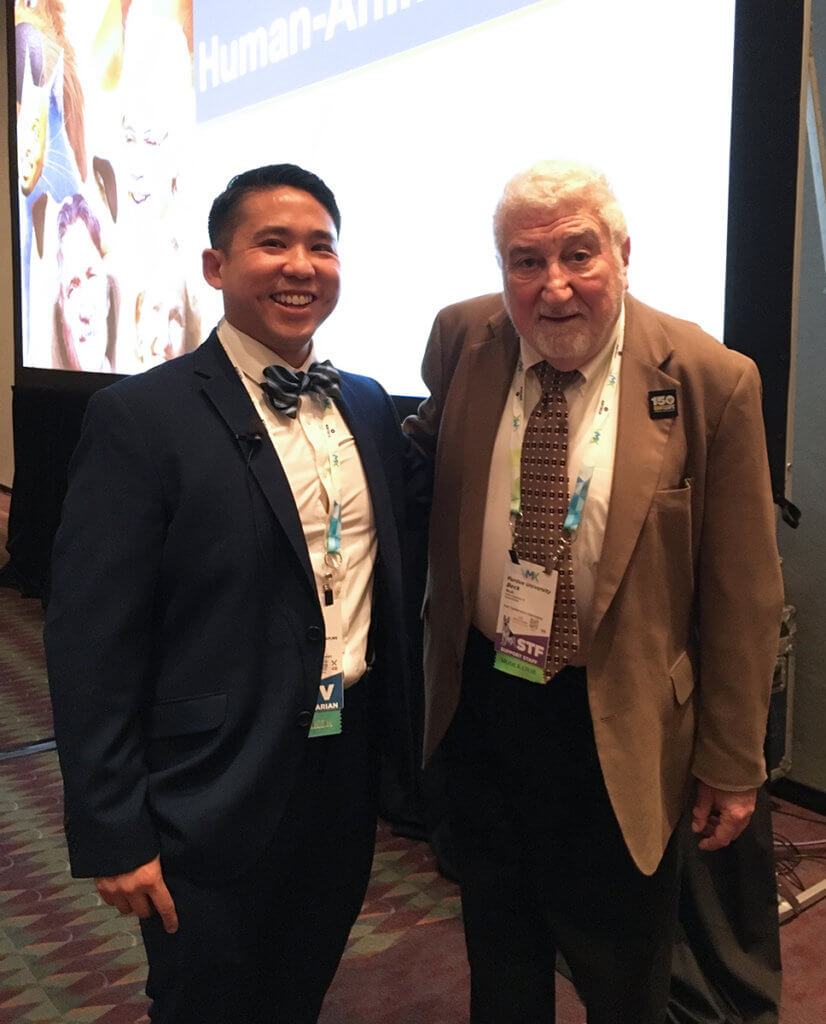 Attendees at the VMX national veterinary conference in Orlando, Fla., had an opportunity to learn about correlations between the human-animal bond and mental health issues facing the veterinary medical profession during a special lecture co-sponsored by Purdue Veterinary Medicine and Elanco Animal Health. The evening industry lecture on Saturday, January 18, featured Dr. Zenithson (Zenny) Ng, clinical assistant professor of community practice at the University of Tennessee College of Veterinary Medicine, who spoke on the topic, "The Secret Life of Vets: Embracing the Human-Animal Bond."
Dr. Ng earned his DVM degree from Cornell University and completed a small animal rotating internship at the Bergh Memorial Animal Hospital of the ASPCA in New York City before entering a combined American Board of Veterinary Practitioners (canine/feline) residency and master's degree program in human-animal bond studies at the Virginia-Maryland Regional College of Veterinary Medicine. Through this unique program Dr. Ng was able to enhance his medical and surgical skills while developing expertise in human-animal relationships.
In his presentation, Dr. Ng noted that veterinarians are arguably the professionals who are most attuned to the human-animal bond and all that it has to offer. Research has shown the benefits of human-animal interactions, and yet the veterinary profession is facing a mental health crisis. Shouldn't veterinarians be in excellent mental health if they are interacting with animals on a daily basis? Unfortunately, as Dr. Ng explained, it's not that simple.
Dr. Ng looked at research related to animal assisted interventions and shared how interactions with patients might not cause the same reactions for veterinarians. Instead, veterinary professionals are concerned with proper diagnosis, treatment plans, euthanasia and client conflict, among other things, when they see patients. His presentation included practical strategies and future research directions for utilizing the human-animal bond to improve the welfare and well-being of both veterinarians and animals.
Additionally, Dr. Ng provided useful information on mental health resources and tips for overcoming potential barriers to seeking help. He encouraged attendees to not only prioritize their own self-care, but to also be a support system for colleagues who may need help. He closed with a reminder about how veterinarians should remember what we know about the benefits of the human-animal bond, and, when possible, take a moment to enjoy a few snuggles with a healthy animal companion.
Writer(s): Andrea Brown | pvmnews@purdue.edu