Technology Developed in BMS Professor's Laboratory Leads to Nearly $1 Million NSF Grant
Friday, February 25, 2022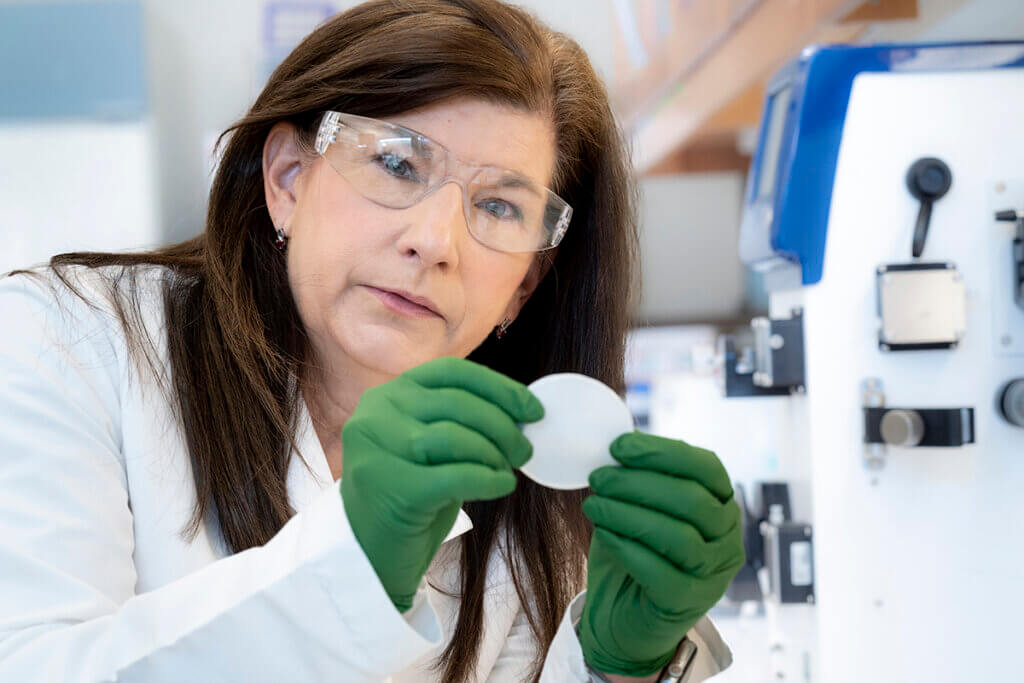 Dr. Sherry Harbin, who holds a joint appointment in the Purdue University College of Veterinary Medicine's Department of Basic Medical Sciences and the Weldon School of Biomedical Engineering, is now linked to a $974,349 Small Business Innovation Research (SBIR) grant from the National Science Foundation. The grant was awarded to GeniPhys Inc., a life sciences company focused on developing and commercializing a proprietary biopolymer technology developed in Dr. Harbin's laboratory.
The core technology, known as Collymer, is a novel polymerizable collagen molecule that can be used to custom-design and fabricate implantable materials to address unmet functional tissue restoration and reconstruction needs, including breast tissue, skeletal muscle, cartilage, skin, voice box, and more. The SBIR Phase II grant will be used to advance the commercialization of the company's initial product, Collymer Self Assembling Scaffold (Collymer SAS).
Collymer materials harness both the mechanical and biochemical signaling features of natural collagen found within tissues. This allows the materials to support regenerative and restorative healing without rapidly degrading and eliciting inflammation or foreign body responses. This mechanism of action has been validated in multiple preclinical proof-of-concept studies. Additionally, Collymer is highly customizable, allowing for the creation of materials with a variety of formats and mechanical properties.
GeniPhys was previously awarded a $225,000 National Science Foundation SBIR Phase I grant to perform preclinical testing to evaluate Collymer SAS prototypes for breast tissue restoration in a porcine lumpectomy model. Working collaboratively with members of the College of Veterinary Medicine, Weldon School of Biomedical Engineering, and the Indiana University School of Medicine, all project milestones were achieved. Additionally, a peer-reviewed publication in the February 2021 issue of Scientific Reports resulted from this Phase I project, showcasing the translational potential of Collymer SAS as an easy-to-apply soft tissue filler that conforms to patient-specific defects and regenerates complex soft tissues in the absence of inflammation.
"We are honored to be selected for this grant and are excited to be able to advance Collymer SAS toward submission to the U.S. Food and Drug Administration and further commercialization," GeniPhys CEO Andy Eibling said. "We believe the Collymer platform will have a tremendous impact for patients globally, and this grant is an important step in the process."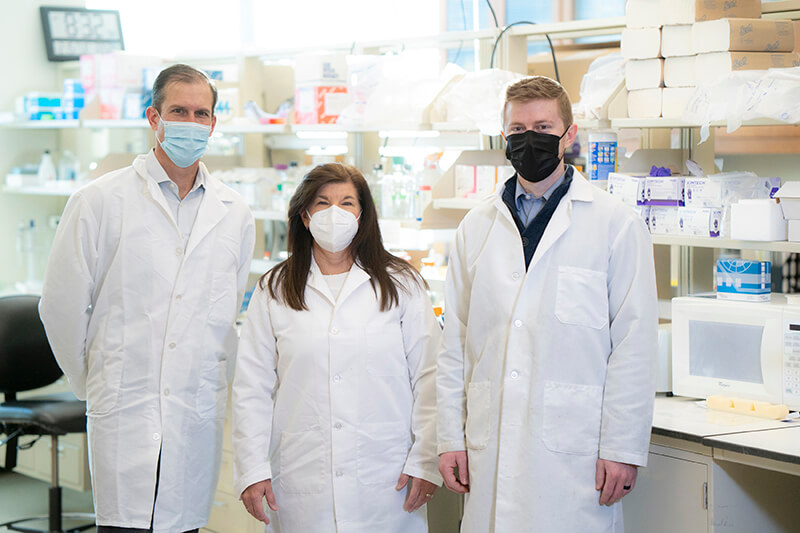 Dr. Harbin is the founder and chief scientific officer of GeniPhys, a preclinical-stage medical technology company located in Zionsville, Indiana, focused on empowering tissue regeneration and restoration. "Purdue has a long, successful track record of developing and translating innovative biomaterials targeting tissue regeneration," Dr. Harbin said. "This next-generation technology provides a biopolymeric material that can be broadly customized and harnesses the body's capacity for regenerative healing by keeping inflammation and immune mediators at bay."
Dr. TJ Puls, who trained under Dr. Harbin, now serves as product development manager for GeniPhys and the principal investigator for the SBIR Phase II award. "This grant will allow GeniPhys to scale up manufacturing capabilities for commercialization and to file key regulatory submissions," Puls said.
GeniPhys will initially pursue regulatory filings for management and restoration of wounds and defects that affect the skin as well as other soft tissues, including breast, skeletal muscle, and adipose tissue. The company also will explore the use of Collymer materials in additional applications leveraging strategic partnerships with innovative, industry-leading firms.
Click here to view a complete news release about the grant.
Writer(s): Steve Martin, Purdue Research Foundation | pvmnews@purdue.edu