Study Abroad Program Brings International Veterinary Students to Purdue
Friday, August 9, 2019
Students from China and Japan Visit PVM as Part of Exchange Program
Veterinary medicine students from Sichuan Agricultural University in China and veterinary nursing students from Rakuno Gakuen University in Japan visited Purdue Veterinary Medicine for two weeks in July. The primary purpose of their visit was to spend time in the Purdue University Veterinary Teaching Hospital observing the work done by PVM clinicians and veterinary nurses. The externship is designed to give them an overview of how veterinary medicine is practiced in the United States. "The rehabilitation room is one of our favorite parts of the hospital!" said some of the Sichuan University students.
Pat Navarre, RVT, chief large animal technologist, talks with exchange students Kazua Tanaka (left), from Rakuno Gakuen University, and Jiaqui Fan, from Sichuan Agricultural University.

Jessica Bowditch, RVT, CCRP (right), rehabilitation and neurology technician, with students (left-right) Ruojia You and Yueru Yu of Sichuan Agricultural University, and Issa Sugiyama from Rakuno Gakuen.
As part of the exchange program, Dr. Tomohito Inoue, PVM continuing lecturer of anesthesiology, also led a group of Purdue veterinary and veterinary nursing students on a trip to Rakuno Gakuen University earlier this year. There, the PVM students learned about the roles of veterinary nurses within the clinics in Japan, and had the opportunity to engage in some clinical rotations at the university's veterinary hospital. Additionally, they had the chance to gain a new cultural perspective and engage with the students within the university.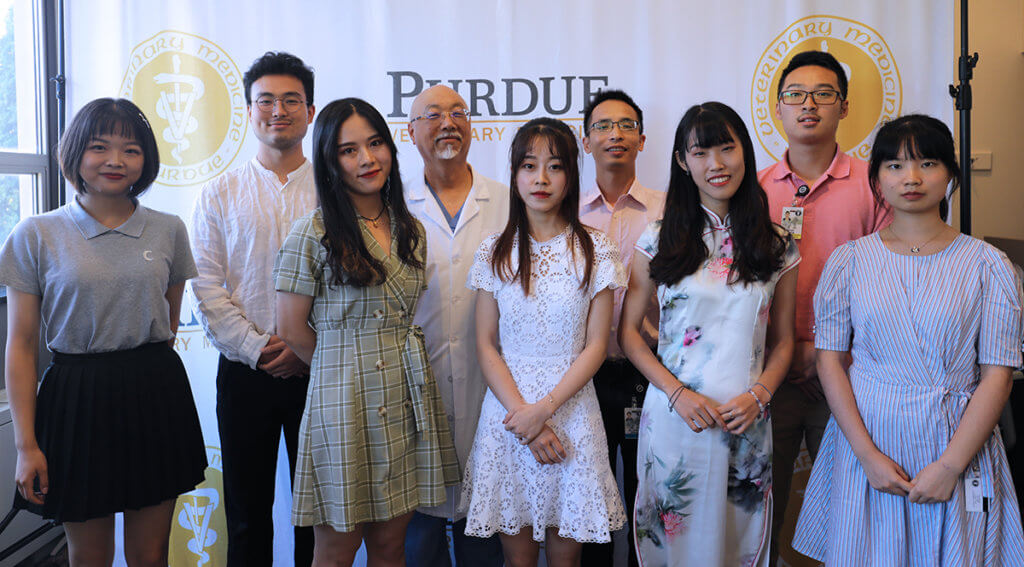 Obtaining a veterinary medicine degree in Japan and China is a little different from the process of earning a DVM degree in the United States. After high school, students in China enroll in a university where they pursue a Bachelor of Veterinary Science degree or equivalent. With that degree, they can become a practicing veterinarian. However, many go on to earn a master's degree and PhD at a university in the country where they wish to practice. Japanese veterinary nursing students complete a four-year degree program after high school and then can either begin working as veterinary nurses or pursue a master's degree.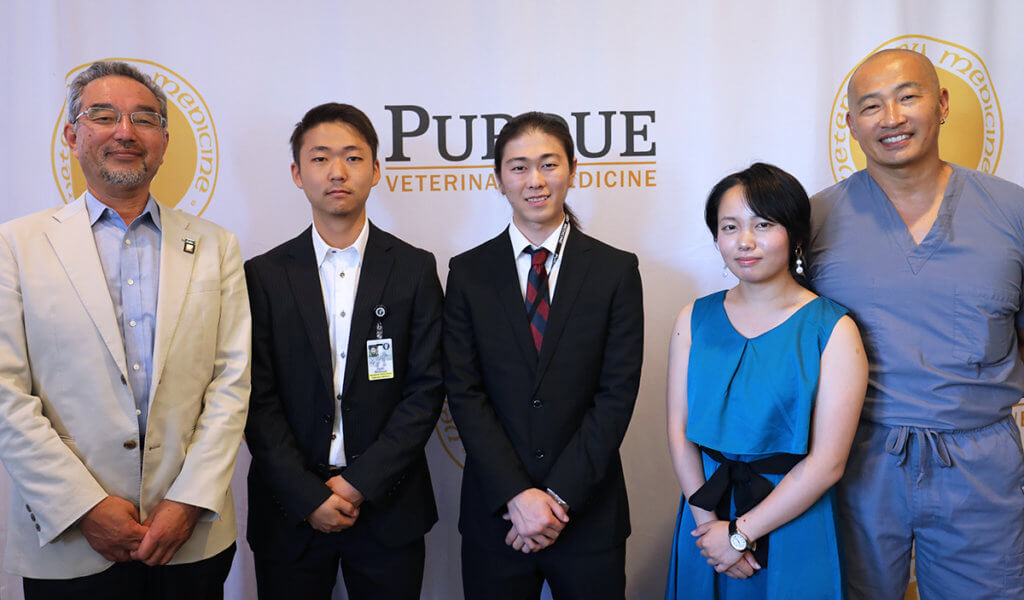 PVM Director of Global Engagement Will Smith said that he and Program Coordinator Chelsi Laposi sought to provide the students with the full cross-cultural U.S. veterinary student experience. They were put up in houses on campus with easy access to the shops and restaurants nearby. They also participated in special events and activities. The students said that they thoroughly enjoyed their time here and were very appreciative of all the work that went into hosting them, including the efforts of Will, Chelsi, and Dr. Inoue to coordinate program details.
Their visit ended Friday, August 2, with a farewell reception held in their honor. During the ceremony, one student from each of the universities spoke about their time here. Kazua Tanaka of Rakuno Gakuen University said she was glad to see how important veterinary nurses are at the Purdue Veterinary Teaching Hospital, and Yi Pan of Sichuan Agricultural University talked about how grateful he and his fellow students were for the opportunity to learn from the Purdue clinicians and veterinary nurses.
PVM Welcomes Kitasato University Students for 25th Year
Purdue University College of Veterinary Medicine and Kitasato University have been strategic partners since 1996. This partnership has involved a series of interactions, from annual clinical student exchange rotations to faculty lectures and collaborative research.
The Kitasato veterinary students who come to Purdue rotate through the Purdue University Veterinary Teaching Hospital, observing the work done by clinicians and veterinary nurses in a variety of specialty areas. Having reached what would be the equivalent of the clinical year in U.S. veterinary schools, the students choose a particular area of the hospital that they want to focus on and observe and engage with clinicians, technicians, and students during their time in that specialty service.
Seven fifth-year veterinary students and one faculty member from Kitasato University arrived at Purdue August 4 and will be visiting until August 16. They will be observing in various services in the hospital, as well as participating in special activities and seminars. Please help extend a warm PVM welcome to them!
Writer(s): Maya Sanaba, PVM Communications Intern | pvmnews@purdue.edu