PVM's Popular Equine Wellness Forum Returns to In-person Format for 2023
Friday, January 13, 2023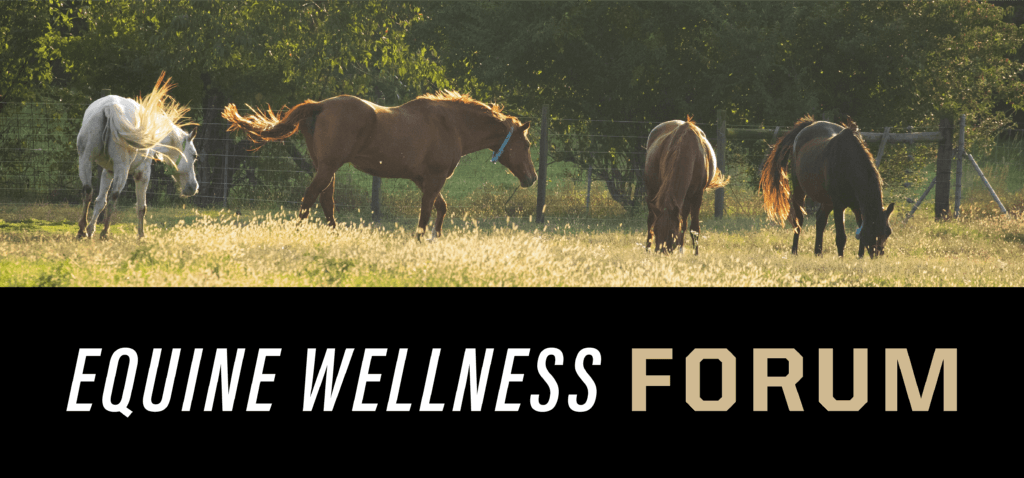 It's almost time for the Purdue University College of Veterinary Medicine's popular Equine Wellness Forum, which will be held as an in-person event this year for the first time since 2019. Registration is now open for the annual event scheduled for Saturday, February 11, 2023 in Lynn Hall. The forum is designed to inform horse owners and equine industry professionals about horse health issues ranging from basic preventative healthcare to the latest medical advancements.
The one-day program is scheduled from 8:30 a.m. to 5:00 p.m. The forum will kick off with a welcome and introductory remarks by the head of the college's Department of Veterinary Clinical Sciences, Dr. Catherine Scott-Moncrieff. She will be followed by a number of special speakers addressing a range of topics, including:
"What I Do, What I Can Do, and What You All Can Do Too!" by Dr. Justin Hayna, clinical assistant professor of equine theriogenology;
"Recognizing Cruelty and Neglect in Horses," by Dr. Janice Kritchevsky, professor of large animal internal medicine;
"Dietary Management of Equine Nutritionally Related Disorders," by Dr. Erin Wilson (PU DVM 2008), equine nutrition consultant for Cargill Animal Nutrition;
"Septic Arthritis and Joint Infections," by Dr. Michelle Tucker, assistant professor of large animal surgery; and,
"Current Equine Research at PVM," by Dr. Sandy Taylor, associate professor of large animal internal medicine.
Click here for more information and to register. General questions about the Equine Wellness Forum may be directed to pvmlifelonglearning@purdue.edu. Questions specifically about registration should be directed to confreg@purdue.edu.
Writer(s): Tom Mauch | pvmnews@purdue.edu