PVM Veterinary Technology Advisory Board Meets to Provide Input
Friday, January 19, 2018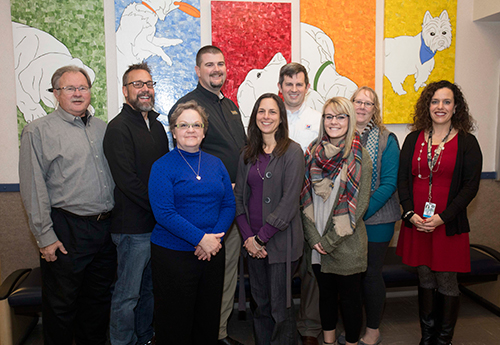 PVM Veterinary Technology Advisory Board members: back row (left to right): Dr. John Schnarr, Dr. Steve Sunbury, Dr. John Feutz, Dr. Brandon Stapleton, and Beth Skiles, RVT, with Dr. Bianca Zenor, Veterinary Technology Program director; front row (left to right): Dr. Susan Prieto-Welch, Amanda Durnell, RVT, and Mattie Floyd. (Not pictured: Dr. Larry McAfee)
The Purdue University College of Veterinary Medicine's Veterinary Technology Advisory Board gathered for its annual meeting in Lynn Hall last month. Board members include current veterinary technology students from both on-campus and distance learning, alumni of both the DVM and Veterinary Technology Programs, and at-large representatives. Board members provide the Veterinary Technology Program with valuable input from private practice, industry, lab animal research, and academia.
The board members who participated in the meeting December 18 are:
Dr. John Schnarr (PU DVM '70), Irvington Pet Clinic, Indianapolis, Ind.
Dr. Steve Sunbury (PU DVM '93), Seymour Animal Hosp., Seymour, Ind.
Dr. John Feutz (PU DVM 2005), Princeton Veterinary Hosp., Princeton, Ind.
Dr. Larry McAfee (PU DVM '73), McAfee Animal Hosp., Valparaiso, Ind.
Dr. Brandon Stapleton, Hill's Pet Nutrition, Fort Wayne, Ind.
Beth Skiles, RVT, (PVM AS-VT 2005) Indiana Veterinary Technician Association (IVTA) representative, Indianapolis, Ind.
Dr. Susan Prieto-Welch, counseling center director, Purdue Counseling and Psychological Services
Amanda Durnell, RVT, (PVM AS-VT '96) Covance, Pendleton, Ind.
Mattie Floyd, VT Class of 2019.
Many thanks to the members of the Veterinary Technology Advisory Board!
Writer(s): Purdue Veterinary Medicine News | pvmnews@purdue.edu