PVM Veterinary Nursing Team Earns Honors at AVTE Conference
Friday, August 23, 2019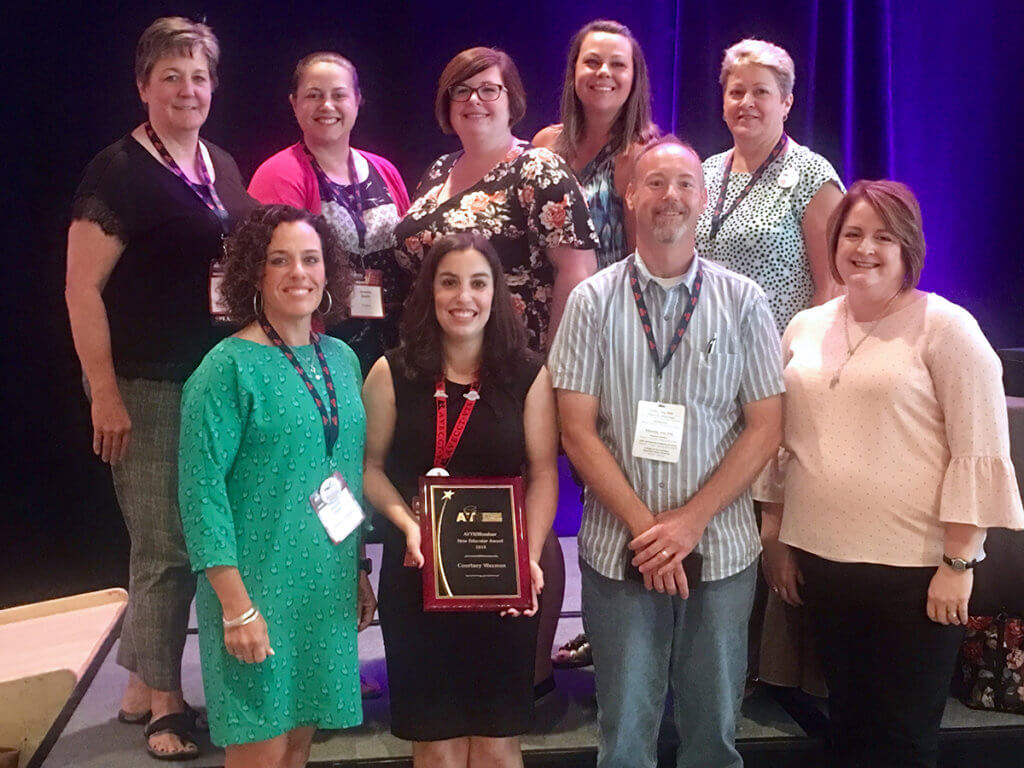 The Purdue University College of Veterinary Medicine's Veterinary Nursing team recently attended the Association of Veterinary Technician Educators (AVTE) annual conference and received national recognition. The conference was held at the end of July in New Orleans, La.
Congratulations to Purdue Veterinary Nursing Distance Learning Instructional Technologists Courtney Waxman, CVT, RVT, VTS (ECC) and Josh Clark, MS, RVT, who received national awards.  Courtney received the AVTE/Wiley-Blackwell Award, which was established to honor new educators who are recognized by their students and colleagues as already making an extraordinary contribution to veterinary technology and who have been teaching for less than three years.  Josh won a $2,500 AVTE Active Member Scholarship, which he will use to attend an upcoming FRANK Communication Workshop at Colorado State University and then incorporate what he learns into the Purdue Veterinary Nursing program.  He also will have the opportunity to present at an upcoming AVTE conference.
Assistant Director for Academic Advising and Recruiting Paige Allen, MS, RVT, and Academic Advisor Shelly Opperman both served as presenters at this year's conference.  Their presentation focused on the topic: "The Student Road to Success: We Fill the Potholes."  The talk identified current student support services, discussed future services to meet the needs of the changing population and explained the changing attributes of veterinary nursing students.
Also attending the AVTE annual conference from PVM were Veterinary Nursing Program Director Bianca Zenor, DVM; Clinical Rotation/Mentorship Coordinator Pam Phegley, RVT; Instructional Technologist Jen Smith, RVT, RLAT; Senior Instructional Technologist Jordan Williams, RVT, VTS (Anesthesia and Analgesia); and Diagnostic Imaging Instructional Technologist Liane Shaw, RVT. "PVM's strong showing at this year's AVTE Conference demonstrates the continued success and growth of the Purdue Veterinary Nursing program as well its commitment to lifelong learning," said Dr. Zenor. 
Writer(s): Kevin Doerr | pvmnews@purdue.edu