PVM Student Among Future Equine Practitioners Awarded Oakwood Scholarship at AAEP Convention
Friday, January 25, 2019
Congratulations to fourth-year Purdue veterinary student Abbie Haffner, who is one of five equine veterinary students selected to receive a $5,000 Oakwood Scholarship, made possible by the generosity of Renee and John Grisham's Oakwood Foundation Charitable Trust. The scholarships were presented last month at the American Association of Equine Practitioners (AAEP) annual convention in San Francisco, Calif.
In a story published in BloodHorse magazine, Abbie, a native of Pendleton, Ind., was quoted as saying, "I am very honored to receive the Oakwood Scholarship through the AAEP." She added, "While financial support is always greatly appreciated, I am forever grateful to the scholarship committee for realizing and having confidence in my future career goals and aspirations. As a girl who grew up in all facets of Thoroughbred and Quarter Horse racing in Indiana, I am very proud and happy to be able to contribute in a new way next year."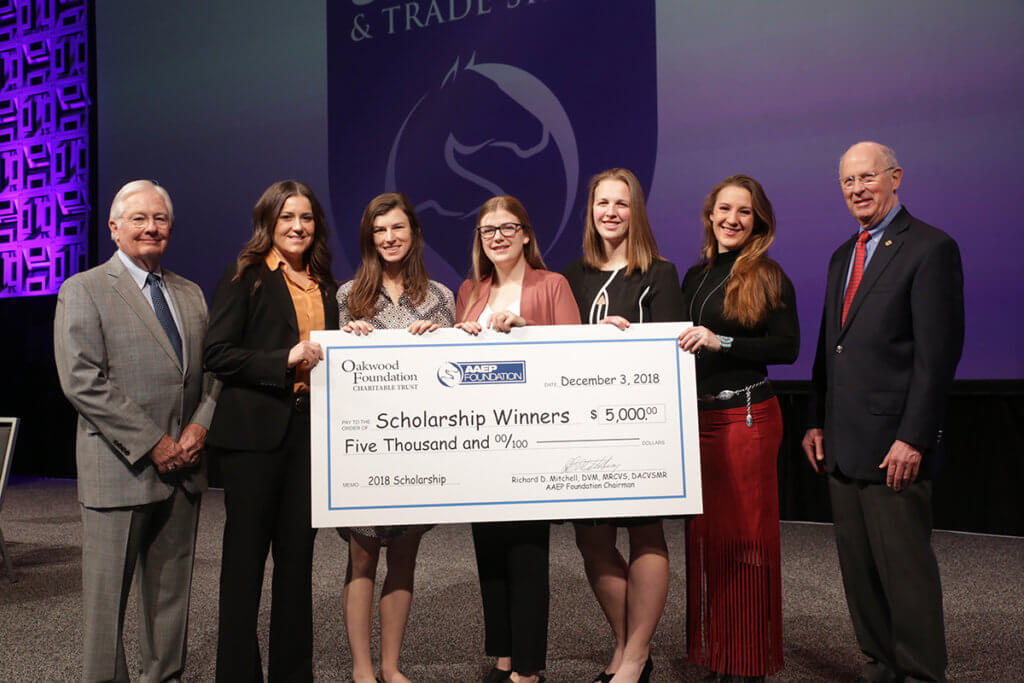 Second- and third-year veterinary students pursuing a career in equine medicine and active within any of the AAEP's 39 student chapters at colleges of veterinary medicine in the U.S., Canada, Europe, and the Caribbean may apply for an Oakwood Scholarship. The scholarships are awarded based on academic excellence, leadership, and a commitment to equine veterinary medicine. Students interested in applying must also have the support of AAEP members and their clinical instructors.
Mrs. Grisham, along with her husband, the famed novelist, owns and operates Oakwood Farm in Covesville, Va. She is an avid horseman and strong advocate for horse health. Among the Grishams' many philanthropic interests is a dedication to education. "With the help of the AAEP Foundation, I am pleased to offer this opportunity to benefit future equine veterinarians," Mrs. Grisham said.
The other four Oakwood Scholarship recipients hail from the University of California at Davis, Washington State University, the University of Tennessee, and the University of Calgary. For more information about this program and other scholarships offered through the AAEP Foundation, visit www.aaepfoundation.org.
Writer(s): Kevin Doerr | pvmnews@purdue.edu