PVM Scholar Leads Groundbreaking Study of How the Brain's Own Protective System Could Help Advance Treatment of Neurodegenerative Conditions
Friday, August 13, 2021
Brain's Vascular System Holds Clues to Treating Alzheimer's, PTSD, and Cancer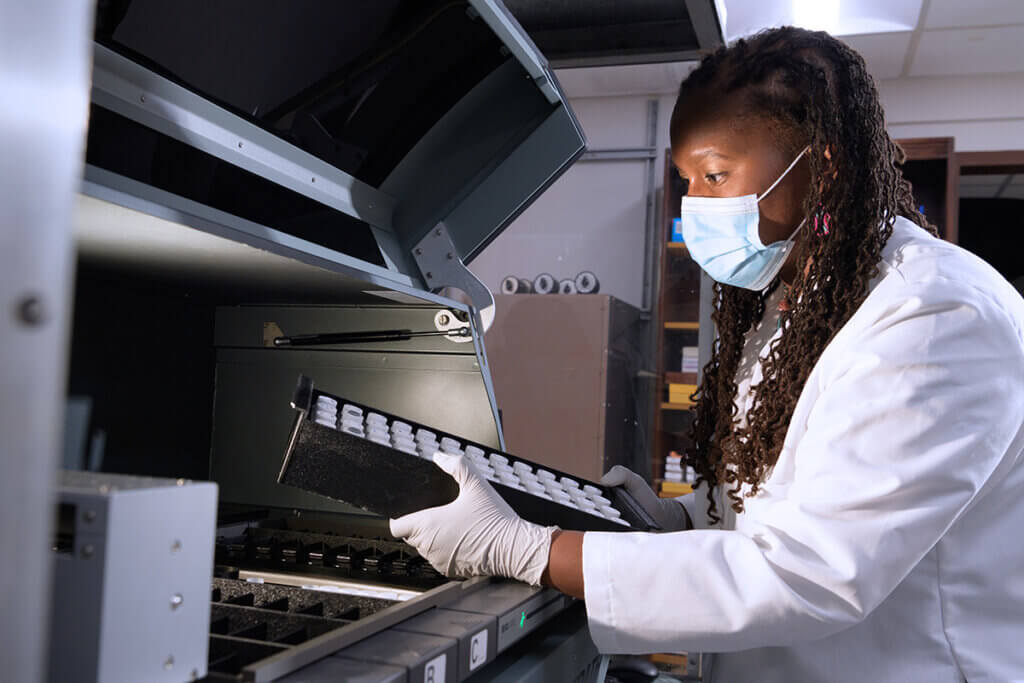 A labyrinthian network of blood vessels helps to maintain normal health by protecting the human brain from foreign contaminants. Unfortunately, this natural protection comes with a cost: while the maze keeps the brain safe, it is also an obstacle when treating brain damage or disease.
For hundreds of thousands of individuals suffering from neurodegenerative conditions, including the aftershocks of blast-induced traumatic brain injury, finding ways through the network could mean a drastic improvement in quality of life.
Dr. Tiffany Lyle, assistant professor of veterinary anatomic pathology in the Purdue University College of Veterinary Medicine's Department of Comparative Pathobiology and a member of Purdue's Center for Cancer Research, is on a mission to do just that. She is the first scientist to map changes to the brain's barrier during metastases of lung cancer and, more recently, she has produced the first comprehensive, molecular mapping of the network in relation to blast-induced traumatic brain injuries.
Considered the signature injury of modern warfare, blast-induced traumatic brain injury (bTBI) has been linked to the development of several neurodegenerative diseases, including post-traumatic stress disorder, Parkinson's disease, and Alzheimer's disease.
"Blast-induced trauma is like a tsunami," Dr. Lyle says. "The initial impact is like the smashing force of the wave. But the water continues causing damage as it regresses into the ocean. We need to look at the long-term changes as well as the initial damage."
Despite the proven connection between bTBI and other life-altering conditions, health care scientists know little about how one causes the other. Suspecting that ongoing changes to the brain's protective vascular network may play a part, Dr. Lyle has applied her expertise in the barrier to the problem by mapping the injury's immediate and lasting effects.
From its protective skin to detoxifying liver, the human body relies on a number of complex safeguards to stay healthy. Regulating what gets in and out, the brain's defense system, known as the blood-brain barrier, is the tightest barrier in the body. Though this system is essential to normal health, it poses complications for doctors trying to deliver drugs into the brain. Likewise, a damaged barrier can mistakenly allow entrance to harmful cells and can trigger unnecessary chronic immune responses. Understanding how the barrier changes as a result of injury, cancer, and disease has affected the development of targeted drug delivery and quality of care for patients.
Dr. Lyle led the first comprehensive characterization of both the blood-brain and blood-tumor barriers in brain metastases of lung cancer. Secondary brain tumors affect 20-40% of cancer patients, and because the barrier's protective process remains active, it also prevents therapeutic drugs from reaching any targeted tumors. Effectively creating a road map through the vascular maze, Dr. Lyle was able to detect when and how certain molecular changes take place as the blood-brain barrier turns into the blood-tumor barrier.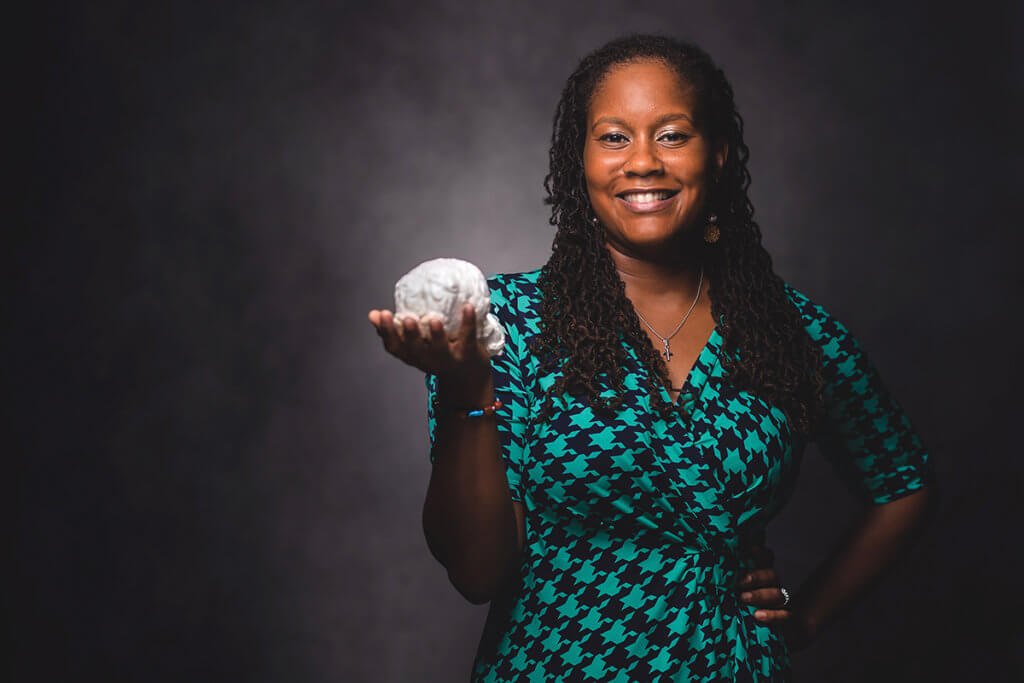 The initial study identified which parts of the blood-tumor barrier structure may offer useful pathways for improving therapeutic delivery. The next step has been to classify if and how the barrier can be penetrated, and Dr. Lyle says she and her research team have discovered correlations between tumor and membrane permeability.
"Understanding changes in permeability may help inform when it might be prudent to alter membrane permeability, first," Dr. Lyle says. "And anything we can do to improve drug delivery improves quality of life for patients and their families."
Improving the quality of care for as many people as possible is one reason Dr. Lyle widened her attention from cancer to other conditions affected by the blood-brain barrier's functionality. This new study, with collaborator Dr. Riyi Shi, the Mari Hulman George Endowed Professor of Applied Neuroscience in the college's Department of Basic Medical Sciences and director of Purdue's Center for Paralysis Research, focuses on changes to the barrier following single and repetitive blast injuries and is the first comprehensive, molecular mapping of the vascular network in relation to blast-induced traumatic brain injuries.
By looking at single and repetitive blasts, the study acknowledges another harsh truth about bTBIs: because the initial symptoms can be misleadingly mild or appear temporary, many individuals – including soldiers – pass immediate medical exams and place themselves at risk of reinjury too soon.
"We knew there was some degree of damage happening in the brain, but we needed to identify what changes to the vasculature and the blood-brain barrier may make productive targets for drug delivery or for making targeted alterations," Dr. Lyle says.
Dr. Lyle and her team were able to identify both a neuroinflammatory response and changes in the barrier's pericytes, a structural cell that surrounds capillaries. "We were able to conclude that pericytes, or the mechanisms for neuroinflammation, may be therapeutic targets to address the long-term effects of traumatic brain injuries," Dr. Lyle says. "The study is a first essential step in understanding the disease process and how to treat it."
Dr. Lyle says the next step is to observe the changes in the blood-brain barrier after an impact over an even longer period of time. These observations, she says, will be critical in developing preventative and therapeutic strategies for individuals recovering from blast-induced traumatic brain injury. Plus, having these maps to changes in the blood-brain barrier during and after trauma could prove valuable in understanding the progression of other neurodegenerative diseases.
World-changing research takes a village
Expertise in veterinary anatomic pathology — the study of disease, especially the cause and effect — is at the heart of Dr. Lyle's research on the blood-brain barrier. Because of the demand for her expertise, Dr. Lyle, as a member of the Purdue University Center for Cancer Research, is at the center of a network of collaborative research projects. Purdue's Center for Cancer Research is a National Cancer Institute Basic Laboratory Cancer Center, one of only seven in the nation.
Innovative approaches to problems may start the scientific process, but quality research relies on robust and reproducible model systems. As director of the Histology Research Lab, a division of the Center for Comparative Translational Research, Dr. Lyle helps scientists from a variety of fields transform good ideas into well-researched discoveries.
"In my collaborative work, I take a scientist's findings – maybe a drug molecule or a medical device – and use what we know about human disease to design a model that is reliable, reproducible and clinically relevant to the human model," Dr. Lyle says.
This was the case when Dr. Yoon Yeo, a biomedical engineer and professor in the Department of Industrial and Physical Pharmacy, created a nanocapsule capable of delivering medication into solid tumors. After the nanocapsule was designed and created, Dr. Yeo collaborated with Dr. Lyle to test its efficacy and toxicity in lab models, moving the technology closer to readiness for the human system.
In the recently remodeled and expanded Histology Research Lab, Dr. Lyle and her staff work with an average of 130 independent researchers annually. "The lab can help any researcher that uses animal, insect, or plant tissue and needs expertise in veterinary pathology to evaluate their discovery," Dr. Lyle says. "Utilizing veterinary pathology in the experimental setting is my passion; it allows me to extend my range of impact in countless directions."
The Histology Research Lab is a core facility in the Indiana Clinical and Translational Sciences Institute, a statewide partnership funded by the National Institutes of Health that includes Indiana University and the University of Notre Dame.
Writer(s): Christy McCarter, Purdue News Service | pvmnews@purdue.edu