PVM Scholar Featured in Purdue Today Series on Inventors and Innovators
Friday, February 2, 2018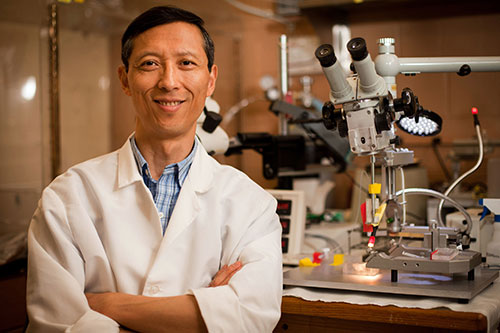 Dr. Riyi Shi, professor of neuroscience and biomedical engineering in Purdue Veterinary Medicine's Department of Basic Medical Sciences and the Weldon School of Biomedical Engineering, was in the spotlight Friday, January 26, as part of a series in the Purdue Today e-newsletter on inventors and innovators. Noting that Purdue graduates continue to develop innovations and breakthroughs that help move the world forward, Purdue Today reports that it is highlighting these inventors and innovators by featuring two each month in the newsletter and on social media.
In a feature last Friday, January 26, Dr. Shi was showcased as a medical scientist specializing in uncovering the mechanisms of central nervous system trauma and diseases and instituting new treatments through innovative experimentation and pioneering new strategies in the field. His research contributions include originating the use of double sucrose gap technique for recording action potential conduction, establishing the methods of neuronal membrane resealing by polyethylene glycol (PEG), and identifying acrolein as a key pathological factor in spinal cord injury and multiple sclerosis.
Dr. Shi graduated from Shanghai Jiao Tong University and the University of North Texas before earning his PhD at Purdue in developmental neurobiology. Along with retired PVM Mari Hulman George Professor of Applied Neuroscience Richard Borgens and former PVM Professor Andrew Blight, Dr. Shi contributed to the development of the Ampyra drug, the first and only FDA-approved drug to help multiple sclerosis patients improve their ability to walk and other motor skills.
The Purdue Inventors & Innovators website contains Purdue alumni from business and industry; technology; medicine and health; and the food and consumer industries. Click here to view the site, including information about Dr. Shi.
Writer(s): Purdue Veterinary Medicine News | pvmnews@purdue.edu