PVM Provides Virtual Insight into Equine Health at Equine Wellness Forum
Friday, February 11, 2022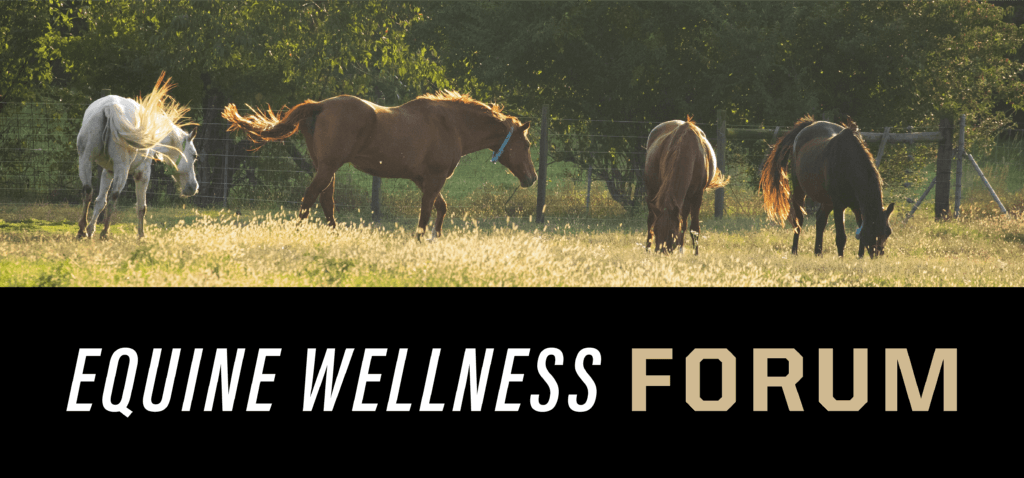 It's "virtually" time for the Purdue University College of Veterinary Medicine's annual Equine Wellness Forum, which will be held in an all virtual format tomorrow, Saturday, February 12. There's still time to register for the annual event, which is designed to inform horse owners and equine industry professionals about horse health issues ranging from basic preventative healthcare to the latest medical advancements.
The day-long seminar is scheduled from 8:30 a.m. to 4:00 p.m. Attendees can earn up to four continuing education credits.
The program will begin with a welcome and introductory remarks by Purdue University Veterinary Hospital Director Ellen Lowery. She will be followed by several clinicians addressing a range of topics, including these presentations by Purdue Veterinary Medicine specialists:
"The Use of Pulsed Electromagnetic Field Therapy in Veterinary Species" by Dr. Stephanie Thomovsky, clinical associate professor of veterinary neurology
"Choke and its Complications" by Dr. Sarah Thomas, large animal internal medicine clinician
"Stumbling, Spinning, and Head Tilt: The Strange Signs of Temporohyoid Osteoarthropathy" by Dr. Michelle Tucker, assistant professor of large animal surgery
"Advances in Equine Health Research at PVM" by Dr. Sandy Taylor, associate professor of large animal internal medicine
"Putting the Best Foot Forward: A Discussion About Navicular Syndrome" by Dr. Sarah Gray, large animal surgery clinician
Another presentation will feature Dr. Erin Wilson (PU DVM 2008), a Purdue Veterinary Medicine alumna who serves as equine nutrition consultant for Cargill Animal Nutrition. She will address the topic, "Nutritional Management of Equine Chronic Myopathies."
Click here for more information and to register. General questions about the Equine Wellness Forum may be directed to pvmlifelonglearning@purdue.edu. Questions specifically about registration should be directed to confreg@purdue.edu.
Writer(s): Susan Xioufaridou | pvmnews@purdue.edu