PVM Professor Timothy Ratliff Leads Purdue Team of Scholars in New Cancer Research Effort
Friday, May 26, 2023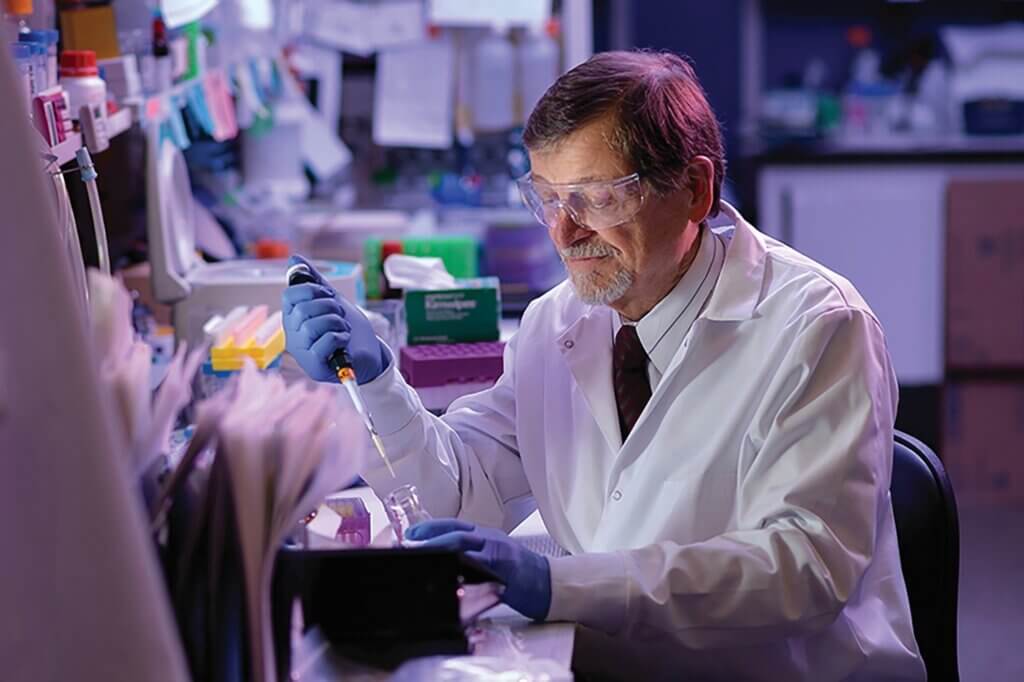 The Purdue University Institute for Cancer Research is beginning a four-pronged attack against multiple myeloma to be carried out over two years with $4.3 million from the Paula and Rodger Riney Foundation, and Distinguished Professor of Comparative Pathobiology Timothy Ratliff is leading the team of scientists doing the research. Dr. Ratliff is the former director of Purdue's cancer research center.
The research supported by the funding from the Paula and Rodger Riney Foundation promises insights and potential novel treatments to lengthen and improve the quality of life for people with multiple myeloma. In the 1970s, Rodger Riney started a small brokerage business that grew exponentially until 2017, when he sold the business, Scottrade, to TD Ameritrade. The sale happened two years after he was diagnosed with multiple myeloma. Today, Riney, whose cancer is in remission, and his wife, Paula, put much of their resources into the fight against the disease.
Sometimes simply called myeloma, the cancer attacks plasma cells, white blood cells that produce infection-fighting antibodies. The cancerous plasma cells then grow out of control, crowding out normal cells in the bone marrow where red blood cells, platelets, and other white blood cells also are produced. In 2019, the most recent year for which U.S. incidence data are available, over 27,800 new cases of myeloma were reported and 12,455 people died of the disease, according to the Centers for Disease Control and Prevention.
Bobby Sandage is the managing director for the foundation and also a 2018 Purdue Distinguished Pharmacy Alumnus with a Purdue PhD in clinical pharmacy. He helps oversee the foundation's 90 research projects at 17 universities around the world. He seeks out the world's best researchers doing the most promising work — work that can justify the foundation's multimillion dollar investments.
"I evaluate research proposals, and I have a small group of outside experts who review them to make sure they are cutting-edge," Dr. Sandage says. "Purdue's proposals were very promising, and we proceeded to have them evaluated by outside experts and, ultimately, by Rodger, who makes the final decisions on which projects are funded."
Dr. Ratliff says two of the Purdue grants are focused on developing new small-molecule drug chemotherapeutic agents. "Herman Sintim, the Richard B. Wetherill Professor of Chemistry, will work to develop one set of chemotherapeutic agents that target unique and important pathways in multiple myeloma," Dr. Ratliff said.
Also developing key chemotherapeutic agents targeting different critical pathways are fellow members of the Purdue Institute for Cancer Research: Dr. Arun Ghosh, the Ian P. Rothwell Distinguished Professor of Chemistry and Medicinal Chemistry; and Dr. John Tesmer, the Walther Distinguished Professor in Cancer Structural Biology. "These are outstanding chemists and structural biologists who have the opportunity and data to show that the avenues they're taking will add significantly to the therapeutic armamentarium," Dr. Ratliff said.
The second two grants focus on immunotherapy, which engineers the body's own immunity to fight the cancer. The first features the research of Dr. Sandro Matosevic, associate professor of industrial and physical pharmacy, who is developing genetically modified immune cells known as CAR NK cells. CAR stands for "chimeric antigen receptor," which means that the NK cells are genetically modified to recognize and attack specific proteins found on the surface of multiple myeloma cancer cells.
"NK cells are very important in killing tumors," Dr. Ratliff said. "Sandro is using an innate immune mechanism — natural killer cells — which kill fundamentally in the same way as other killer cells of the immune system, but they recognize the tumor cells in a very different manner. Sandro is taking a novel approach by using a different cell type than is currently used in treatment and also by diversifying the recognition sites so that they will recognize multiple different components on the multiple myeloma cell."
The fourth and final study is being done by Dr. Ratliff and Dr. Philip Low, the Presidential Scholar for Drug Discovery and the Ralph C. Corley Distinguished Professor of Chemistry-Biochemistry. The two are developing a different immune killer cell called a T cell. Dr. Low has developed a unique genetically modified universal CAR T cell that uses a mechanism that also shows promise in controlling the intensity of the immune attack on cancer cells and also overcomes the antigenic escape in CAR T cell treatments. Antigenic escape occurs when cancer cells mutate and become unrecognizable to the CAR T cells designed to kill them. Dr. Low's CAR T cells are used in conjunction with a second agent developed by Dr. Ratliff and Dr. Low that modifies the cancer and enables enhanced killing of multiple myeloma cells. The combination therapy is unique in cancer immunotherapy.
Dr. Ratliff is gratified by the Riney Foundation's support. "They know we have the capacity to really make a difference in multiple myeloma," Dr. Ratliff said. "From the chemotherapy side, we have new targets, and our investigators have data showing real promise. On the immunotherapy side, it's very similar — two different, promising approaches."
Writer(s): Amy Raley | pvmnews@purdue.edu