PVM involved in Human-Animal Bond Lecture at VMX
Friday, February 16, 2018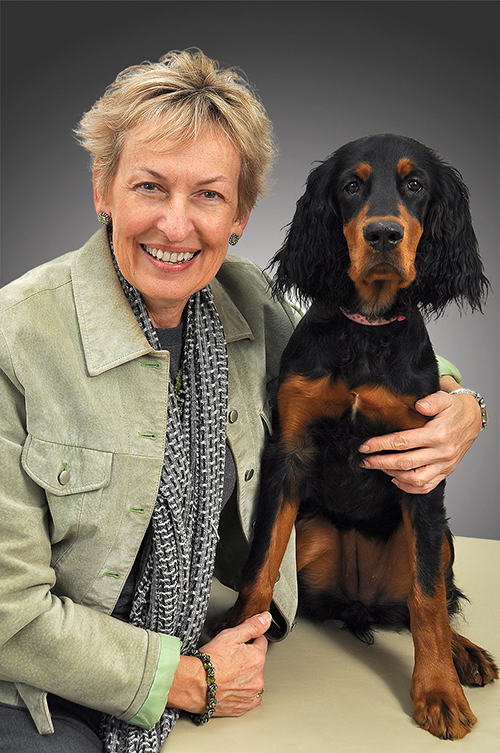 Featured speaker for the Human-Animal Bond lecture at the 2018 Veterinary Meeting and Expo, Dr. Rebecca Johnson, with her dog, Callie.
One of the popular sessions at last week's Veterinary Meeting and Expo (VMX) held by the North American Veterinary Community (NAVC) in Orlando was the Human-Animal Bond lecture presented by Dr. Rebecca Johnson and sponsored by Purdue Veterinary Medicine and Elanco. More than 80 people attended the evening presentation on Monday, February 5.
In her lecture "Walk a Hound, Lose a Pound," Dr. Johnson presented extant research on obesity in people and their companions. Further, she discussed specific issues associated with applying her research to practice as well as programmatic recommendations for modifying obesity. Her studies show that companion animals may provide a unique source of social support and facilitate motivation for exercise and other wellness-promoting behaviors.
Dr. Johnson earned her bachelor's degree in nursing from the University of Dubuque, her PhD from the University of Iowa, and her masters of philosophy from the University of Edinburg, Scotland, as a Rotary Ambassadorial Scholar. She is now the Millsap Professor of Gerontological Nursing & Public Policy at the University of Missouri. In 2005, she founded and became director of the Research Center for Human-Animal Interaction (ReCHAI) at the University of Missouri College of Veterinary Medicine. ReCHAI's mission is to conduct research on human-animal interaction, educate students and the public about it, and facilitate research in the field by other faculty and graduate students. The author of many publications in peer reviewed journals and book chapters, Dr. Johnson wrote two books that are published by Purdue University Press entitled, "Health Benefits of Dog Walking," and "Walk a Hound, Lose a Pound." Her externally funded program of research merges her work on wellness in people undergoing transitions (e.g. military veterans, older adults, prison inmates, families of children who have autism, and abused children) with the benefits of human and companion animal interaction.
Held at the Orange County Convention Center, this year's VMX event attracted a total of 18,000 attendees.
Writer(s): Helen Thimlar, PVM Communications Intern | pvmnews@purdue.edu