PVM Helps IU School of Medicine Study Therapy Dogs' Potential as Drug-Free Alternative for ER Anxiety
Friday, February 1, 2019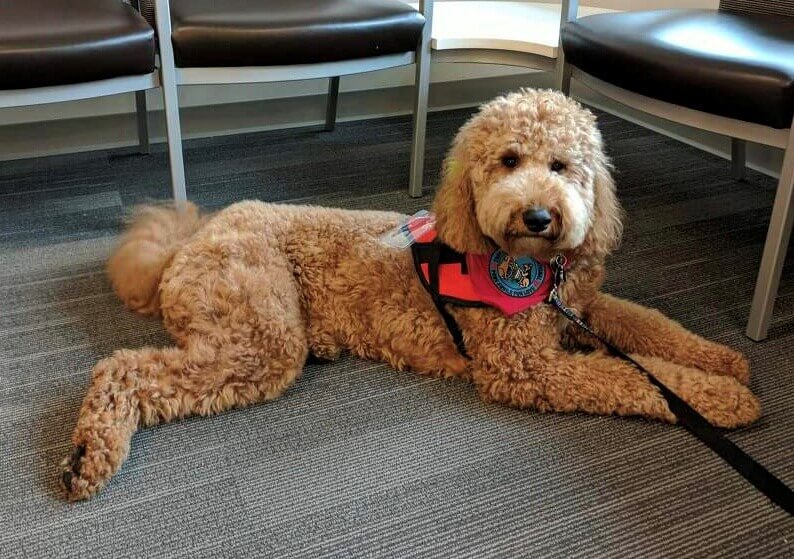 A trip to the emergency room can be a high-stress experience for a patient. At a time when physicians have grown increasingly wary of using medications to treat anxiety, Indiana University School of Medicine researchers think that man's best friend could be the answer.
A team led by Jeffrey A. Kline, MD, vice chair of research at the IU School of Medicine Department of Emergency Medicine, conducted a study to see if therapy dogs may provide an alternative solution to anxiety medication. The study was done in collaboration with Alan Beck, ScD, Dorothy N. McAllister Professor of Animal Ecology in the Purdue University College of Veterinary Medicine and director of the College's Center for the Human-Animal Bond.
While other studies have shown therapy dogs are helpful in clinical settings, this is the first conducted in an emergency department. Multidisciplinary open access journal PLOS ONE published its findings.
The study took place at Sydney & Lois Eskenazi Health in downtown Indianapolis, which has an existing animal therapy program managed by one of the study's co-authors, Michelle A. Fisher, RN. Compared with usual care, exposure to a therapy dog reduced patient anxiety by 35 percent. Just one in 40 patients exposed to a therapy dog were prescribed an opioid pain medication while in the emergency department, compared with seven in 40 in the usual care group. The dogs consistently elicited a positive change in body language and mood.
"This study not only adds to what is known about the value of pet contact, but documents the effect in a much needed therapeutic setting—the emergency department," Dr. Beck said.
While emergency departments have a great need for the benefits of animal-assisted therapy, it would raise additional challenges. "There would need to be a significant increase in the number of certified therapy dogs and dog handlers to meet the needs of ER patients," Dr. Kline said. "At present, many therapy dog handlers are volunteers. Additionally, emergency departments would need to address concerns including dog phobias, allergies, and hygiene."
However, the demand for therapy dogs is high—93 percent of emergency department patients with moderate or higher anxiety levels were interested in seeing one, according to the study. Researchers said they believe animal-assisted therapy is an avenue worth exploring, as a means to reduce anxiety without medication while improving the overall patient experience.
The study is supported by the Lilly Endowment Indiana Physician Scientist Initiative. The content is solely the responsibility of Indiana University School of Medicine and does not necessarily represent the official views of the Lilly Endowment.
Writer(s): IU School of Medicine and Kevin Doerr | pvmnews@purdue.edu