PVM Gives Educational Start to School Year with Indiana State Fair Involvement
Friday, September 13, 2019
The 2019 Indiana State Fair saw close to 880,000 attendees, hundreds of events, and a lot of Purdue Veterinary Medicine!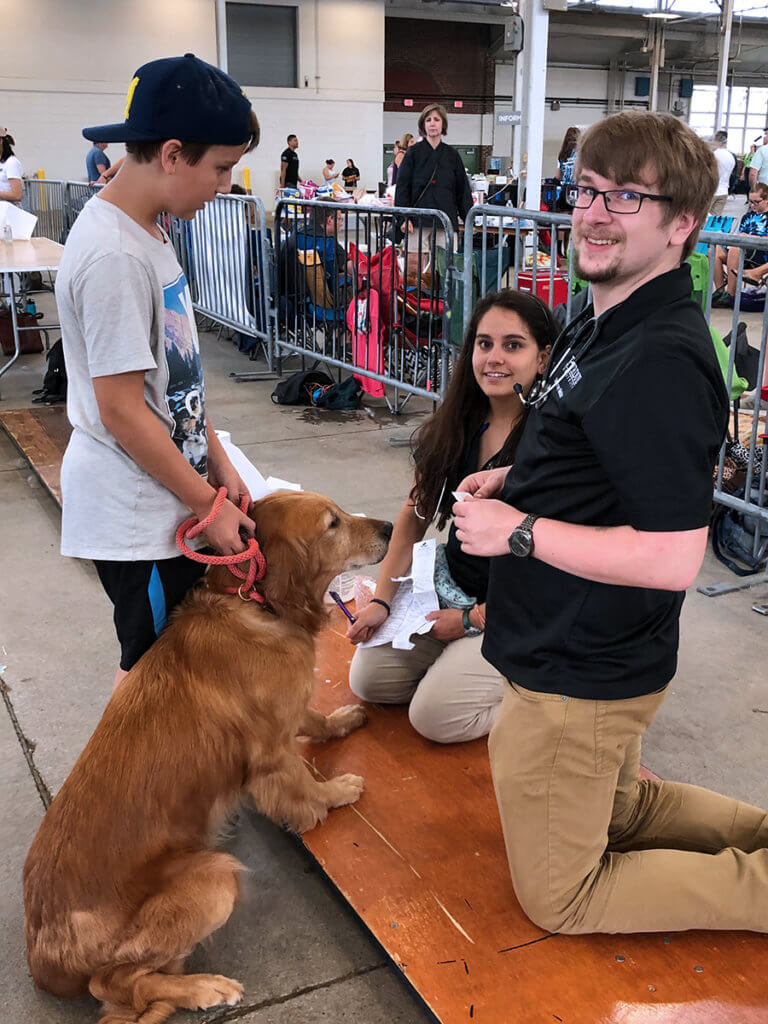 This is the sixth year that PVM faculty and veterinary students have partnered with the state fair to help provide care for the thousands of animals present. The students are able to enhance their learning with hands-on experience, while animals and their owners have peace of mind knowing that there is an around-the-clock veterinary team ready to assist if necessary.
The College also hosts the Indiana State Fair Vet Camp, which involves mulitple one-day versions of the summer on-campus Boiler Vet Camps. The State Fair Vet Camp gives middle and high school students opportunities to watch a spay/neuter surgery demonstration, hear from Purdue veterinary students, engage in hands-on activities, and even learn how to suture.
The Vet Camp was held in PVM's own tent on the north side of the fairgrounds, where the public also could view surgery demonstrations, interactive displays, and listen to educational talks about topics such as animal dentistry and physical therapy.
A story broadcast on Indianapolis TV station WRTV-6 featured information about the State Fair Vet Camp and the veterinary students helping with veterinary care for the animals at the fair, and included an interview with Dr. Jonathan Townsend, clinical assistant professor of dairy production medicine and Extension Programs director. Click here to view the story.
The College also partnered with Indiana 4-H Youth Development to provide veterinary expertise for the 4-H Dog Show at the State Fair. Dr. Suma Rao, clinical assistant professor, said the Primary Care Service traveled to the fairgrounds to perform examinations on 4-H pet dogs that were competing for agility. Fourth-year Purdue veterinary students conducted checks of the dogs before they were shown, examining the pets for contagious diseases like ear infections and upper respiratory infections.
Dr. Jim Weisman, assistant dean for student affairs and clinical associate professor played a large part in facilitating PVM's involvement in this year's State Fair. "Our participation in the Indiana State Fair provides a great opportunity for our students, faculty, and staff to engage with the State Fair attendees," Dr. Weisman said. "This opportunity allows everyone to share the great aspects of our profession and all of the outstanding activities of our College. We appreciate everyone's participation in the 2019 Indiana State Fair."
Writer(s): Kevin Doerr | pvmnews@purdue.edu