PVM Family Honors Chris Royce at Retirement Reception
Friday, April 26, 2019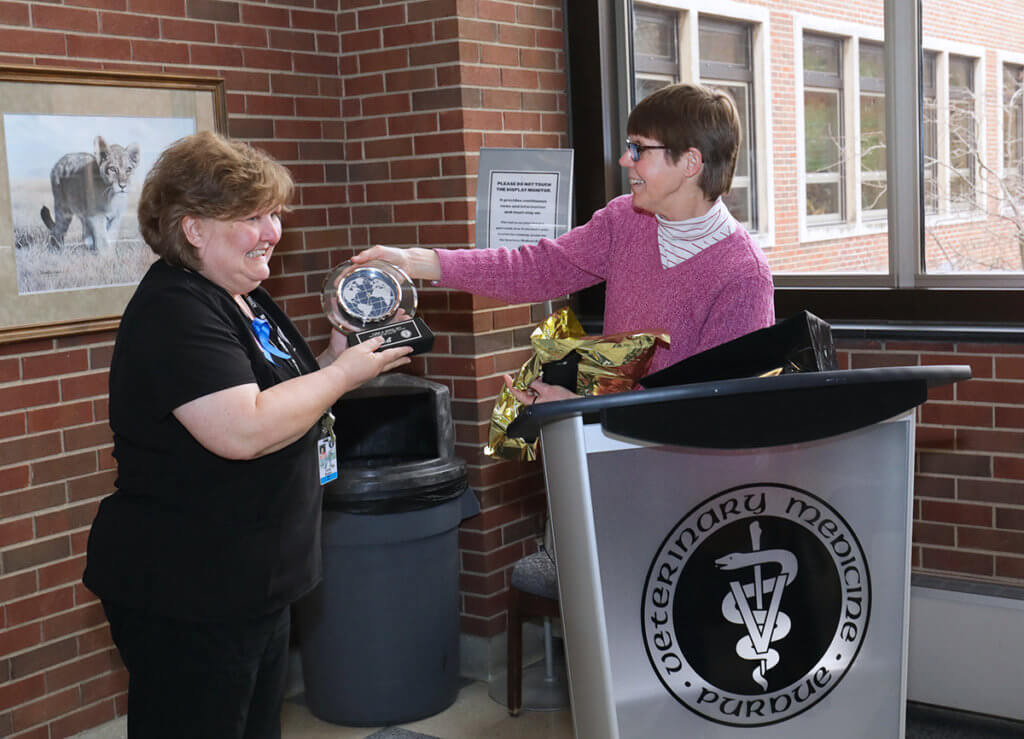 Colleagues, family, and friends of Chris Royce, RVT (PU AS-VT '84), celebrated her career at her retirement reception earlier this month.  The event was held in the Continuum Café on April 5, which was her last day at Purdue University, concluding a Purdue career that spanned 35 years.
Chris most recently worked as a research assistant for the Purdue Comparative Oncology Program (PCOP) and the Transitional Cell Carcinoma (TCC) Trial Program in the Department of Veterinary Clinical Sciences (VCS). Noting the size of the crowd that gathered for the reception, VCS Department Head Catharine Scott-Moncrieff said, "I'm so glad so many people could come out and help us celebrate, or whatever the other word is for 'celebrate' when you're sad that someone is leaving."
Dr. Scott-Moncrieff recalled when she first met Chris in 1986. "Chris is one of the few people who has actually been her longer than me," Dr. Scott-Moncrieff said. Chris had started at the College in 1984. "Chris was one of the key veterinary technicians in small medicine," Dr. Scott-Moncrieff remembered. "I was fresh off the boat from England. I have so many stories about conversations we had where the language was totally different – "flashlights" versus "torches" and "rubbish bins" versus "garbage bins," Dr. Scott-Moncrieff said, before jokingly adding, "… and Chris made fun of me behind my back, she made fun of me in front of my back, but she took me under her wing as a medicine resident."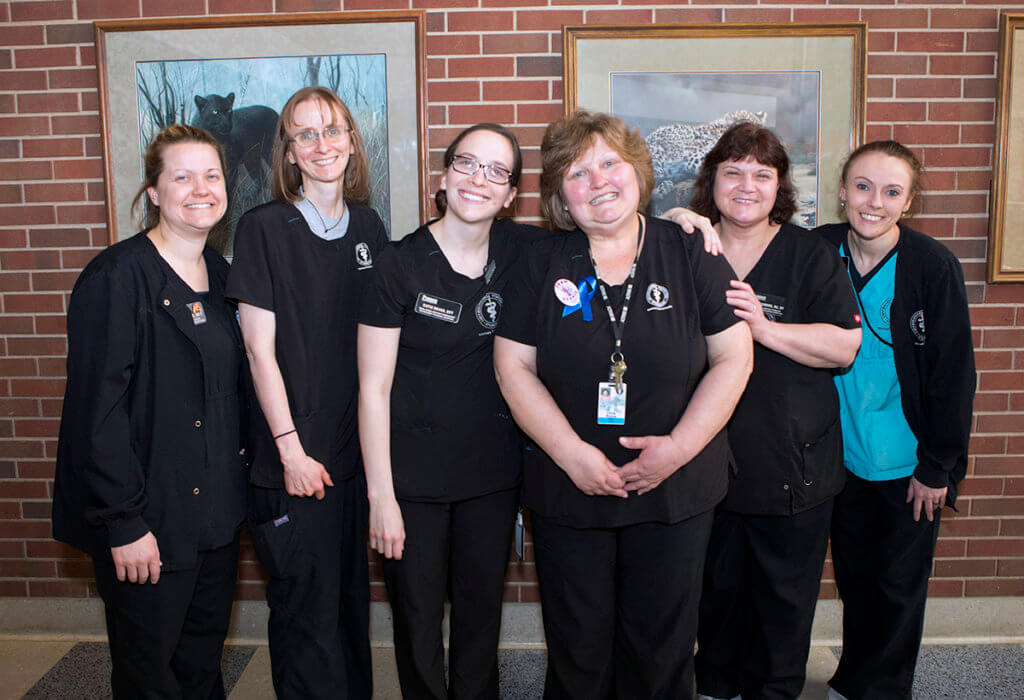 Dr. Scott-Moncrieff went on to explain how Chris likes a challenge, and when she decided that she wanted a new challenge she left small animal medicine and moved to ophthalmology. Then she went to small animal surgery and after serving there for a few years, finally decided her real home was in oncology. "And I know that the oncology group talks about all the contributions Chris has made, but she basically has all those small animal disciplines down," Dr. Scott-Moncrieff said, adding, "If you want to come back and help in any area, Chris, you would be welcome."
Following retirement, Chris has been following through on plans to move to Denver, Colo., to be close to her granddaughter.  Dr. Scott-Moncrieff reflected on the earlier years when she and Chris worked together and Chris told stories about raising her children.  "They were little, and then there were the teenage years, and now she's moving out to be with her grandchildren and it just seems like time has passed in a flash," Dr. Scott-Moncrieff said.  "We are really going to miss you, but we are really happy for you to finally get to spend time with your family and your grandchildren, and we hope you keep in touch."
Dr. Deborah Knapp, Dolores L. McCall Professor of Comparative Oncology and director of PCOP, also praised Chris both for her hard work as well as for her great attitude and sense of humor. "She genuinely cares about people," Dr. Knapp emphasized. "We've been extremely fortunate to have you on the onco team."
Dr. Knapp then presented Chris with a commemorative clock in recognition of her retirement. "I just cannot thank everyone enough for all your friendship, you're my family," Chris said. "I love all of you, I love this place." Congratulations Chris and best wishes on your retirement!
Writer(s): Kevin Doerr | pvmnews@purdue.edu