PVM Closes in on Goal for Purdue United Way Campaign
Friday, November 11, 2022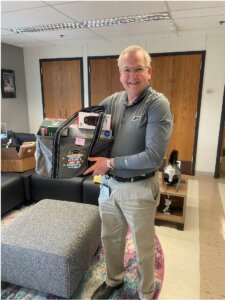 Purdue Veterinary Medicine faculty and staff are coming together to support Purdue University's contribution to the United Way of Greater Lafayette, as the campaign comes down the home stretch. Purdue now has reached 75% of the $725,000 goal, and in the College of Veterinary Medicine, more than $18,000 has been raised with a campaign participation rate nearing 25%. The campaign ends November 16.
Purdue Veterinary Medicine Chair Angela Pickett, executive assistant to the Dean, gives a shout out to her campaign team of Jamie Richards, vice chair; Terri Donald, representing the Purdue University Veterinary Hospital; Makayla Espinosa of the Department of Basic Medical Sciences; Liane Shaw, RVT, representing the Department of Veterinary Clinical Sciences; and Megan Lintner from the Animal Disease Diagnostic Laboratory. In particular, Angela noted the ongoing efforts of Terri to help in multiple ways, including assisting with emails and dreaming up the idea of the famed Dark Coffee Basket that was a popular item in the Purdue United Way Campaign online Silent Auction.
The Silent Auction, which wrapped-up Friday, October 28, raised a total of $4,475. Congratulations to Kevin Doerr, Director of Public Affairs and Communications, who submitted the high bid for the Dark Coffee Basket. "I felt like someone seemed to know about my love of dark roast coffee, so I couldn't pass up an opportunity to bid for that item," Kevin said. "I was honored to ultimately have submitted the high bid. It truly is a treasure trove for a dark roast coffee fan!" Other successful PVM bidders in the Silent Auction included Dr. Sarah Waxman, clinical assistant professor in the Department of Veterinary Clinical Sciences, and Colleen Maguire Jackson, therapist/counselor in the Department of Veterinary Administration, who submitted the high bid for the Happy Harvest/Halloween Package that featured such items as a Halloween door cover, Thanksgiving wall and door décor and a pumpkin flower center piece.
There still are multiple ways to support the Purdue United Way Campaign effort. "Thank you all so much for the hard work you have been putting into this year's campaign," Angela said.
With less than a week left in the campaign, Megan Eberly, Purdue United Way director, encourages Purdue employees who have not yet pledged to do so before the campaign wraps up. Pledges are not automatically renewed from year to year, so employees need to log on to the Purdue United Way website to renew their pledge for this year.
"We want to thank everyone that has helped move this campaign in a forward direction this year after a challenging couple of years due to the COVID-19 pandemic," Eberly says. "One thing we continue to learn is that the needs are greater than ever post-COVID, and that is why we are so grateful to everyone who has donated, volunteered and helped support the Purdue 2022 United Way campaign. Purdue continues to do what Boilermakers have always done, and that is help our community. The work that is being done with so many departments and colleges within the Purdue community is really inspiring to watch as it supports so much of the work that United Way does."
Linda Mason, dean of the Graduate School, is this year's campaign chair, and Beth McNeil, dean of Libraries and School of Information Studies, is the vice chair.
The Purdue United Way campaign will wrap up at the United Way of Greater Lafayette's campaign victory celebration November 17 at The Outpost in Lafayette, and members of the campus community are invited to attend the celebration (register at www.uwlafayette.org/victory22).
Writer(s): Kevin Doerr | pvmnews@purdue.edu