PVM Booth Makes for a Fetching Good Time at Art, Bark 'n Brew
Friday, May 17, 2019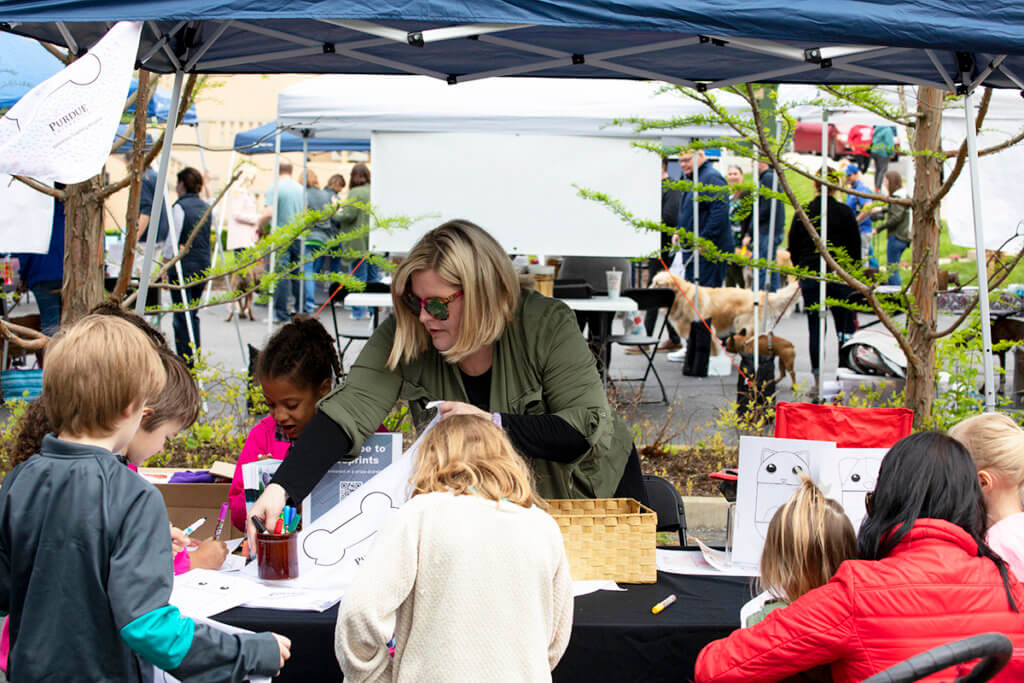 The Purdue University College of Veterinary Medicine joined with the Art Museum of Greater Lafayette as a silver-level co-sponsor of the second annual Art, Bark 'n Brew, which was held on the museum grounds at 102 South 10th Street in Lafayette, Ind., Saturday, May 11. Families along with their canine companions attended the event, which featured live music, food trucks, and local brews, as well as arts and crafts suitable for both people and pooches.
In addition to Purdue Veterinary Medicine, various dog-friendly organizations participated as event sponsors, including Dogwood Kennel, Pawsitive Pets, Pooch Palace Resort, Pets and Vets as Partners, and the Dog Park Association of Greater Lafayette. A full list of participating organizations can be found on the event's Facebook page.
A crowd of an estimated 500 people with some 200 dogs turned out for the Art, Bark 'n Brew. Purdue Veterinary Medicine and the Veterinary Teaching Hospital were represented at a booth where Lauren Bruce, VTH/ADDL marketing and communications manager, and Allison Carey, communications specialist, along with Allison's Goldendoodle, Ellie, interacted with attendees.
Lauren and Allison enjoyed sharing about the new veterinary hospital project as they visited with pet enthusiasts of all ages at the booth, where guests could pick-up Veterinary Teaching Hospital doggie bag dispensers, decorate dog bandanas, and color paper "big mouth" cats and dogs. "As we find with every event where we host a booth, visitors are eager to talk about the many positive experiences they've had with their beloved animal companions at the Veterinary Teaching Hospital," Lauren said. "We are happy to facilitate these positive interactions on behalf of the hospital."
Other Art, Bark n' Brew activities included prize drawings and a display of winning entries in a judged art show for grades K-12 held in partnership with the Greater Lafayette Kennel Club. Though the weather was a bit chilly, the rain held off until after the popular event concluded.
Writer(s): Lauren Bruce | pvmnews@purdue.edu