PVM and BME Scholars Team-up to Pursue Affordable Cervical Cancer Test with Life-preserving Promise
Friday, February 3, 2023
Cervical cancer killed 342,000 women around the world in 2020. According to the World Health Organization, the vast majority of these women — about 90% — lived in low- and middle-income countries where access to testing for early detection is either unaffordable or nonexistent. Professor of Comparative Pathobiology Sulma Mohammed in the Purdue University College of Veterinary Medicine, and Purdue's Marta E. Gross Associate Professor of Biomedical Engineering Jacqueline Linnes are determined to save lives by developing a low-cost, point-of-care paper test that could revolutionize cervical cancer detection worldwide.
Dr. Linnes is developing the testing method using research by Dr. Mohammed, an award-winning faculty member in the Department of Comparative Pathobiology, who also is a member of Purdue's Institute for Cancer Research. "The test takes a cervical cancer smear and places that swab onto a paper-based device that detects for proteins critical in noninvasive to progression to invasive cervical cancer," Dr. Linnes says.
With their collaboration serving as a model for Purdue's interdisciplinary innovation on behalf of women's health, the two researchers received initial funding support from both the Purdue Women's Global Health Institute and the Indiana Clinical and Translational Sciences Institute. "The pilot WGHI/Indiana CTSI grant allowed us to perform the initial development of a paper-based diagnostic test," Dr. Linnes says. This early work was successful, leading to a nearly $2 million grant from the National Institutes of Health, which currently supports their cross-disciplinary work toward an affordable early detection test.
Dr. Linnes explains that the effective tests currently used in the U.S. are too expensive for many regions around the world. "We use the cytology-based pap smear, which is accurate but requires a lot of resources and clinical specialists, and has a long turnaround time."
Other testing methods used globally include visual inspection of the cervix and some emerging tests that screen for the specific HPV viruses known to lead to cancer. "But these tests have poor specificity for cervical cancer and can lead to overtreatment," Dr. Linnes explains.
Dr. Mohammed's research focuses primarily on breast and cervical cancer biology, prevention, and biomarkers, with special attention to global disease disparities. Among her previous work on cervical cancer detection is a study published in Oncotarget Journal identifying a protein that is only expressed in cervical lesions that are destined to become cancerous. Also, in collaboration with researcher Joseph Irudayaraj, of the University of Illinois, she pioneered a study to develop a point-of-care test using a magnetic focus lateral flow sensor featured in the Journal of Analytical Chemistry. Their novel detection method of the cervical cancer protein enables ultrasensitive detection of invasive cancer. The research demonstrated that one specific cervical cancer biomarker, valosin-containing protein, could be detected at an extremely low concentration.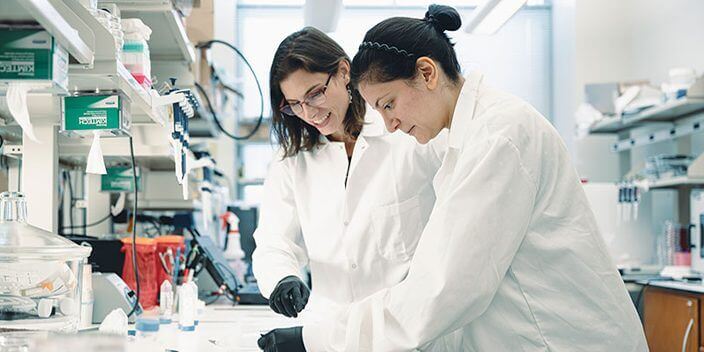 After that work was published in 2018 and 2019, Dr. Mohammed began to work with Dr. Linnes, whose research in paper microfluidics, molecular biosensors, and the design of human-centered instrumentation developed strong, sensitive, and rapid diagnostics. "I'm the widget-maker, and Sulma is the cervical cancer guru," Dr. Linnes says, modestly. "We have a shared passion for women's cancers in low-resource settings and the need for point-of-care tests." Dr. Linnes says she and Dr. Mohammed hope to move their paper-based test toward successful human trials in areas of greatest need in about five years.
"It will take a few years because we are still developing the device itself," Dr. Linnes explains. "We are identifying the right combination of antibodies to bind quickly and strongly to the target proteins without interfering with each other." Once that work is successful, the paper device will be developed to replicate the exact cell identification.
"Then we'll test our previously collected human samples in the fourth or fifth year of the grant," Dr. Linnes says. "We'll also take prototypes out to health care workers to test and treat sites in Zambia and other low-resource settings, in collaboration with Groesbeck Parham, director of the Center for Infectious Disease Research in Zambia (CIDRZ) and a professor at UNC, Chapel Hill." Dr. Linnes says the prototype testing will ensure the devices function properly in the field and meet the needs of the clinicians' workflows and the needs of patients. Zambia was chosen because the incidence and mortality of cervical cancer are highest in southern, eastern, and western African countries. In 2018 alone, Zambia had the third highest incidence rate of cervical cancer globally, with 66.4 new cases per 100,000 women and an estimated 1,839 women dying from the disease. The collaboration with CIDRZ will provide access to this population, Dr. Linnes says. "Ultimately, we hope to develop an affordable solution that's going to be applicable throughout the world; to provide highly sensitive monitoring of cervical cancers everywhere."
Writer(s): Amy Raley, Purdue Marketing and Communications | pvmnews@purdue.edu