PVM Alumni Win Election to WVC Leadership Positions
Friday, February 28, 2020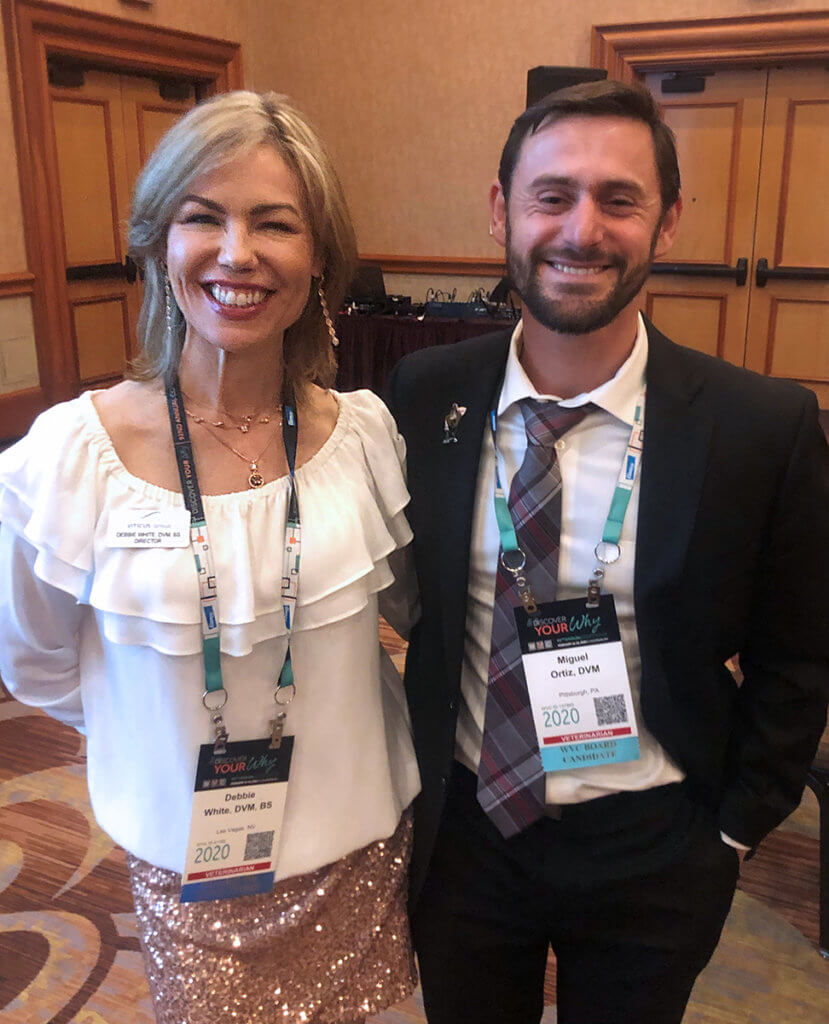 Two Purdue Veterinary Medicine graduates recently won election to key leadership positions on the Board of Directors for the WVC, now known as the Viticus Group, which hosts the annual WVC Conference in Las Vegas, Nev. Dr. Debbie White (PU DVM '94), who just completed a five-year term as a director, was elected vice-president. Dr. Miguel Ortiz (PU DVM 2009) won election as a new director on the board.
Dr. White earned both her bachelor's degree in animal sciences and her DVM degree at Purdue University in 1991 and 1994, respectively, before relocating to Las Vegas with her husband and fellow Purdue veterinary graduate, Dr. Kurt Mychajlonka (PU DVM '93). With more than 20 years of private practice experience, Dr. White owns two veterinary practices, including the Lone Mountain Animal Hospital, where she works as a small animal and exotic animal veterinarian. She also is a partner in several other veterinary practices in the Las Vegas area. Since 2008, Dr. White also has been involved in Animal Radio, a weekly radio program during which she has answered questions from pet owners across the country.
As a veterinarian who has a passion for continuing education and career development, Dr. White has been involved with WVC in many capacities throughout her career. She is especially interested in mentorship roles and the promotion of personal and professional wellness.
Dr. Ortiz was elected to a five-year term on the WVC Board of Directors. Born and raised in Guatemala City, Guatemala, Dr. Ortiz moved to the United States and earned his DVM degree at Purdue University in 2009. He then entered private practice at the Munhall Veterinary Hospital in Pittsburgh, Pa., where he currently serves as the medical director. His areas of professional interest include preventive medicine, chronic disease management, palliative care, behavior, and dermatology.
The election results were announced during the conference February 19. That's also when WVC's name change was announced. The Viticus Group is in the process of expanding its continuing education offerings in both veterinary and human medicine.
Congratulations to our alumni on their new leadership roles!
Writer(s): Maya Sanaba, PVM Communications Intern, and Kevin Doerr | pvmnews@purdue.edu