PVM Alumni Receive Awards at Annual Indiana Veterinary Medical Association Conference
Friday, February 18, 2022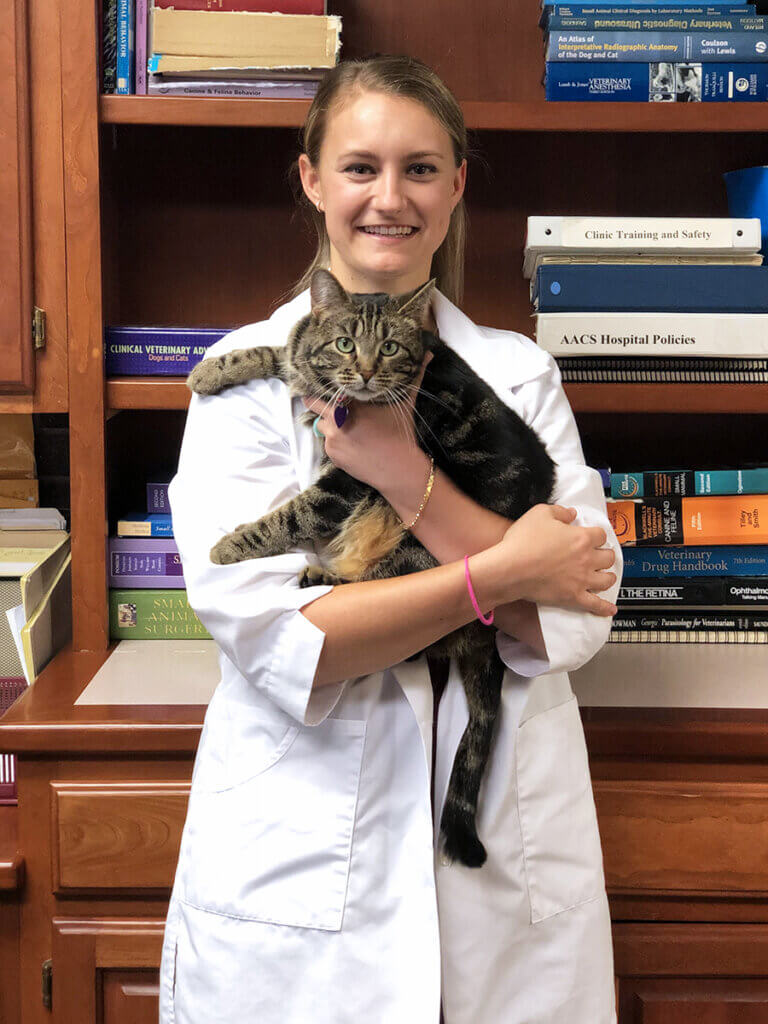 The Indiana Veterinary Medical Association's (IVMA) 2022 Crossroads Veterinary Conference featured an awards program at which several Purdue Veterinary Medicine alumni were recognized.  The conference, held February 3-5 in Noblesville, Indiana, served as an appropriate venue for the IVMA to present its Achievement Award, Lifetime Achievement Award, President's Award, and Volunteer Award. 
Dr. Audriana Ballard (PU DVM 2019) of Goshen, Indiana, received the Achievement Award, which recognizes an IVMA member who has graduated within the last five years and displayed outstanding accomplishments in veterinary research, civic activities, academia, and/or organized veterinary medicine. Originally from Connecticut, Dr. Ballard, who earned her Purdue DVM degree in 2019, practices at the Animal Aid Clinic South in Elkhart. She got involved in organized veterinary medicine right away in her veterinary career, participating as an IVMA representative on a veterinary technician site visit.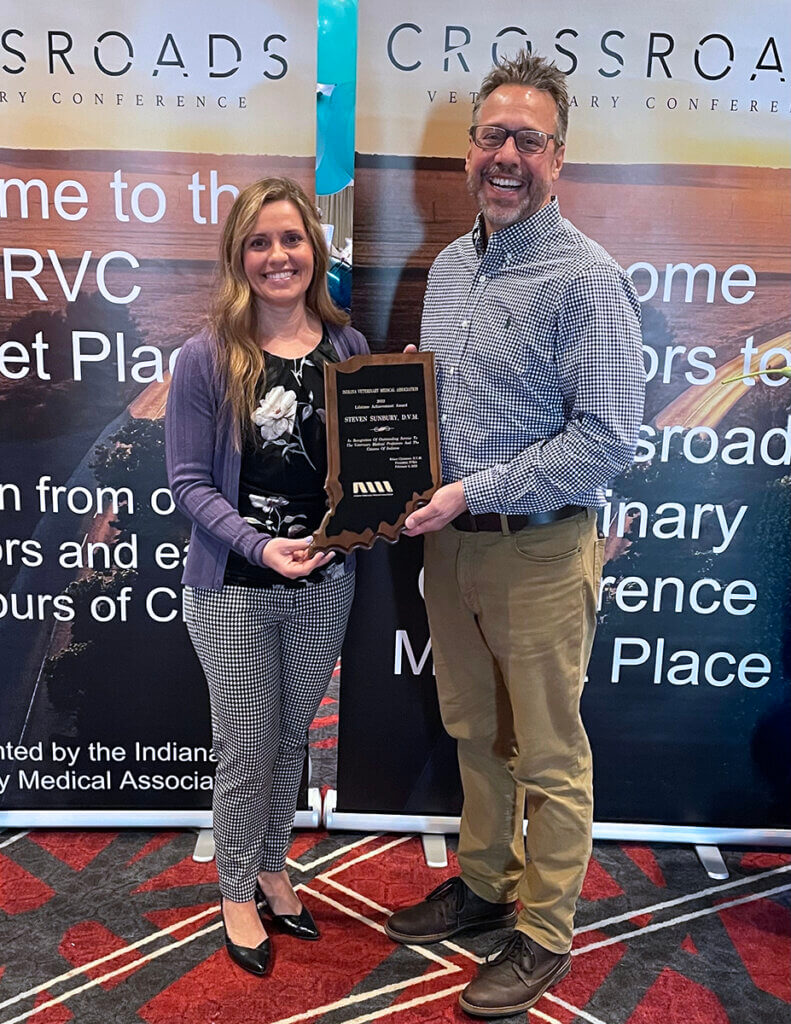 The IVMA's Lifetime Achievement Award was presented to Dr. Steve Sunbury (PU DVM '96) of Seymour, Indiana. This award honors an IVMA member for cumulative service and accomplishments benefiting the profession, organized veterinary medicine, and the community. After earning his Purdue DVM degree in 1996, Dr. Sunbury joined the Seymour Animal Hospital to work with his father, Dr. Larry Sunbury, and became a partner in the expanding practice. Today, he continues working at the practice where he is co-owner. Dr. Sunbury has a history of being involved with organized veterinary medicine, serving as secretary/treasurer, vice-president, and president of the 9th District IVMA. He also has served the IVMA Board of Directors in a variety of positions, including as committee chairman and board chairman, in addition to holding each of the elected officer positions of the IVMA, including a term as IVMA president in 2010. Dr. Sunbury also has served the veterinary medical profession in other roles, including as a member of the PVM Admissions Committee, the PVM Veterinary Nursing Advisory Committee, and the PVM 60th Anniversary Planning Committee. He now sits on the Indiana Board of Veterinary Medical Examiners and the Purdue Veterinary Alumni Board. A lifelong member of the IVMA and the AVMA, Dr. Sunbury has been actively involved in his local community as well.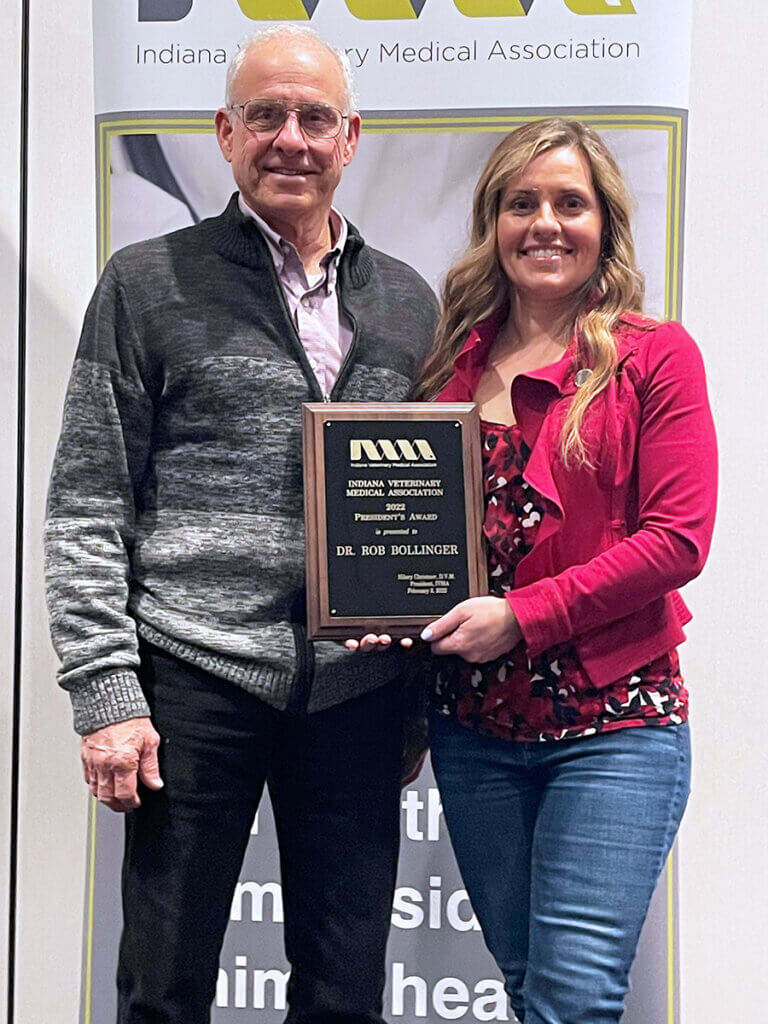 Dr. Rob Bollinger (PU DVM '75) of LaGrange, Indiana, received the IVMA President's Award, which was presented by his daughter, Dr. Hilary Christner, who was completing her term as president of the association. The President's Award is given by the IVMA president to recognize an Indiana veterinarian or citizen who has made exceptional contributions to the association. Dr. Bollinger earned his Purdue DVM degree in 1975 and is the owner of the LaGrange Veterinary Clinic. He was recognized for having served as an advocate for involvement in organized veterinary medicine during his career.
Dr. Katelyn Macy (PU DVM 2015), of Lawrenceburg, Indiana, received the IVMA Volunteer Award, which is presented to an IVMA member who has provided leadership or service to a particular project or program of the association. A 2015 DVM graduate of the Purdue University College of Veterinary Medicine, Dr. Macy has been an active member of the IVMA, participating in the "Power of 10" and "Power of You" leadership programs. She also has been a member of the IVMA Health and Wellness Working Group for the last three years. In 2021, she took over as chair of the group and reenergized the wellness efforts of the IVMA, leading to the development of the Member Assistance Program for all IVMA members.
Congratulations to each of these IVMA award recipients!
Writer(s): Kevin Doerr | pvmnews@purdue.edu