PVM Alumna Mary Beth Leininger Named Germinder20 Power of Pink Honoree
Friday, September 28, 2018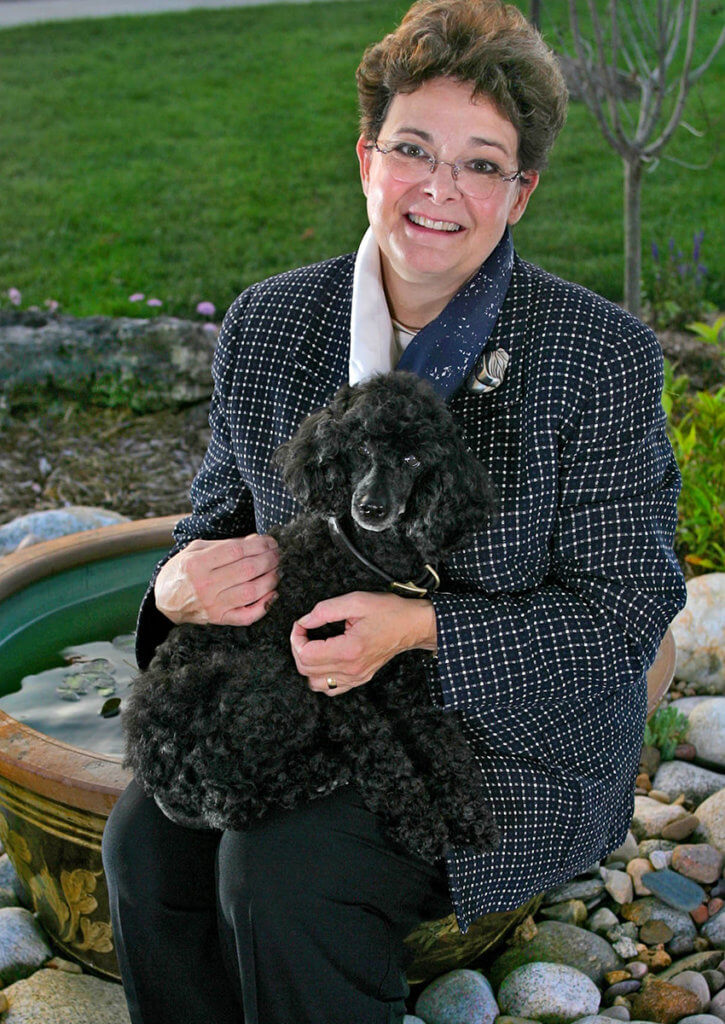 Germinder + Associates, a woman-owned marketing communications firm specializing in the pet and veterinary sectors and other niche industries, has named Dr. Mary Beth Leininger (PU DVM '67) as a #Germinder20 #PowerofPink Honoree. Using the hashtags #Germinder20 and #PowerofPink, Germinder announced the recognition program in January 2018 as part of the celebration of Germinder's 20th Anniversary Year.  A veterinarian for more than five decades and the first woman president of the American Veterinary Medical Association (AVMA), Dr. Leininger is the seventh #Germinder20 #PowerofPink honoree to receive the award.
The award recipients are given the opportunity to designate a $1,000 donation to be made in their name through Germinder's 20th Anniversary Fund Giving Back program to a not-for-profit organization of their choice.  Dr. Leininger designated the student scholarship fund at the Purdue University College of Veterinary Medicine to receive the $1,000 Germinder Honoree donation.
Dr. Leininger's distinguished veterinary career spans more than 50 years and includes service as a private practitioner, volunteer leader, industry executive, and spokesperson for the profession.  A 1967 Purdue DVM graduate, she became president of the AVMA in 1996. Germinder and Dr. Leininger first met when Dr. Leininger was AVMA president-elect and Germinder presented, "Pets Need Dental Care, Too!" to the AVMA PR Council.  "It is so generous of Lea-Ann to include me as one of her Germinder20 Power of Pink Honorees! I have treasured the many years we have worked together and am grateful to call her my friend," said Dr. Leininger.
Germinder + Associates created #Germinder20 #PowerofPink as a women's storytelling initiative that highlights the founder's story of breast cancer survivorship and also shines a spotlight on 20 leaders whose stories have touched and inspired Germinder to success. Founded by Lea-Ann O'Hare Germinder, the company connects and consults with executives in both established companies and organizations interested in entering the veterinary and pet industries in the U.S.
"Dr. Leininger is beloved by her colleagues, she excels at everything she does, and her love of veterinary medicine knows no bounds. My gratitude to this amazing honoree deepens with every passing year," Germinder said.
Dr. Leininger spent 28 years in private practice with her husband and fellow Purdue graduate, Dr. Steve Leininger (PU DVM '66), as a companion animal practitioner and co-owner of the AAHA accredited Plymouth Veterinary Hospital.  From 1999 to 2009, she served as the director of professional affairs for Hill's Pet Nutrition before assuming the responsibility of project manager for the North American Veterinary Medical Education Consortium (NAVMEC), an initiative of the Association of American Veterinary Medical Colleges.  Additionally, Dr. Leininger served in a number of roles with the AVMA, most recently on the Council of Education.  She also has been active in leadership roles in the American Animal Hospital Association (AAHA) and in the Michigan and Southeastern Michigan Veterinary Medical Associations.  Last year, Dr. Leininger retired as vice president of veterinary relations for the Hartville Group. She now plans to devote considerable time to volunteerism focused on the student debt issue.
Dr. Leininger is passionate about continuing to have an impact on students and veterinary education, particularly with the Veterinary Debt Initiative that was the result of the "Fix the Debt" Summit in 2016. She believes that student debt is a critical issue that affects the health and happiness of colleagues over their lifetimes and will drive their career opportunities. "We all can play a part… each individual veterinarian helping to make a change," Dr. Leininger said in an interview with Germinder. "I know we can make a difference."  Click here to read the complete interview.
Writer(s): Kevin Doerr | pvmnews@purdue.edu