PVM Alumna Kayla Clark Honored as a Food Animal Veterinarian by Michigan State University
Friday, January 14, 2022
The Department of Large Animal Clinical Sciences at Michigan State University's College of Veterinary Medicine has awarded Dr. Kayla Clark (PU DVM 2015) the Early-career Food Animal Veterinarian Award. Dr. Clark was honored at the department's Large Animal and Equine Practitioners' Reception on December 3 during the 2021 Michigan Veterinary Conference.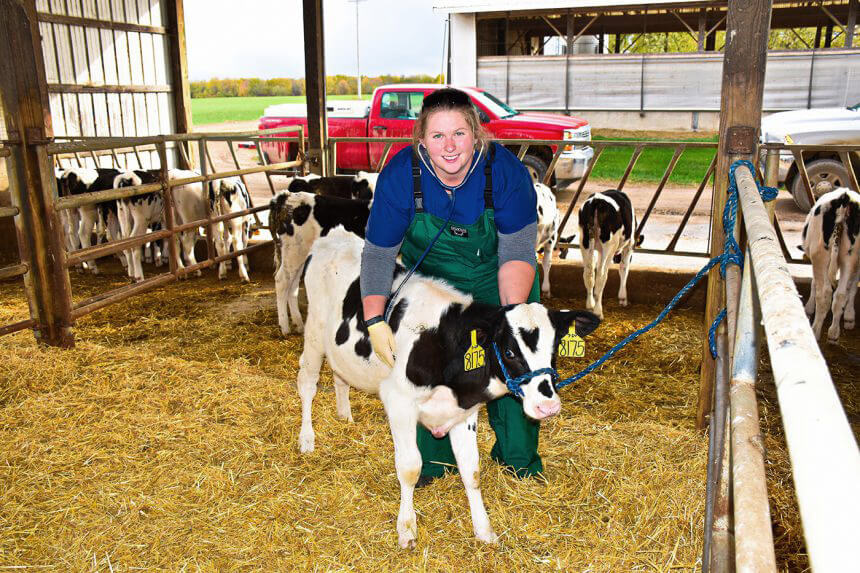 The Early-career Food Animal Veterinarian Award is presented to Michigan-based food animal veterinarians who have made significant contributions to the field of production animal medicine through their commitment to continuous improvement of skills and knowledge, innovative approaches to everyday problems, contributions to training future agricultural workers, and leadership and volunteerism in organized veterinary medicine and/or broader society. The award was established in 2021.
Dr. Clark grew up in Guilford, Vt. on a small dairy farm. After earning her Bachelor of Science degree in animal science at the University of Vermont in 2011 she came to Purdue University and graduated in the DVM Class of 2015.  She then moved to Michigan and joined the Sterner Veterinary Clinic in Ionia, where she is a partner.
Dr. Clark is recognized for providing valuable tools and skills for veterinarians and producers through on-farm continuing education. Additionally, she is the job shadowing and externship coordinator for Sterner Veterinary Clinic's food animal clinic for high school, undergraduate, and veterinary students. Throughout the past year, she participated in two webinar lectures regarding salmonella in dairy cattle for Dairy Herd Week and the California Veterinary Medical Association's continuing education offerings. In addition, Dr. Clark has guest lectured on milk quality for Montcalm Community College and presented veterinary medicine career talks for high school students. Her industry interests include calf care; milk quality; cow, calf, and beef management; small ruminant medicine; and on-farm training.
In an article about the award presentation on the MSU College of Veterinary Medicine website, Dr. Clark said she is extremely honored to have been nominated and chosen to receive this award. "I hope that I have made an impression on new and future veterinarians, as my mentors did on me. I hope that I have shown them the impact we can make with our clients, the animals we care for, and our community," Dr. Clark said. Explaining her interest in working with food animals, Dr. Clark further commented, "While I enjoy all animals, I have always been partial to cattle, and felt that I could have the biggest impact by working within the agricultural industry. Working with food animals and our producers, we have an ability to make a difference with animal health and welfare, and are a frontline to protecting the food industry."
Dr. Clark is one of two recipients of the Early-career Food Animal Veterinarian Award. The other recipient is Dr. Alexander Strauch, a veterinarian with Herbrucks Poultry Ranch who earned his DVM degree at MSU in 2017.
"We were fortunate to work with the Food Animal Practitioners Committee of the Michigan Veterinary Medical Association to select the recipients. Still, it was incredibly difficult to select the awardees this year," said Dr. Annette O'Connor, chair and professor of epidemiology for the Department of Large Animal Clinical Sciences. "A lot of amazing practitioners were nominated."
Congratulations Dr. Clark! Click here to view a complete story about the MSU College of Veterinary Medicine award presentation that includes an interview with Dr. Clark.
Writer(s): Kevin Doerr | pvmnews@purdue.edu