Purdue VOICE Chapter Wins National Excellence in Programming Award
Friday, February 1, 2019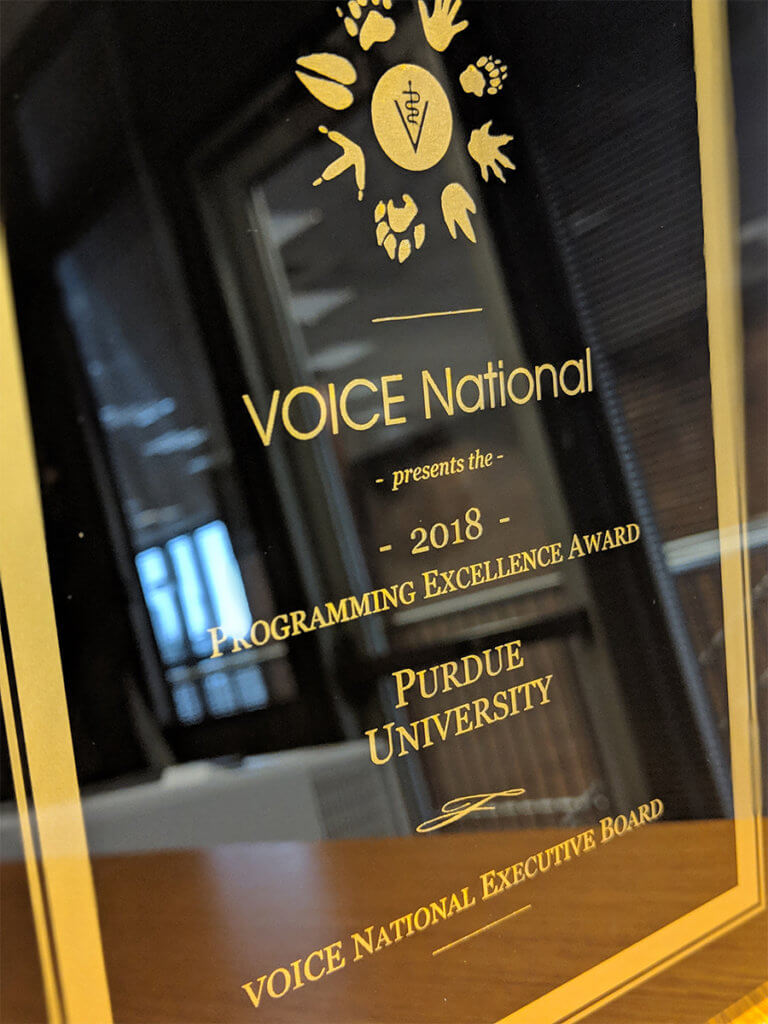 Each year, the national Veterinarians as One Inclusive Community for Empowerment (VOICE) organization presents awards to student chapters for excellent efforts in increasing awareness, respect, and sensitivity to differences among all individuals and communities in the field of veterinary medicine. This year, the Purdue VOICE Chapter received the national organization's 2018 Programming Excellence Award, which was presented during the VOICE National Retreat in January.
The Programming Excellence Award honors a VOICE chapter that has exceeded the VOICE National requirements for programming, both in terms of quality and quantity. The award recognizes an outstanding demonstration of leadership, creativity, and initiative in building diversity. The award selection process is based on chapter reports and a written statement from the chapter about why it is deserving of the award.
Purdue VOICE Chapter President Edris Grate, of the DVM Class of 2021, was present at the VOICE National Retreat to receive the Programming Excellence Award. The Purdue VOICE Chapter was honored for its efforts to advance diversity and inclusion by offering panels, service events, and bringing in speakers for the College of Veterinary Medicine. Purdue VOICE also was recognized for its dedication to collaborating with other clubs including One Health, the Food Animal Club, and the Diversity Action Committee. Conveying his excitement about the award, Edris said, "I am very proud of the accomplishments Purdue VOICE has made thus far. I know we will continue to push the envelope and strive to create a more diverse and inclusive environment at Purdue and within our profession."
Congratulations Purdue VOICE!
Writer(s): Amanda McCormick, PVM Communications Intern | pvmnews@purdue.edu