Purdue Veterinary Student Erin Will Receives National Dairy Focused Scholarship
Friday, February 24, 2023
The National Dairy Herd Information Association (DHIA) has announced the four recipients of this year's DHIA Veterinary Student Scholarships, and one of them is Erin Will, of the Purdue DVM Class of 2023. The scholarships amount to $1,500 each.  The other three recipients are from Cornell, Washington State University, and Michigan State University.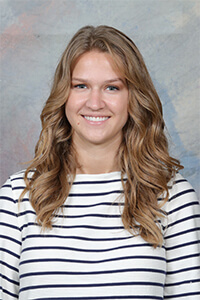 The recipients were selected by DHIA's Scholarship Committee from veterinary students across the country based on their overall interest as a veterinarian planning to work in dairy; involvement in dairy medicine and extra-curricular activities; and interest in using dairy software and dairy records to aid in dairy management and in improving animal health. To be eligible for the National DHIA Veterinary Student Scholarship, applicants must be third- or fourth-year veterinary students enrolled at a college accredited by the American Veterinary Medical Association's Council on Education.
Erin was raised on a small dairy farm in southern Indiana, and her youth and high school activities were focused on agriculture. Throughout high school, she co-managed the breeding practices on her family's farm and was recognized by FFA with a Gold-rating in the Dairy Production category of the National FFA Agricultural Proficiency Award program. Erin earned her Purdue bachelor's degree in animal sciences and was active in the Purdue Dairy Club, serving as president and participating in the Dairy Challenge and dairy judging. Her dairy judging team even placed first at the Fort Worth Stock Show. Erin also was an Indiana Dairy Ambassador, which helped her develop advocacy skills and build relationships with Indiana dairy farmers. As a Purdue veterinary student, Erin has served as Food Animal Club dairy chair; participated in bovine ambulatory and Indiana State Fair production medicine blocks; and completed a dairy veterinary medicine/research internship at Iowa State University.
The National DHIA is a trade association for the dairy records industry, and serves the best interests of its members and the dairy industry by maintaining the integrity of dairy records and advancing dairy information systems. Congratulations Erin on receiving the National DHIA Veterinary Student Scholarship!
Writer(s): Kevin Doerr | pvmnews@purdue.edu