Purdue Veterinary Nurse Named One of WVC's Continuing Educators of the Year
Friday, April 19, 2019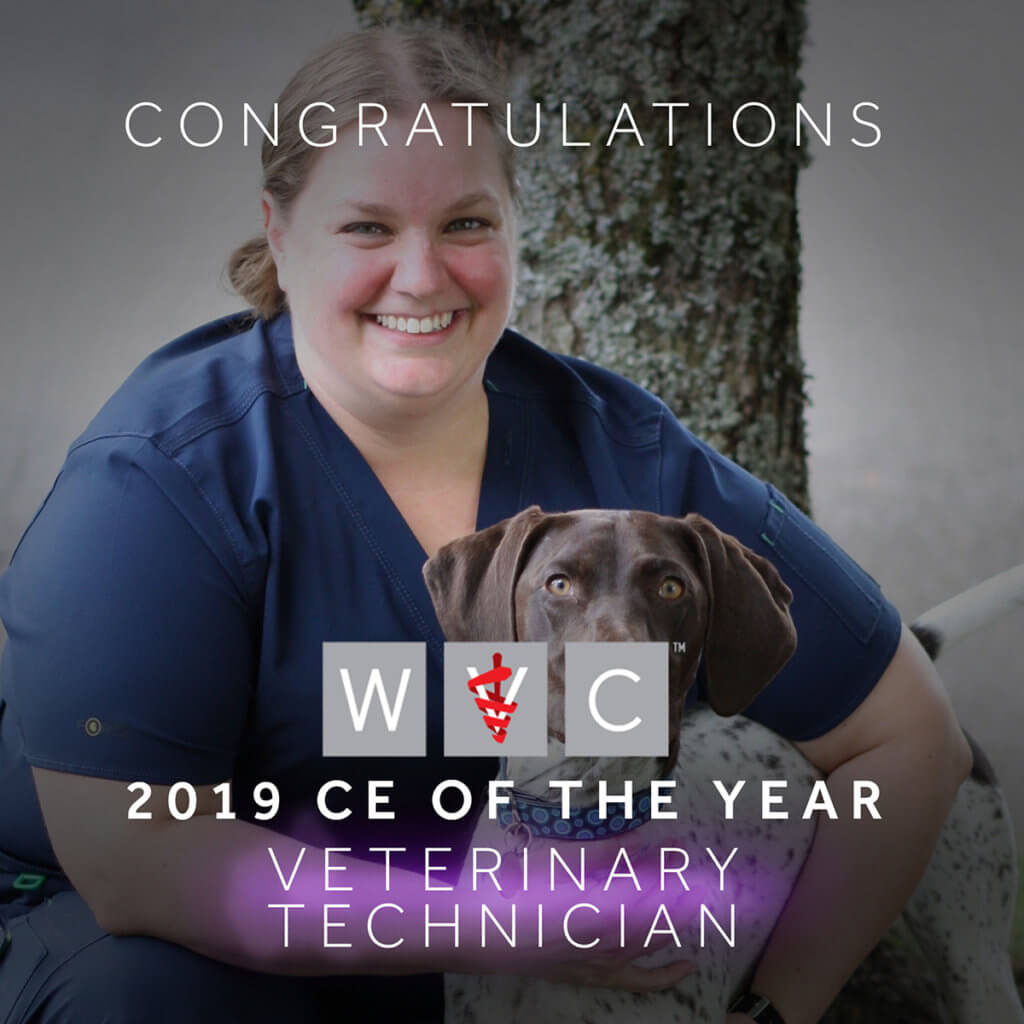 WVC has announced its 2019 WVC Continuing Educators of the Year, and one of them is Small Animal Hospital Veterinary Nursing Manager Megan Brashear, CVT, VTS (ECC). Megan, who has 18 years of experience in emergency and critical care and technician/team management and training, was named the WVC Veterinary Technician Educator of the Year.
Each year, conference attendees select the presenters who they feel are superior in their ability to deliver information with insight, accuracy, depth, and openness. Megan is one of eight instructors recognized for making a lasting impression and impact at the 2019 WVC Annual Conference, which was held February 17-20 at the Mandalay Bay Convention Center in Las Vegas, Nev. The WVC praised Megan and the other Continuing Educators of the Year for taking the lead role in furthering veterinary education and for providing exceptional and inspiring instruction for the conference's scientific education courses and practice management sessions.
"WVC is so grateful for the innovative topics that these outstanding educators delivered to the veterinary community during our 91st Annual Conference," said Dr. Anthony Pease, WVC chief veterinary medical officer. "It is the exceptional presenters who make it possible for WVC to provide a dynamic learning environment that is comprehensive, progressive, and practical."
The other 2019 WVC Continuing Educators of the Year are:
Avian & Exotics – Brenna Fitzgerald, DVM, DABVP
Equine – Jamie Kopper, DVM, PhD, DACVIM (LAIM)
Food Animal – Elizabeth Homerosky, DVM, MSc
Practice Management – Andy Roark, DVM, MS
Small Animal – Sue Ettinger, DVM, DACVIM (Oncology)
Moderator – Michael Pedersen, DVM
Hands-on – Todd Tams, DVM, DACVIM (SAIM)
Click here to see more about the 2019 WVC Educators of the Year and other awards and recognition given in conjunction with the WVC Annual Conference. Click here to view a photo gallery of scenes from the conference.
Writer(s): Kevin Doerr | pvmnews@purdue.edu