Purdue Veterinary Nurse Jessica Bowditch Earns Specialist Designation in Physical Rehabilitation
Friday, December 11, 2020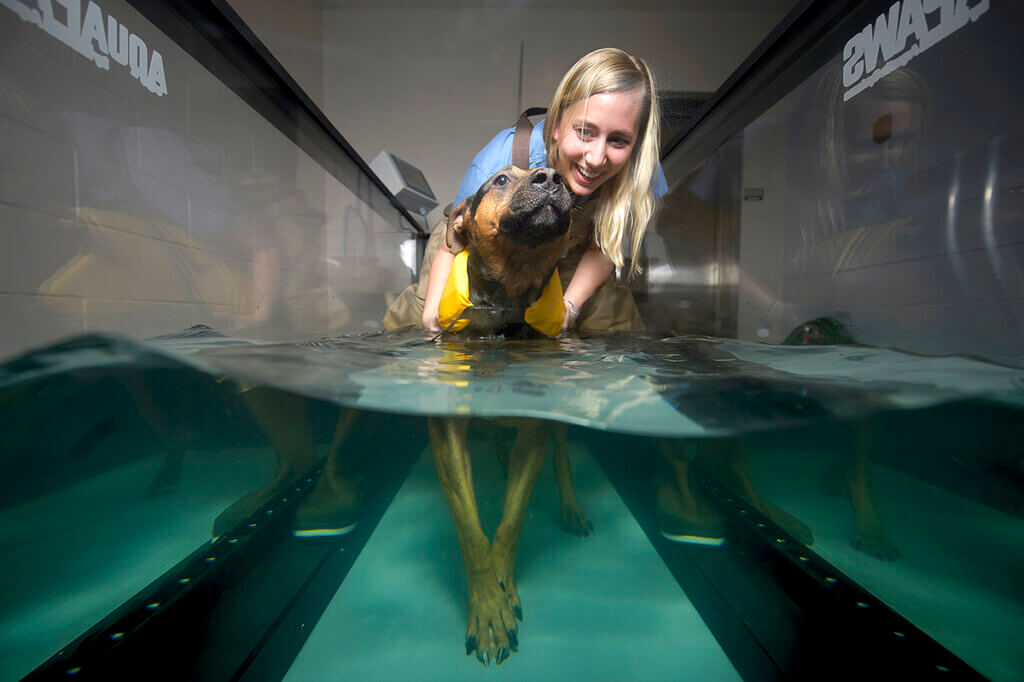 The Purdue University Veterinary Hospital can add another Veterinary Technician Specialty category to the list of specialty areas represented on the hospital's staff of veterinary nurses, thanks to Jessica Bowditch, RVT, CCRP who recently obtained the specialty credential in Physical Rehabilitation.  The designation is conferred by the Academy of Physical Rehabilitation Veterinary Technicians (APRVT), in accordance with criteria established by the Committee on Veterinary Technician Specialties of the National Association of Veterinary Technicians in America (NAVTA).
As the first Purdue veterinary nurse to obtain the Veterinary Technician Specialist (VTS) designation in Physical Rehabilitation, Jessica says it means a lot to her to have earned that title. "A lot of hard work, energy, and time went into obtaining this designation," Jessica said. "It is a privilege to be able to call myself a VTS because veterinary physical rehabilitation is truly my passion. I am so excited to be a part of the APRVT and join the rest of the AMAZING VTS technicians who represent many other VTS academies, here at Purdue."
Jessica said she started pursuing her VTS in physical rehabilitation in January 2019 by working on her application. The process concluded when she sat for her exam in October of this year. Jessica said there are many requirements involved in completing a VTS application. For her, one of the most challenging aspects was balancing family and work while finding time to work on the application and study.
There's no question in Jessica's mind, though, that the effort was well worth it. "I have a huge passion for nursing care, in general, and part of nursing care is helping our patients recover and heal," Jessica said. "Physical rehabilitation is all about the road to recovery and increasing the quality of life for our patients before, during, and after they come to the hospital. Pursuing a VTS in physical rehabilitation helps to increase my knowledge and skills to perform the correct treatments and exercise with my patients during their recovery."
Upon passing the exam and receiving the VTS credential, Jessica joined a growing number of Veterinary Technician Specialists in the veterinary hospital, bringing the number of specialty areas represented to 12. In addition to Jessica's credential in physical rehabilitation, the hospital has veterinary nurses who have achieved the VTS designation in the fields of:
Anesthesia and Analgesia
Cardiology
Clinical Pathology
Clinical Practice (Canine/Feline)
Diagnostic Imaging
Emergency/Critical Care
Equine Veterinary Nursing
Internal Medicine
Neurology
Ophthalmology
Surgery
Small Animal Hospital Veterinary Nursing Manager Megan Brashear, CVT, VTS (ECC) said it's exciting to see the list of veterinary nurses with the VTS designation, and the fields represented, continue to expand.  "Jessica's accomplishment showcases even more how amazing our RVT team is," Megan said.
Jessica shares Megan's enthusiasm, noting that five RVT team members, including herself, joined the ranks of veterinary nurses with the VTS credential in the hospital this year. She says it all adds-up to enhanced patient care and teaching. "It puts the animal owner's mind at ease knowing that even the veterinary nurse has advanced academic training," Jessica said. She added, "Since teaching is a big part of what we do here, having a technician with a VTS also enhances the knowledge of the veterinary medicine and veterinary nursing students and shows our nursing students different paths that they can take with their career when they graduate from our program."
Congratulations Jessica!
Writer(s): Kevin Doerr | pvmnews@purdue.edu