Purdue Veterinary Nurse Achieves Key Milestone on Path to Obtaining VTS Designation
Friday, April 5, 2019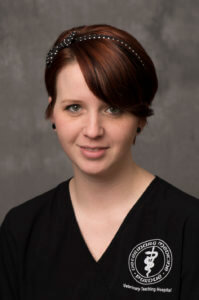 Congratulations to Brittany Laflen, RVT, neurology technician in the Purdue University Veterinary Teaching Hospital, for recently obtaining approval of her 2019 Veterinary Technician Specialist (VTS) in Neurology application by the Academy of Internal Medicine Veterinary Technicians (AIMVT).  Brittany now is preparing to sit for her VTS exam in June during the American College of Veterinary Internal Medicine (ACVIM) conference in Phoenix, Ariz.
Brittany explains that the application is a yearlong process that involves documenting cases she has been involved in and demonstrating her skill and knowledge in the neurology specialty. She was required to submit proof of her license and employment, over 40 hours of verified continuing education, 60 case logs documenting her skills and knowledge, and four case reports.
"Obviously I'm thrilled that my application was accepted," Brittany said. "A lot of hard work and dedication is required to even submit an application, so to be recognized as eligible to take the exam is amazing. Only 22 people in the world hold this credential, so it is very exciting." Brittany also would become the first VTS neurology technician at the Veterinary Teaching Hospital.
Brittany said now she has to do a lot of studying and manage her time. With her exam coming in June, she knows she is getting close to the end, but adds, "It has been a challenge to balance work, home, and studying.
Small Animal Surgery Technologist Supervisor Eric Zamora-Moran said of Brittany, "Her commitment to the veterinary neurology community is remarkable, inspiring, and a testament to her dedication." Congratulations Brittany and best wishes for success on the upcoming exam!
Writer(s): Kevin Doerr | pvmnews@purdue.edu