Purdue Veterinary Medicine Shines at Art Museum's Annual Art, Bark, and Brew
Friday, August 18, 2023
The parking lot at the Art Museum of Greater Lafayette was the place to be Saturday, August 12, for people and pooches. That was the site of the sixth annual Art, Bark, and Brew hosted by the museum on their grounds at 102 South 10th Street in Lafayette, and sponsored in part by the Purdue University College of Veterinary Medicine.
The fun event attracted dozens of visitors and their dogs who came to enjoy the outdoor activity on a beautiful late summer day. Free and open to the public and canines, the annual event featured live music, food and brew provided by the EMT Food Truck and Thieme & Wagner Brewery, and interactive booths set up by several organizations. Various art activities, including pottery, were available to attendees, who also could capture a memory of their time at the event in the form of a drawing by a caricature artist of them with their dogs.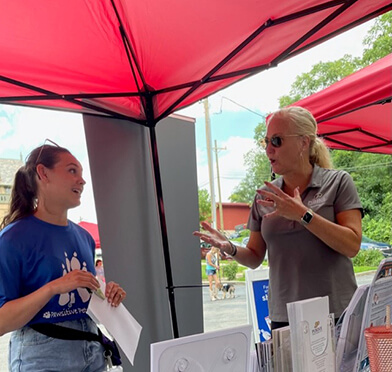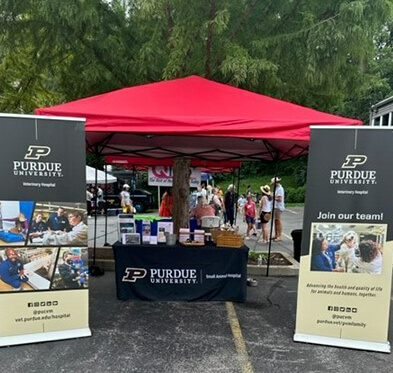 As the "Lead Dog" event sponsor, the College of Veterinary Medicine received prominent mention in event promotional materials as well as prime booth space. Kelly Dold, marketing and communications manager for the Purdue University Veterinary Hospital and Animal Disease Diagnostic Laboratory, organized and staffed the booth, which offered information about the hospital and ADDL as well as fun promotional items including veterinary-themed coloring pages and collectible cards and stickers. The event was even more hands-on and interactive this year with a variety of things to do for both owners and their pups.
Other event sponsors included Q106.7 and VCA. The College of Veterinary Medicine's participation as the Lead Dog sponsor for Art, Bark, and Brew was the latest example of a long collaboration between PVM and the Art Museum of Greater Lafayette. The college was recognized with the museum's Presidential Award ― the highest honor bestowed by the museum on a business or organization ― in 2020.
Writer(s): Kelly Dold | pvmnews@purdue.edu